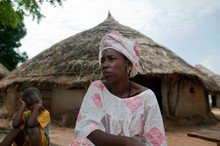 Across the western Sahel region of Africa, a failed harvest has triggered a severe food crisis. Oxfam is working with local partners to reach more than one million people with aid.
"It is hard not to be able to feed your children," says Adama Diallo. "You can't be at peace. You can't sleep at night."
Diallo, who lives in the village of Tankanto Escale, Senegal, is no stranger to hunger. Each year in the run-up to the fall harvest, those who depend on agriculture experience a lean season, when the last of the stored food runs out and they must cope as best they can—reducing their meals to a minimum while they eke out an uncertain income from day labor, trading, and in some cases mining for flecks of gold.
But this year, the lean season in Senegal—as in much of the western Sahel—began months early, and the consequences have been harsh. More than half a year on a sparse diet of millet and rice has left many children severely and visibly malnourished. And farmers, many of whom have had to sell off their labor-saving equipment and draft animals to buy food, face the difficult task of cultivating crops while hungry and fatigued.
Diallo's own story is not unusual: after the disastrous harvest of 2011, her stocks of food ran out quickly, and she resorted to a hand-to-mouth existence as a trader in the marketplace, beginning each day with no money and only borrowed goods to sell, and ending with—if she was lucky—enough food to get through another day.
"If the food is not sufficient," she says, "we only give it to the children."
Diallo's struggles didn't go unnoticed: Oxfam's partner FODDE (in English, Forum for Sustainable Indigenous Development) included her in a program to distribute cash to the people most in need in this emergency. So recently she traveled to a credit union in the nearest large town, presented her cash voucher card and ID, and received enough money—provided by Oxfam—to feed a household of 10 people for a month (about $8 per person).
Cash buys food—and more
Why distribute cash rather than food during a food crisis?
It is a surprising fact that in the midst of a food crisis, marketplaces may be overflowing with food. In the Kolda market, for example, which serves Tankanto Escale, some local farmers – despite the crop failures—have managed to gather or grow a few items for sale. They ran out of rice months ago, but traders have filled that gap and many others by importing goods from other regions.
As long as food is available, there's no need for an aid provider to undertake the costly and time-consuming process of shipping it in. Yet people who have lost their harvest—and with it their main source of income—may not be able to afford the food that's there. For that, they need cash.
Cash payments quickly go to work in the local markets, benefiting not only the people who receive the money directly but also the local farmers and vendors they buy from.
And cash provides flexibility. A food distribution might involve fixed rations of beans and grains—the non-perishables that can travel long distances— but people who receive cash can buy a variety of foods, including eggs, fresh fruit, and vegetables. Furthermore, those who have pressing medical concerns can make the choice to spend some of their money on doctors and medicines.
So in southern Senegal and some of the other crisis-affected regions, Oxfam is focusing not on providing food but on providing the means to purchase the foods and critical services that are available locally.
There was enough for everyone
Diallo used her first payment to buy rice, soap, and cooking oil. "Once we received the cash, there was a big change," she says. "Before, we ate twice a day, but never enough. The children ate three times a day, but it never filled them. After the payment, there was enough for everyone."
The money not only helped her meet immediate needs—it released her from the daily imperative of earning money in the marketplace, so she has had a chance to plant her fields. Which means that if this season's promising rains continue, she will likely have a harvest in October that will help her get back on her feet.
"Now I have peace," she said, "and I am sleeping well."