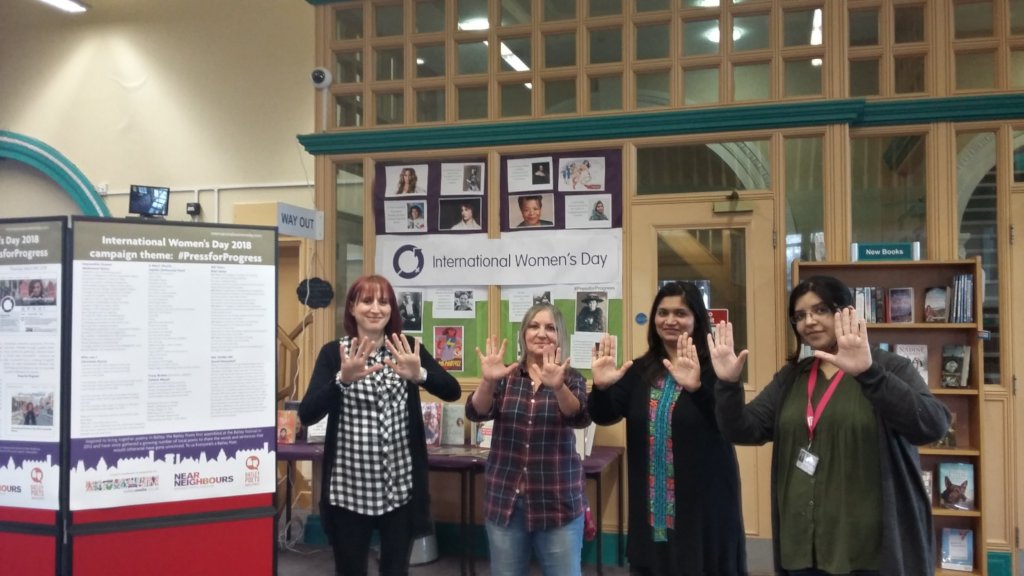 As we searched around for new year's inspiration to build on the work that you helped us achieve in 2017, we found it in the International Women's Day theme for 2018, #pressforprogress.
We have been chatting with local organisations (some big; some small) about isolation and loneliness across our community and shared our project work: we have looked at their ideas and discussed ours. Effective partnership working is a key aim for us. We look forward to sharing the results of these conversations with you in our next report.
In the meantime, I'd like to share a number of photographs with you that include our partnership working for International Women's Day; progress that the team at The Mission at Howden Clough Community Centre are making and our emerging 'Conflict and Kindness' project.
We participated in International Women's Day for the first time this year and found much inspiration. We developed a Batley Poets display for Batley Library and Art Gallery. The ladies featured in our first photograph are shown #pressingforprogress They are volunteers at the Library and we began to realise how important this venue is for many of us local folk to meet up and chat and relax.
Much of our work in 2017 was centred around, 'The Mission' and it's a delight to see how the team are progressing. Currently the stage area is being developed into a 'black box' performance space (it was still wet paint in this photograph!) and funding has been secured for lighting too. The Royal Vountary Service will be providing additional activities at the centre during 2018.
Finally, the work we began in 2017 about a very special local lady, Catherine Exley (1779-1857) has proved to be a joy and 'Conflict and Kindness' - a project linking Catherine to women in conflict zones around the world today - is bringing a number of inspiring women together from a variety of backgrounds.
Thanks so much for your continued interest and enthusiasm for our work.
Best wishes, Mark.
ps - we just had to include a Fox's Biscuit van in this report - a very special Batley business!