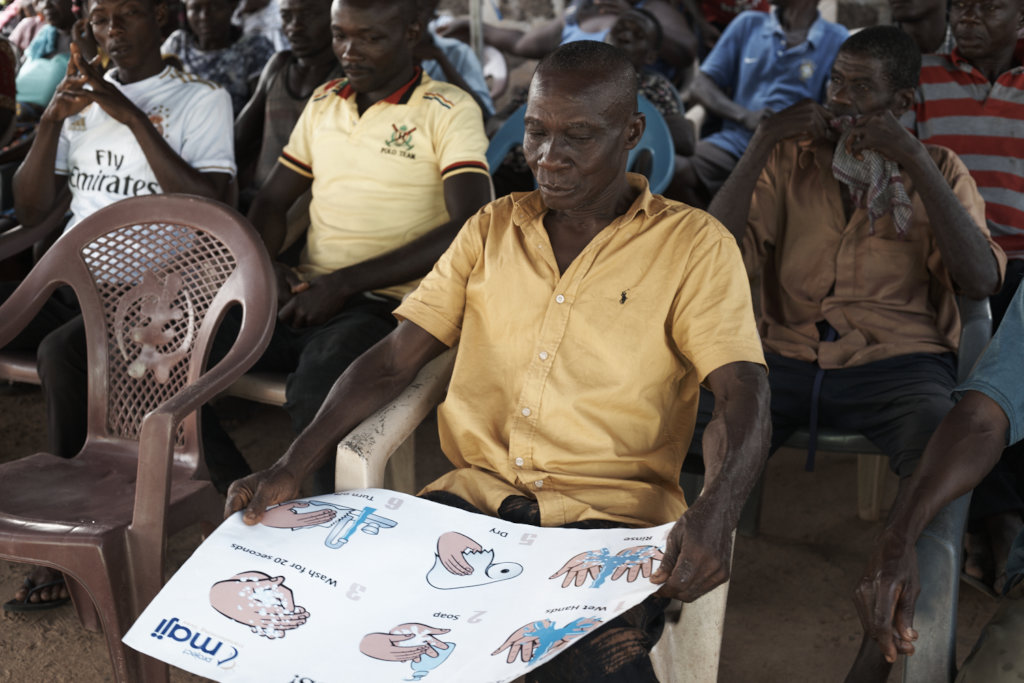 Dear Friends,
Thank you for supporting Project Maji's COVID-19 Handwashing with Soap Trainings Project. We are excited to share that our uniquely designed zero-touch handwashing stations - the Maji Buckets – have now reached the end-users.
Maji Buckets reaching those in need
The buckets have now reached those in need as we will soon be concluding the distribution of Maji Buckets across rural Ghana reaching a total of 90 communities and 75,000 people. To reach this level of impact, we partnered for executing with the Volta River Authority (60 communities) and implemented in 20 Project Maji communities as well. African Water Corridor accepted another 50 handwashing stations, reaching 10 communities in the northern part of Ghana.
The beneficiary communities we have reached, have applauded the introduction of the Maji bucket as a simple yet effective tool for protection against the virus. This is what a community elder from Konaboe Community shared with us:
"The Maji Bucket is definitely better because you don't have to touch the tap to use it. It's good because otherwise, someone else will come and touch the same tap after washing their hands. We were also told that majority of the virus is transferred through our hands. So how would you see what you are picking up. Using the foot operated bucket is better. This one will protect us better from the virus." - 62 year old - community elder
The communities' trust in Maji Bucket as an effective virus prevention tool is an important seal of approval on our COVID-19 response. One that reflects that we have succeeded in altering hygiene habits effectively shielding rural communities from the virus.
Project Maji handwashing trainings
Through it all we have remained focused on the heightened need for hand hygiene awareness in the communities we serve. In addition to Maji Bucket and soap distribution, we have delivered COVID-specific hygiene trainings aimed at altering hand hygiene practices. Developed with a participatory approach to encourage beneficiary engagement, we use colourful visual aids customized for varying age groups. Importantly, we have adopted a capacity building approach in light of the social distancing restrictions. Typically, each training cohort includes 10 household heads who are expected to pass on their learnings to their respective family members, empowering them to keep up hand hygiene and fight off life-threatening germs, including COVID-19 virus particles.
Recap March 2020 – March 2021
About a year ago when COVID-19 hit the African continent, Project Maji launched this project as part of the emergency response seeking funds to roll out handwashing trainings and hygiene essentials i.e., clean water and soap to shield vulnerable rural communities in Ghana. We knew we were successfully altering community hygiene practices when we received requests for communal handwashing stations to facilitate the practice at community level. But, having actioned this request we were confronted with the very real threat of the potentially infected taps becoming a source of contagion. Next, our engineers designed a simple foot-operated handwashing station called the Maji Bucket, eliminating the need for touch and effectively curbing the risk of contagion.
Fast forward to Global Handwashing Day in October 2020, we took this project to the next level by participating in the viral #Sweat4Soap campaign. We were floored by the traction gained by this campaign as runners around the globe helped us crush our targets. We had set out to fundraise for 150 buckets but ended up raising funds for a total of 450 Maji buckets to be produced and distributed among rural communities.
What's Next?
There is no doubt that we have made extraordinary progress in delivering hand hygiene awareness and essentials for those in need. However, this is hardly the time to stop as a deadlier new wave of the Corona virus looms over the African continent. We need continued support from changemakers like you to prevent catastrophic loss of life given the poor health infrastructure in the region.
The entire Project Maji Team, and more importantly, the communities we serve are deeply grateful for your support!