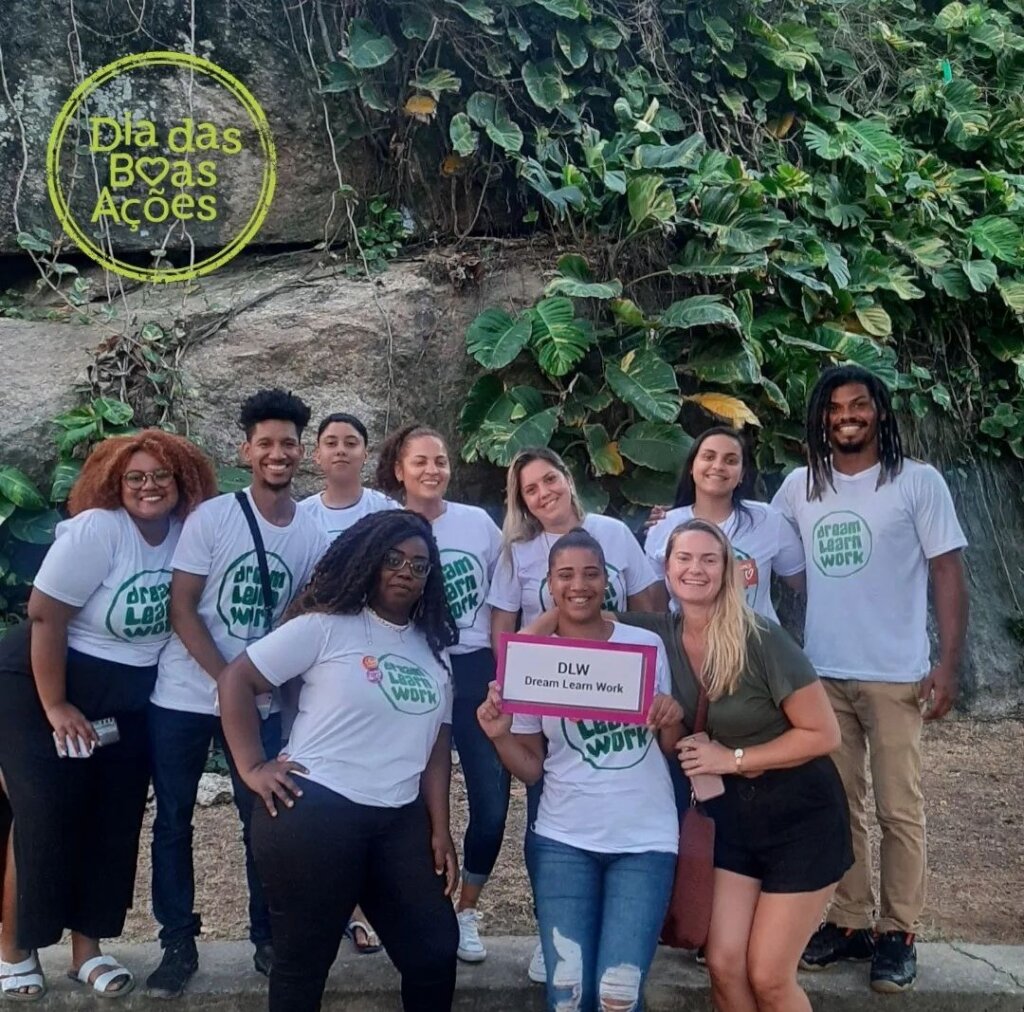 DLW is a Norwegian NGO, and our mission is to give Brazilian young adults, from less developed areas, a fighting chance for a better future, through access to quality education and decent employment opportunities.

Introduction
Dear friend of Dream Learn Work, new features and social actions from our 1st Semester in 2022. As we all know, still many challenges seeking social justice here in Brazil, that have been increased due to the global pandemic impacts on everyone's lives, but DLW remains solid on our mission with our participants and their families during such adverse times, and believing in the strength and importance of access to quality education and employability options. Thank you all for your continuous support and engagement with our organization. Here are some of our latest updates.
JANUARY
DLW'er in Tech area
Orlando is a software development intern at our corporate partner, named Grupo Gera. Orlando is studying Computer Science at UERJ (one the the best public universities in the country) and is one of our veteran participants. DLW understands that access to education is at the heart of socioeconomic inequalities in Brazil and we seek to offer opportunities for our youngsters to acquire professional and educational qualifications to change their perspectives.
FEBRUARY
International Social Justice Day
Since 2015, the United Nations (UN) has used February 20 to mark the World Day of Social Justice, aiming to raise awareness about equality between peoples, in addition to respect for diversity. DLW, along with all our partners and supporters, believe in the importance of the collective quest for social justice. During this month many of our efforts were aimed at promoting debates, raising awareness and disseminating the importance of social justice.
MARCH
NOR-SHIPPING 2022
During this year's Nor-Shipping, the conference Brazil@Nor-Shipping will be built to explore the Brazilian economic and market outlook, its business opportunities, concrete actions towards the target of zero emission, and the potential to strengthen partnership with Norwegian Ocean industry's players to foster a sustainable market environment in both countries. DLW was very honored for being invited once again in the mega event and being able to speak with potential and existing partners.
MARCH
RECRUITMENT PROCESS RESTART
This year, DLW resumed the process of recruiting new youngsters within the territories served by our organization. This collective construction is done with local support and strengthening with our long-standing partner organizations. These youngsters have already taken a fundamental step in the search for more access to quality education and professional qualification. DLW wants to continue to inspire them to dream and aim for ever higher flights. Assisting in the acquisition of vocational and life skills, guiding and supporting their choices.
APRIL
FOOD SECURITY CAMPAIGN
DLW has carried out our campaign that is aimed for distributing and guaranteeing food supplies since March 2020 and we continue to promote these initiatives here in Rio de Janeiro for our youngsters. This month's delivery, our organization was able to give four food boxes per student and personal hygiene material. We had the collaboration of our partners from Equinor and all their workforce. Once again, thank you very much for all the commitment and dedication with our participants during this last process.
MAY
GOOD DEEDS DAY
We thank everyone who attended the Good Deeds Day event, which marked the reunion of many social organizations, partners and old friends in a day with lots of love and strengthening of the network in favor of the Volunteering Movement. At the NGO fair event, we took some of our DLW'ers to exhibit the knowledge and skills acquired and improved with the Dream Learn Work qualification and follow-up courses, in addition to having the opportunity to expose their brands and exchange experiences with other organizations.
JUNE
DLW'er WORK PROMOTION
"A year ago I was unemployed and with the help of DLW I got my first internship at Grupo Gera, within a financial sector I stayed as an intern for 1 year and now graduating from college came the news that I would be hired in the area of accounts payable receivements. I am very grateful to DLW for believing, grateful to my supervisor who supported me, believed in my potential and from now on it will be more and more learning and growth," say Karol. One of our participants from the recruitment class of 2019.