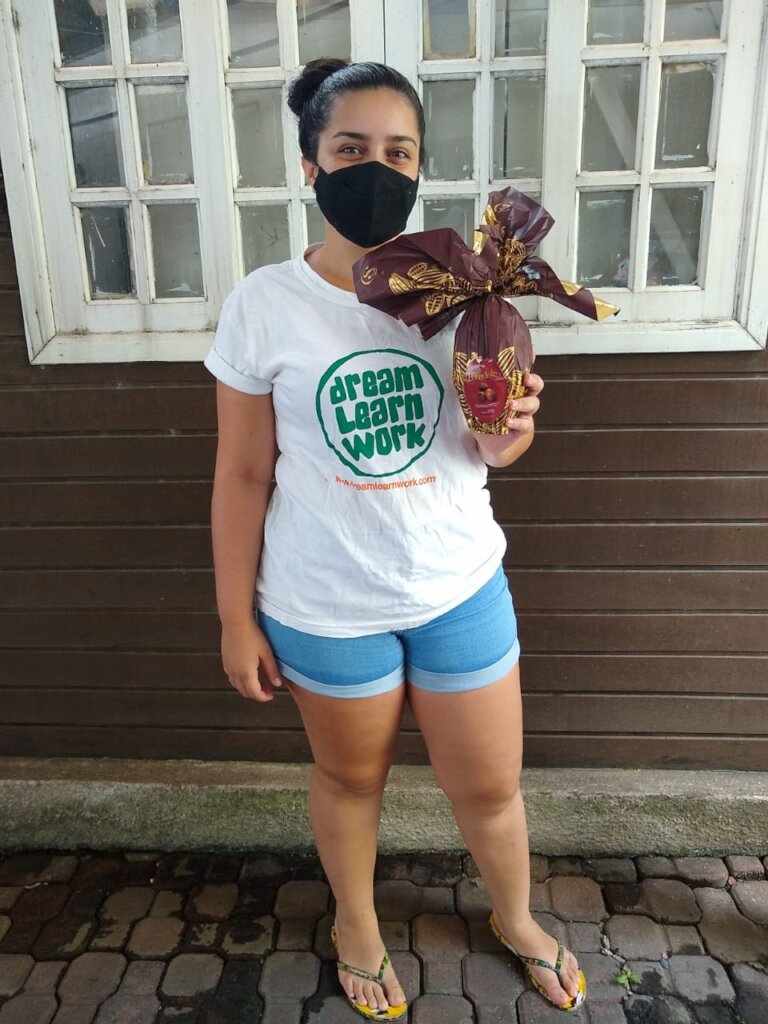 DLW is a Norwegian NGO, and our mission is to give brazilian young adults, from less developed areas, a fighting chance for a better future, through access to quality education and decent employment opportunities.

Introduction
Dear friend of Dream Learn Work, many new features and social actions from our 2nd quarter of 2021. As we all know, many challenges increased due to the global pandemic, but DLW remains solid on our mission with our participants and their families during these adverse times. Thank you all for your continuous support and engagement with our organization. Here are some of our latest updates in this new year.
APRIL
Happy DLW Easter
Our organization has several partners, volunteers and enthusiasts who believe and continue to fight for social justice through a collective construction and for better days. We are very grateful and happy with our partnership and for everything that has been done for our participants throughout the Pandemic. In April, the Corporate Volunteering Program of a partner company, donated almost 100 chocolate Easter eggs to our youngsters, and certainly the presents are going to sweeten up a bit the lives of our DLW'ers, despite such adverse times due to COVID-19.
MAY
New DLW intern
DLW is pleased to introduce a new face to our team. We would like to welcome Thamires Lacerda. Participating since 2015, with several experiences in our projects, professional qualification courses, mentoring, among others. The youngsters is currently studying administration and is well motivated to join us in this collective construction.
DLW'ers in the labour market
We would like to thank our partners and all of our friends and supporters from our corporate partnerships for believing in our organization's work and commitment to young brazilians in Rio de Janeiro. Dream Learn Work is proud to be able to work directly with the SDGs 1 - No Poverty, SDG 4 - Quality Education, SDG 5 - Gender Equality, SDG 8 - Decent Work and Economic Growth and SDG 10 - Reduced Inequalities.One of our newest partner companies recently hired 2 of our participants and other youngsters are still in other selection processes in different areas. Congratulations, to all of our participants that applied and succeeded in the process! Continue to believe in your dreams and pave the way for other opportunities for DLW'ers.
JUNE
DLW support campaign

Our DLW against COVID-19 fundraising project that started back in March of 2020, continues strong with the distribution and support to our participants during these dificult times in Rio de Janeiro and all over Brazil. Thanks to the collective commitment of our partners from local NGOs, financial partners, volunteers, donors/supporters, GlobalGiving and DLW'ers, we are managing to continue to reach and fulfill our goals of collecting material and distributing them, and we continue the fundraising campaign to ensure more grocery staples, cleaning and hygiene kits for these families, given the health and socioeconomic impacts caused by COVID-19 here.