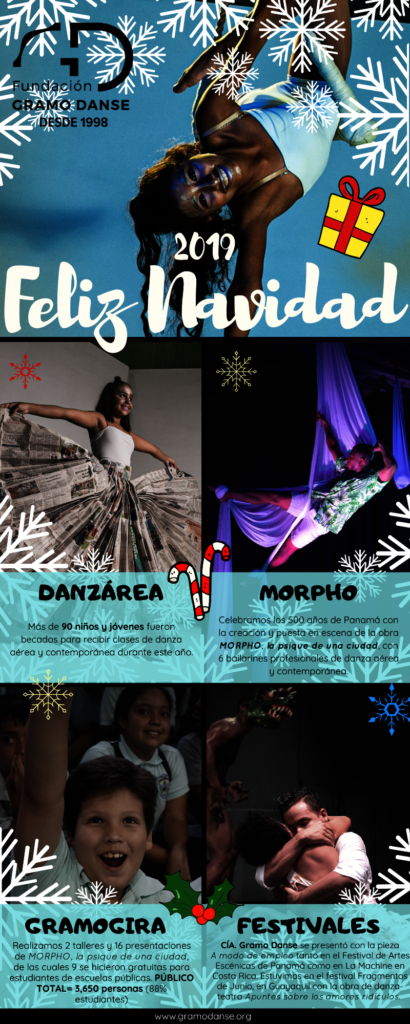 Dear Gramo Danse sponsors:
2019 was an unforgettable year for us in Fundacion Gramo Danse. We accomplished many things and learned through the challenges we experienced. We welcome 2020!
We are happy to share our successes during the past year and would like to make YOU part of it:
· With DANZAREA, our social program, more than 90 children and teenagers were granted scholarships to receive comprehensive aerial and contemporary dance training during 2019. The training is based on a well developed structured curriculum by Monica Newsam (a professional aerialist and teacher) and Nereyda Rey (Teacher and Director of DANZÁREA). All our teachers received training to acquire the skills necessary to implement this efficient and precise teaching/learning tool. Also, Ruby our new psychologist joined our team to work with all our students individually and cooperatively.
· We celebrated Panama City's 500th anniversary with the creation and staging of the multidisciplinary piece MORPHO, la psique de una ciudad, starring 6 aerial and contemporary dance professionals, with the collaboration of the choreographer and Colombian dancer Ana Prada, and the music of several talented Panamanians. This two part piece was a celebration of our identity and traditions. It also carried a message of loving and caring for nature and our animal species.
· We took our art throughout the country as every year with the GRAMOGIRA 2019, mostly to children. We conducted 2 workshops on movement and environmental conservation for 150 children, and 16 performances of MORPHO, la psique de una ciudad, from which 9 were made free of charge for students of public schools in our country. We reached a total audience of 3,650 people (88% students). We believe art is essential to children´s education.
· CIA. Gramo Danse's members had the opportunity to dance in different spaces both local and international FESTIVALS. The piece a modo de empleo was presented at the "Festival de Artes Escénicas" in Panama and in "La Machine" in Costa Rica. They were also at the "Fragmentos de Junio" Festival, in Guayaquil, with the dance-theater play Apuntes sobre los amores ridículos.
We are starting 2020 with full force. We are sending four DANZÁREA students to Costa Rica, to an intensive contemporary dance training (1 week) called Revés. They will be training with great teachers from different countries and sharing experiences with young people from at least 100 countries.
Of course, DANZÁREA will continue the work that has been carried out for more than 10 years, with our children and young people who are socially at risk. The great news is that we are expanding our program. We will add two new groups of 20 children in two schools in at risk communities.
This year we will also organize and carry on the sixth version of BRÍO, a children's and youth choreography festival in Panama, where various groups of young dancers will have a platform to create and express their ideas and thoughts through dance.
CIA. Gramo Danse, winner of the IBERESCENA 2020 Fund will be working on the creation and staging of K. i r o s (morpho se fue). This new piece is a continuation of MORPHO, la psique de una ciudad. This year we are taking it to new heights literally. Our professionals will perform vertical dance as a means of expression. This play will also be taken on tour through Panama, hoping to reach an audience of more than 3,500 people.
We hope to continue counting on your support on 2020 and the years to come, and that you'll be partakers of all the achievements that we will surely achieve.
Greetings and congratulations this new year, 2020!
Links: