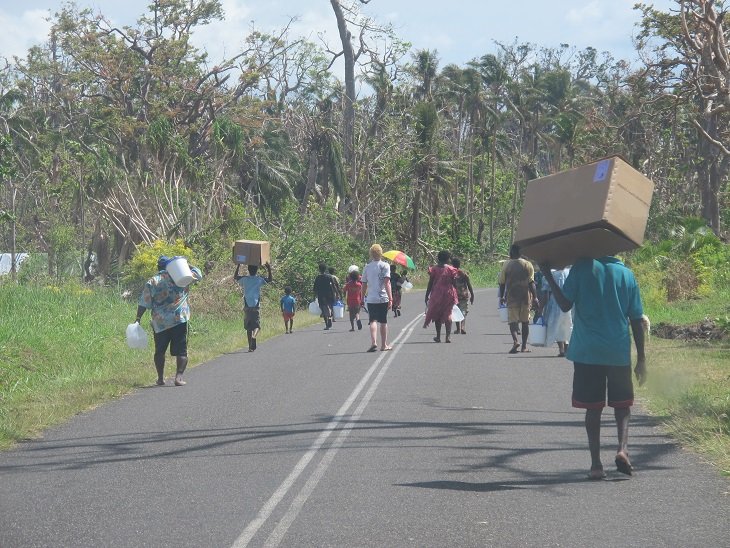 Local ACTIV and Regional organisation OKEANOS re-connected after cyclone Pam hit Vanuatu a month ago. The two NGOs already worked together in 2012 exploring inter island shipment opportunities using traditional sailing boats, combining low maintenance cost and shallow draft allowing to access all remote islands and shores of the archipelago. Through its branch ACTIV Earth, the local NGO has undertaken several projects providing immediate response and identifying needs for inter island crops and seeds transportation. International aid provided food and mostly rice which is easy to carry and source abroad in large quantities, but it has low nutriment contents in comparison to traditional crops like Kumalas, Taros and Yam.
Since Northern islands were less affected and still had crops available, ACTIV liaised with its community members to see who had the capacity to produce much needed local crops and prepare for shipment from one island to another, feeding the people and regenerating their traditional gardens all in one. The equation is simple; when you buy local crops you support the local economy in one island while assisting another to recover. Rice and imported food were much needed at time of immediate response but we are now working on the mid-term recovery and these are not traditional foods neither growing in Vanuatu.
Knowing OKEANOS in a long time and yet aware of their actions in the Pacific region, it was a clear target for partnership in immediate relief and ACTIV president contacted the OKEANOS who dedicated one of their traditional carrier leaving New-Zealand shore to land in Vanuatu a week later. The first rotation went North collecting 2.5 tons of local crops purchased with funds collected by ACTIV and were distributed throughout the Shepherds Islands en route to Port Vila. OKEANOS Crew were so enthusiast when landing ashore and being welcomed by a Chief in Tongoa who told them how much they needed their traditional food and were fed-up with rice which they are not used to eat.
ACTIV and OKEANOS wish to continue their inter-island actions over a two month period. Inter island transport and logistics are provided for free, we need your support and raise more funds to buy locally available crops and re-build traditional gardens. The Vaka boat has 4 tons loading capacity and will complete one rotation per week with two crews relaying on board. We live and love Vanuatu and we thank you for your incommensurable support.
On the Efate island, ACTIV and OKEANOS teamed together to go around the island in a day trip to distribute non-GMO seeds to the local population to re-grow their gardens and ensure there is some diversity in the crops as well. Vaka Captain coming from the Cook Islands had already a previous experience in Vanuatu and was shocked by the damages on the far East and Northern parts of the island near the villages of Pang Pang, Epule, Ekipe and Onesua, up to Takara where ACTIV Team stopped to check the progression at Paonganisu school. We are now actively raising funds to re-build about 600 square meters of roof taken from the school and teacher's houses to be re-built from scratch.
You will find attached pictures of the OKEANOS trip to Shepherds Islands and ACTIV Actions on Efate.
Thanks again for your support; we will keep you posted soon on the progression.
Sandrine and Olivier.