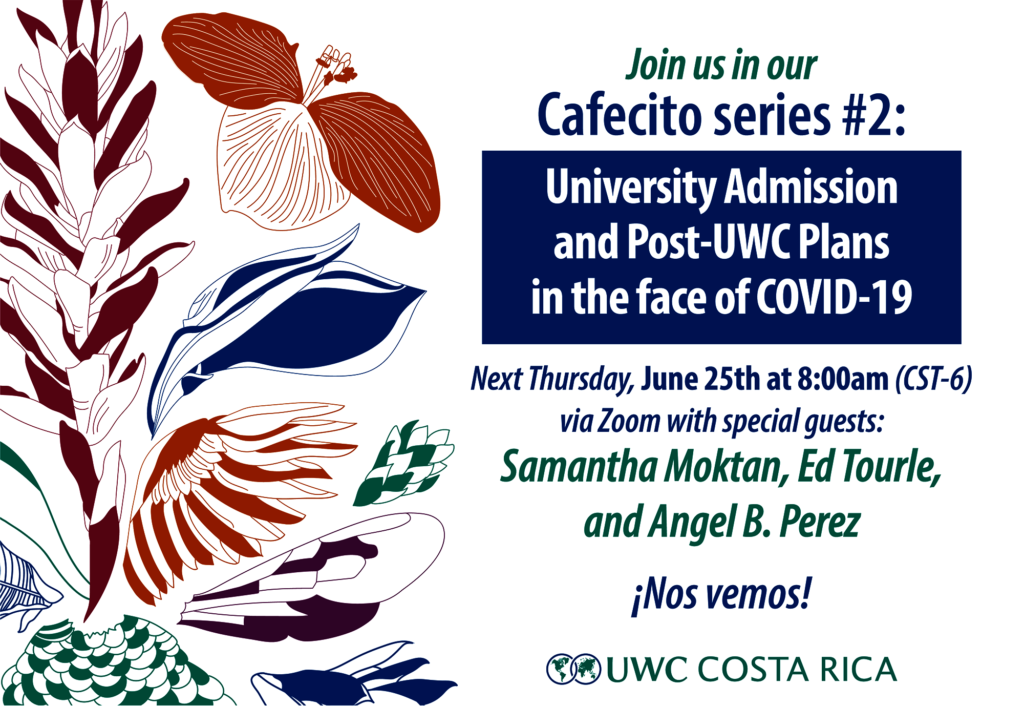 Living a worldwide pandemic is a new reality that has taken the world, and our community, by surprise. Despite the challenges that COVID-19 has created, and continues to create, for our community, at UWC Costa Rica we have also taken this as an opportunity to innovate and strengthen our community and our educational model:
The ReStrategy: using a Design Thinking process, our educational team alongside students, parents, and alumni have been ReThinking, ReOrganizing, and ReSponding to today's constantly changing reality. Though still a work in process, we are looking to take the UWC Costa Rica learning model to the digital age looking for innovative solutions that will offer our students an enriching educational experience grounded in the UWC values and mission as we prepare to start our new academic year in August.
Building Virtual Communities: COVID-19 has shown us all that nothing is more important than the relationships we treasure and the communities that give us strength during difficult times. This is why we at UWC Costa Rica have taken our community-building online and are actively working to open new opportunities for us to share, learn, and support together like our Cafecitos series that will continue this Thursday, June 22nd at 8 a.m. (CST-6) on the topic "University Admission and Post-UWC Plans in the face of COVID-19" featuring our own University Counselors Samantha Moktan and Ed Tourle and UWC Costa Rica Board member and new CEO for the National Association for College Admissions Counseling (NACAC) Dr. Angel B. Perez
Please stay tuned to our social media pages on Facebook and Instagram for invitations to our upcoming virtual events or email us at communications@uwccostarica.org to join our mailing list. You can also stay up to date with our COVID-19 response through our website.
It is through your support that we at UWC Costa Rica are not only responding to the COVID-19 pandemic but also using it as an opportunity to innovate and strengthen our community. ¡Muchas gracias por su apoyo continuo!
Sincerely,
Jose Pablo Rojas-Brewer
Development DirectorUWC Costa Ricajosepablo.rojas@uwccostarica.org