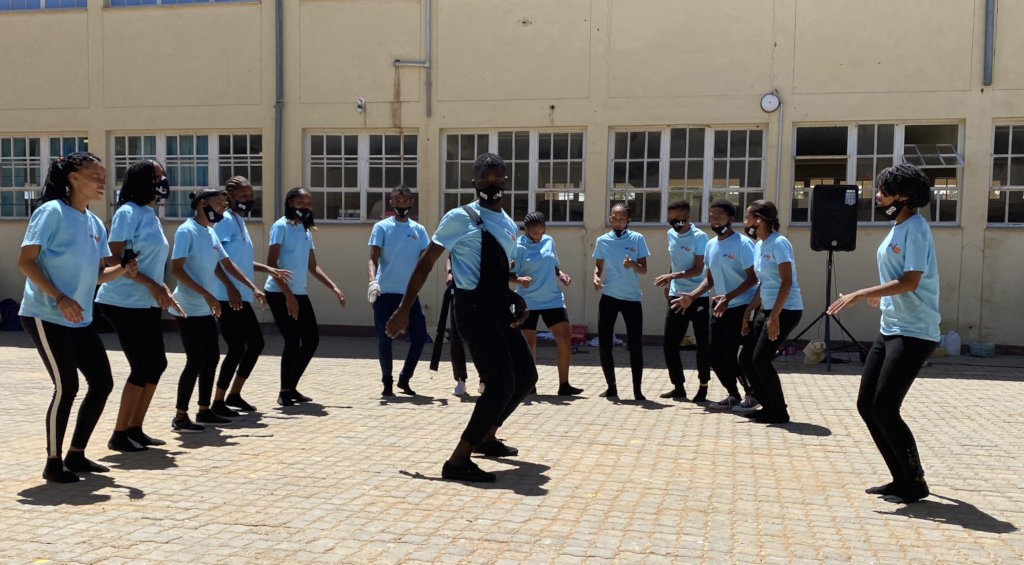 As you know, the Ombetja Yehinga Organisation (OYO) is a Namibian NGO that uses Arts to create social awareness. 2020 had been very difficult, and we were all hoping 2021 would be a little easier. But the year started slowly. Thanks to our trusted partner Horizon we could at the beginning of 2021 work with a youth group in the South of Namibia and tour them in schools, talking with learners about COVID19 but also offering counseling and guidance – many learners felt unsettled after last year's poor academic performances and were scared to be back in school. The tour was a great opportunity to reconnect with them. We could reach 2,724 people and all the schools visited were grateful for the project.
No performances with the dance troupe could be scheduled before early June 2021 so the team took this chance to train new trainees. It had been a long time since we had the time to properly train trainees, so we tried to turn the situation to our advantage. Also, slowly but surely the planning for the dance troupe started to fill up for June, July and September. We negotiated a project with the Embassy of the Federal Republic of Germany and another small project with STAFE via the French Consulate in Johannesburg.
End May however as the dance troupe was about to go on tour regulations changed again. It was decided to proceed with the tour to the Kavango regions, as everything was set in motion. This region had experienced in 2020 a huge increase in teenage pregnancy and school drop-out due to the lockdown and closing of schools (522 teenage pregnancies and 4,426 school drop-out in Kavango West and 520 teenage pregnancies and 2,951 school drop-out in Kavango East – amounting to 29% of all teenage pregnancies in the country and 24% of all school drop-outs). It was therefore felt it would be very important to reach out to learners and offer education and counseling.
Unfortunately, other activities have then been canceled – raising lots of concern for the future of the dance troupe and the organization. The current COVID situation in Namibia is not good, with hospitals getting full. We have currently little visibility regarding what we will still be able to do. There is a lot to be done – yet activities reaching small amount of young people by small amount of young people are time consuming and more expensive. We are committed to continue making a difference and our team is more than ever going the extra mile. Funding is, however, a problem.
The little-by-little fundraising campaign in March didn't yield good results – understandably as many of you also struggle finding your balance in the current environment. We will however continue asking you to help us reach our goals by encouraging friends and colleagues to support us. Our link is still: https://www.globalgiving.org/projects/using-arts-educate-4000-namibian-teenagers-on-hiv
If you have any friends who may be able to support us please do share the link. We greatly appreciate all the support we can get, no matter how big or small.
Links: