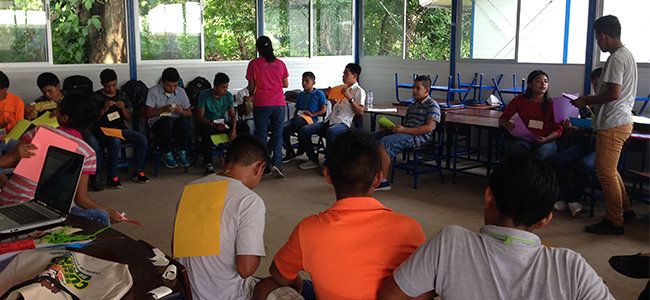 "When I woke up the next day, life as I knew it—it had changed forever." – a child from El Rodeo village, speaking about the eruption of "Volcán de Fuego" in Chimaltenango, Guatemala.
After the eruption of Volcán de Fuego in June, the inhabitants of El Rodeo village in Chimaltenango were relocated to variousshelters in Guatemala. Asociacion Generando (ASOGEN) responded immediately to the emergency, fulfilling immediate needssuch asproviding food, clothing, and medicine for families affected by the eruption. In the weeks that followed, they designed a psychosocial care program, which focused on delivering psychological care to children and youth coping with this traumatic experience.
A few weeks ago I visited the "Albergue de Transicion Unifamiliar" in Escuintla, a government-run shelter for hundreds of families who survived the volcano. The shelter has a temporary school where students from Instituto por Cooperativa de Aldea El Rodeo—a school that was destroyed in the eruption—take classes so they can finish their school year. Because some students showed post-traumatic behaviors, Julia Rodriguez Giron, the school principal, contacted ASOGEN to provide psychological care to students as a way to cope with grief.
Every two weeks, ASOGEN's staff visit the shelter and provide psychological and medical care. According to Marian Salazar, ASOGEN's medical doctor, displaced students there suffer from a number of diseases such asurinary tract diseases, dermatitis, and impetigo (gastritis nervosa). Psychological care is provided by ASOGEN's seven-person team, which includes psychologists and social workers. Each of them works with a group of approximately 25 students and covers a curriculum that includes topics like controlling emotions and stress management.
The students that attend the workshop share their emotions as a group and try to cope with the sadness of losing family, friends, and livelihoods. A moving element that takes place during the workshop is the "burning of emotions" where students write the feelings that affect them on a piece of paper that is then burned. This symbolizes the elimination of emotions that they no longer want to feel.
The following quotes are from students from El Rodeo School that were shared during the psychosocial workshop I attended in Escuintla.
"Before the eruption of the volcano, my life was different."
"That Friday Karen, Ludwig, Jefferson, and I were so happy to leave school because the exam period was over." (Karen, Ludwig, and Jefferson died, but mentioning their names in the workshop session brings closure to those who remember them.)
"Since the eruption happened, I have not had a moment of joy."
"I was very scared when the volcano eruption happened, I do not feel safe, even though I am with my family."
"I am angry because my life changed and sad because my cousins and friends died."
Through the implementation of this workshop, ASOGEN's team is monitoring the progress of the students' mental health. Both the ASOGEN team and the school principal know that recovery from grief and acceptance of reality is a long-term process, but they know that the psychosocial care workshops have helped students cope and have provided hope. The following quotes demonstrate that the workshops have had a positive influence on the students.
"Despite being sad, I feel happy because my mom and sister are fine."
"I'm still scared, but I am alive and that's enough motivation to keep going."
Thanks to our donors and their contributions, we've reached our funding goal! You have made a real difference for the children and youth affected by Volcano Fire's eruption. We are very grateful for your support.