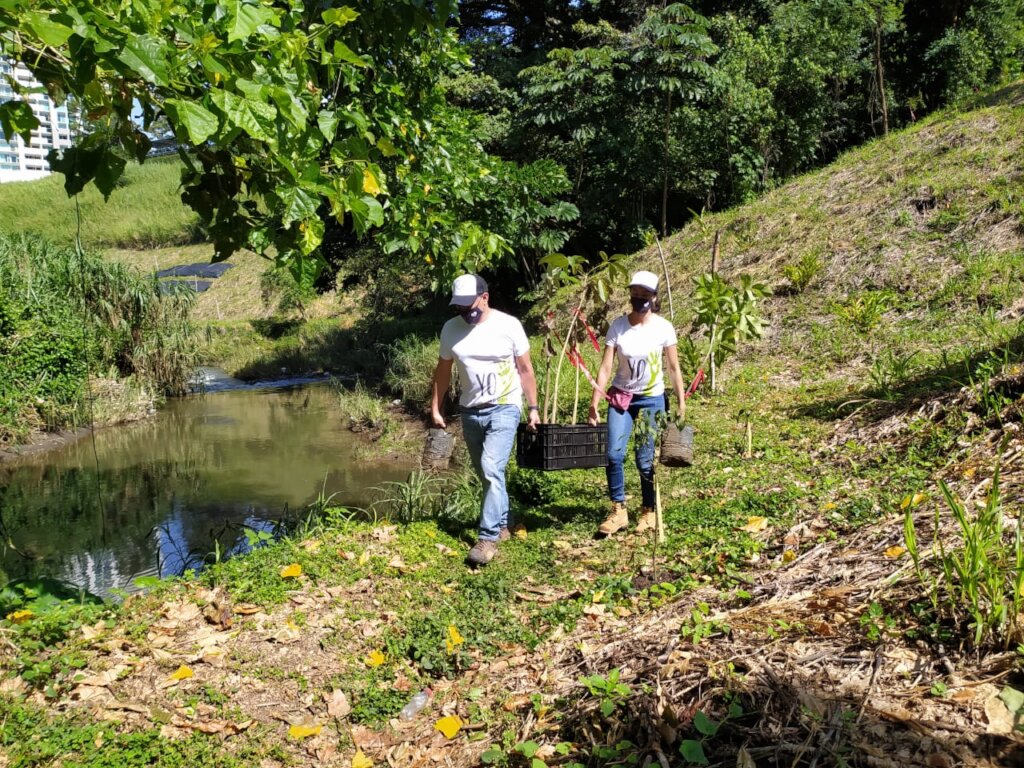 SPANISH FOLLOWS ENGLISH / ESPAÑOL DISPONSIBLE BAJO VERSIÓN EN INGLÉS
Achievements in 2021.
With the help of more than 100 volunteers and the support of international cooperation, private and public sector, during 2021 we were able to plant more than 700 native trees! This means that the initial goals of the national matching grant called Fondo Ciudad Verde "Green City Fund'' have been accomplished! However, the area still has a long way to go until it's fully rehabilitated. The trees need to continue developing to be completely established in their new environment. Rutas Naturbanas is committed to continue expanding the area of rehabilitation to remove and remediate the soil from the "elephant grass" in the river's ecosystem.
About the Green City Fund. Rutas Naturbanas won a national matching grant called Fondo Ciudad Verde "Green City Fund" to undertake the remediation of over 3 hectares of land next to the river. The project's goal was to plant over 320 trees and provide surveillance and maintenance to the area.
###
ESPAÑOL / SPANISH
Logros alcanzados en el 2021
¡Con la ayuda de más de 100 voluntarios y el apoyo del sector privado, público y cooperación internacional, durante el 2021 pudimos sembrar más de 700 árboles nativos! ¡Esto significa que se han cumplido las metas iniciales establecidas a través del fondo no reembolsable denominado Fondo Ciudad Verde!
No obstante, la zona intervenida aún tiene un largo camino por recorrer hasta rehabilitarse en su totalidad. Los árboles necesitan seguir desarrollándose para establecerse por completo en su nuevo entorno.
Rutas Naturbanas está comprometido a continuar ampliando el área de rehabilitación para remover y remediar el suelo del "zacate elefante" en el ecosistema ribereño.
Sobre el Fondo Ciudad Verde. Rutas Naturbanas ganó una contrapartida para un fondo no reembolsable llamado Fondo Ciudad Verde para llevar a cabo la remediación de más de 3 hectáreas de tierra junto al río. El objetivo del proyecto era sembrar más de 320 árboles y brindar vigilancia y mantenimiento en el área.