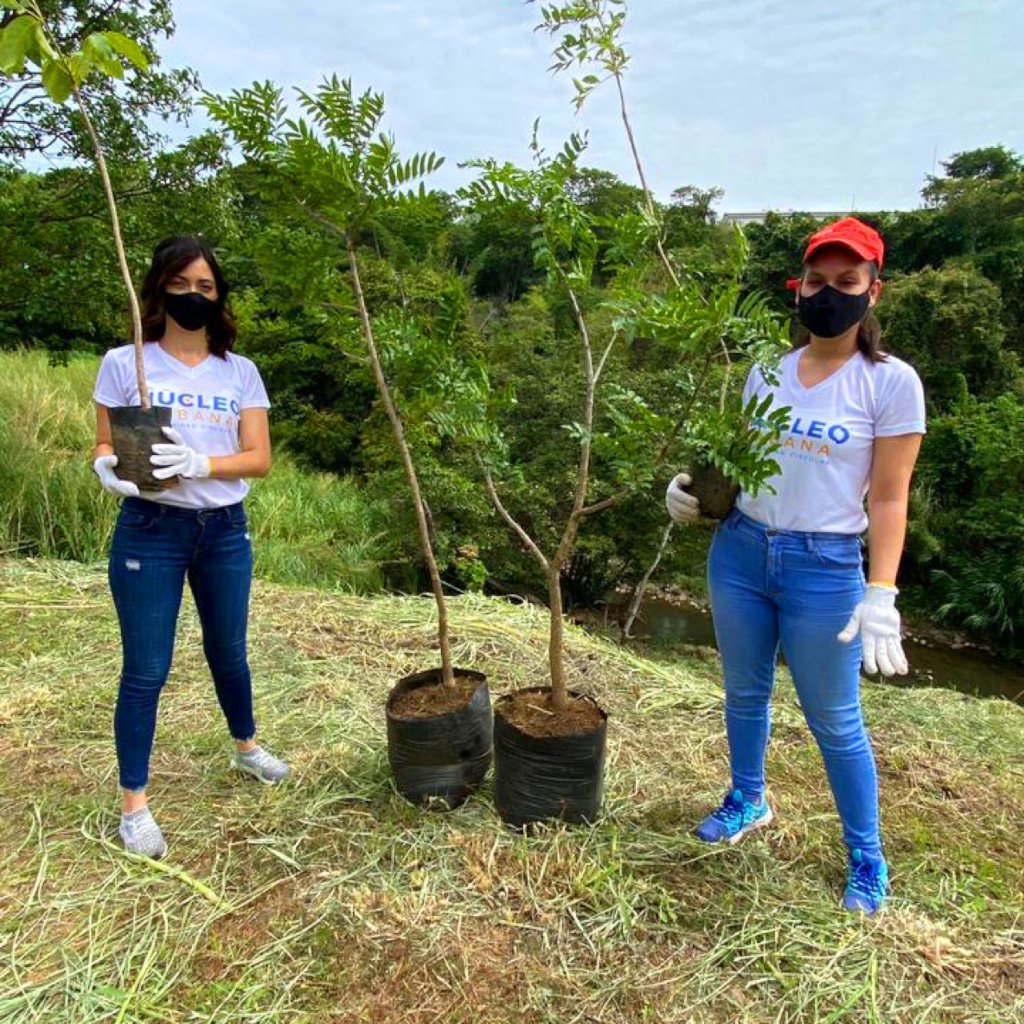 English Version:
The planting of native trees begins!
While the huge endeavor continues to remove and remediate the soil from the "elephant grass" (invasive species of grass that has overtaken large strips of land and hindered the growth of native species in the riverbanks), we are happy to announce that the planting of native trees has begun with 50 new native trees! All trees are at least 1.5 meters, which allows them to be good competitors by having a growth advantage against the "elephant grass". Also, many of the native species of trees are ornamental, which not only serve as food for native fauna, but will embellish the area with colorful blooms of different colors.
About the project
Rutas Naturbanas won a national matching grant called Fondo Ciudad Verde "Green City Fund" to undertake the remediation of over 3 hectares of land next to the river. The project will plant over 320 trees, 200 herbaceous plants and provide surveillance and maintenance for a year.
The initiative led by Rutas Naturbanas promotes collaborative work between the private and public sector as the best way to solve challenging issues. Thus, the project receives support from two private property developers, the Municipalitiy of San José, and the National Electric Company.
About the "elephant grass"
The invasive species of grass known as "elephant grass" was brought from Africa for grazing or fodder a couple of centuries back and has overtaken large areas of land, with the biological corridors that make up the urban riverbanks being significantly affected. This species of grass grows extremely fast (especially under the Costa Rican tropical climate) and ends up displacing the native forest, which means that animals have less available natural habitat. This species of grass is also accountable for recurrent fires in the summer, slope instability and encouraging illegal garbage dumps.
Versión en Español
¡Inició la siembra de árboles nativos!
Mientras continúa el enorme esfuerzo de remover y remediar el suelo del "zacate elefante" (especie invasora que se ha apoderado de grandes franjas de terreno y ha obstaculizado el crecimiento de las especies nativas en las riberas del río), nos complace anunciar que la plantación de árboles nativos ha comenzado con 50 nuevos árboles nativos. Todos los árboles miden al menos 1.5 metros, lo que les permite ser buenos competidores al tener una ventaja de crecimiento frente al "zacate elefante". Además, muchas de las especies nativas de árboles son ornamentales, que no sólo sirven de alimento a la fauna autóctona, sino que embellecerán la zona con vistosas floraciones de diferentes colores.
Sobre el proyecto
Rutas Naturbanas ganó una contrapartida para un fondo no reembolsable denominado Fondo Ciudad Verde para acometer la remediación de más de 3 hectáreas de terreno junto al río. El proyecto plantará más de 320 árboles, 200 plantas herbáceas y proporcionará vigilancia y mantenimiento durante un año.
La iniciativa liderada por Rutas Naturbanas promueve el trabajo colaborativo entre el sector privado y público como la mejor manera de resolver problemas difíciles. Por consiguiente, el proyecto cuenta con el apoyo de dos empresas desarrolladoras privadas, la Municipalidad de San José y la Compañía Nacional de Fuerza y Luz.
Sobre el "zacate elefante"
La especie invasora conocida como "zacate elefante" fue traída de África hace un par de siglos para el pastoreo o forraje y ha invadido grandes extensiones de terreno, afectando significativamente los corredores biológicos que conforman las riberas de los ríos urbanos. Esta especie de zacate crece a gran velocidad (sobre todo en el clima tropical de Costa Rica) y acaba desplazando al bosque autóctono, lo que significa que los animales tienen menos hábitat natural disponible. Esta especie de zacate también es responsable de los incendios recurrentes en época de verano, de la inestabilidad de los taludes y de fomentar los vertederos ilegales de basura.