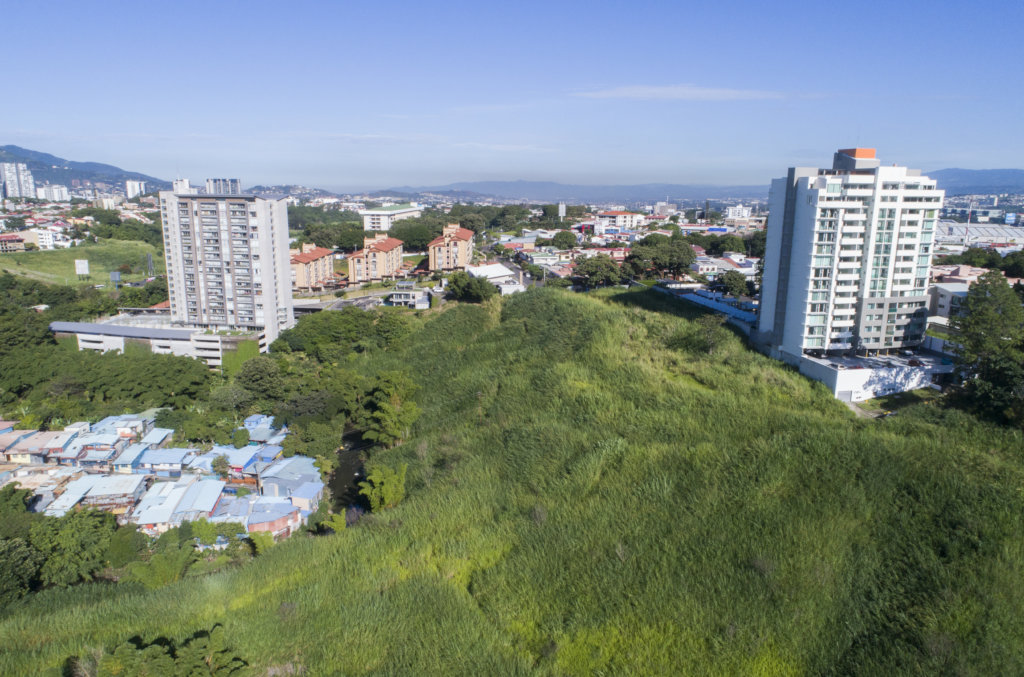 ENGLISH FIRST / SPANISH BELLOW
Prepping for remediation and planting
Despite the pandemic, we are initiating a huge undertaking to remediate several hectares of land which are home to "elephant grass". This invasive species of grass was brought from Africa a few centuries back and has overtaken swaths of land and inhibited native species' growth in urban riverbanks.
Rutas Naturbanas has led an effort and won a national matching grant to experiment removal and soil remediation. The project will plant over 320 trees of at least 1.5 meters, 200 herbaceous plants, and provide monitoring and upkeep for a year in over 3 hectares of land. We are very proud of the incredible amount of work in prepping for this project and scientific insight by our foundation's biologist, Jossy Calvo (picture with a COVID Mask on-site).
Our collective work continues to expand and bring new players to the initiative. This project, about to start, has the technical and material support of the Municipality of San José and the National Electric Company, and two private property developers where Rutas Naturbanas will begin another construction December 2020.
Preparación para remediación y plantación
Pese a la pandemia, estamos iniciando un esfuerzo gigante para hacer una remediación de varias hectáreas de tierra tomadas por "zacate elefante". Esta especie invasora de zacate, fue traída de África hace unos siglos y han tomado terrenos inmensos e inhibido que crezcan especies nativas en nuestros entornos ribereños urbanos.

Rutas Naturbanas lideró un esfuerzo y ganó una contrapartida para un fondo no reembolsable que nos permitirá experimentar hacia la eliminación y remediación de suelo. El proyecto plantará más de 320 árboles de al menos 1.5 metros, 200 plantas herbáceas y dar mantenimiento y monitoreo por un año en más de 3 hectáreas de terrenos. Estamos orgullosos de la gran cantidad de trabajo y esfuerzo en preparar este proyecto y los insumos científicos para hacerlo por parte de nuestro biólogo de la fundación, Jossy Calvo (en foto con máscara de Covid).

Nuestro trabajo colectivo continúa su expansión y trae a nuevos jugadores a la iniciativa. El proyecto, a punto de comenzar, tiene el apoyo técnico y material de la Municipalidad de San José, la Compañía Nacional de Fuerza y Luz y dos propietarios/desarrolladores dónde Rutas Naturbanas iniciará otro tramo este diciembre 2020.