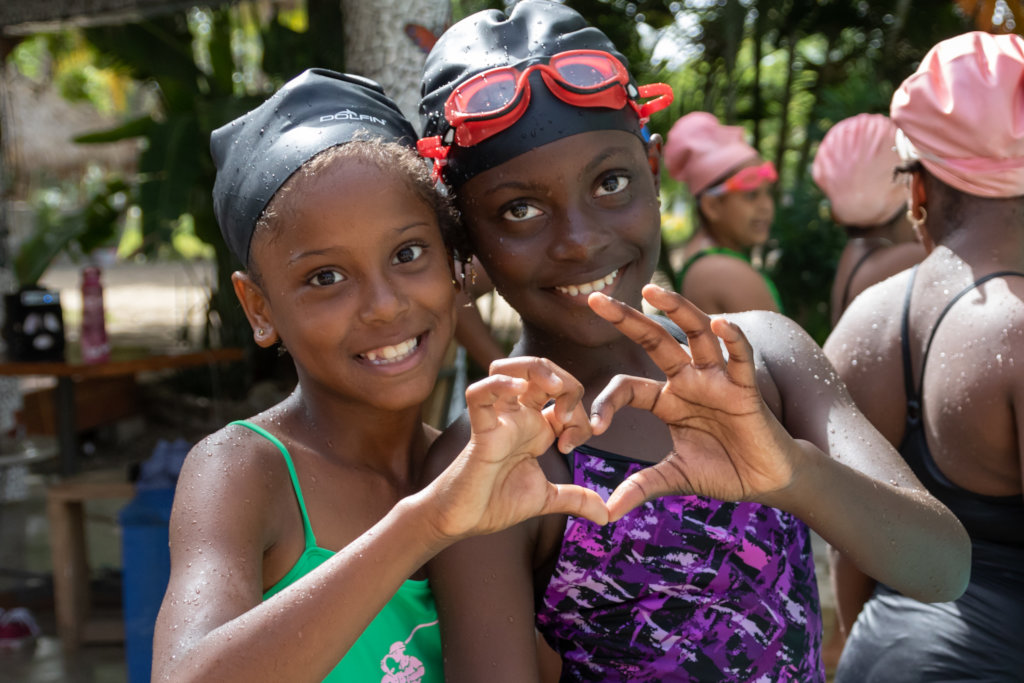 We wanted to share our promise, la promesa, to the Mariposas as they learn to lead in their community and throughout the world. As always, thanks so much for your support of this project and for helping to unleash the leader in a girl!
The Promise – The Offer – Our Pledge
We will provide you with an education filled with experiences to last a lifetime. On field trips and through environmental education you will see, smell, and taste things that you never dreamed existed. You will learn skills that will land you jobs and some that will become hobbies. You will play sports, dance, sing and laugh. You will be safe in our home, because it was built to be your home, too.
You will learn about other cultures and about your own rich culture, knowledge you can pass to your children one day when you are gown up and if you decide to have them. You will attend a private school where you will stay until you are eighteen years old. We will provide tutors and academic assistance along the way. If you are committed to going to college we will help you to get there.
You will learn languages to enable you to communicate with people from around the world. You will serve your community and communities with people you do not know. You will march for peace, for change, and for justice for all. You will be a leader who commands respect.
We understand that if your teeth ache or your mother is ill or your siblings are hungry you may not be present, and you need to be present, both physically and mentally. Therefore we will make sure you receive health care and learn to advocate for your health and wellness. If your family needs assistance, financial or emotional, we promise we will look for resources to help them, so that they will also remain determined to help you break the cycle of poverty by receiving a quality education that was not offered to them. We recognize that you cannot do it alone, none of us ever have.
Our wings are fashioned by many hands.
The Know
You began your life many miles behind the starting line, and that was not fair. But this has given you a better understanding of how to be compassionate and patient and we trust you will use this compassion and patience to help others who may stumble or need the wisdom of someone who has had to overcome so many obstacles. You will remain committed and will not give up. You may get used to hearing no, but you will never accept it when it is about your well-being or your own dreams or the well-being and dreams of your community, since we don't belong to ourselves alone.
The Ask
To achieve these goals, you must show up. You must contribute your time and devotion. Dream big, work hard.
You must never forget your cradle, where you came from and that you will share your knowledge and love with all that you come into contact with.
You will care for your mother earth and for your mother who birthed you as well as the many mothers and fathers who helped raise you. You will be proud and remain a reader, a problem solver, and a good communicator. You will never stop trying. You will not condone violence or discrimination in any form or intentionally hurt others. You will not judge others as we did not raise you to be judges but to be peacemakers. You will teach others to love the earth and the sea and the air.
You are a Mariposa. Your wings were fashioned by many hands. Use them to soar.
------------------
La promesa, la oferta, nuestro compromiso
Te proporcionaremos una educación llena de experiencias para toda la vida. En excursiones y a través de la educación medioambiental verás, olerás y sabrás cosas que no imaginabas que existían. Ganarás habilidades que te ayudarán a conseguir trabajo y algunas que se convertirán en pasatiempos. Jugarás deportes, bailarás, cantarás y te reirás. Estarás segura en nuestro hogar, porque fue hecho para ser el tuyo también.
Aprenderás sobre tu propia cultura y otras, conocimiento que pasarás a tus hijos un día, si tu decides y estés lista para tenerlos. Asistirás a una escuela privada donde estudiarás hasta los dieciocho años. Te proporcionaremos tutores y ayuda académica en el camino. Si estás comprometida para ir a la universidad te ayudaremos a llegar allí.
Aprenderás idiomas que te permitirán comunicarte con personas de todo el mundo. Servirás a tu comunidad y a comunidades de personas que no conoces. Marcharás por la paz, por el cambio y por justicia para todos. Serás una líder que inspira respeto.
Entendemos que si te duele un diente o tu mamá está enferma o tus hermanos tienen hambre tal vez no estarás presente, y tienes que estar presente, tanto físico como mentalmente. Por lo tanto nos aseguraremos de que recibas atención médica y aprendas a defender tu salud y bienestar. Si tu familia necesita ayuda financiara o emocional, prometemos buscar los recursos para ayudarles para que ellos también sigan determinados a ayudarte a acabar con el ciclo de pobreza a través de una educación de calidad que no les ofrecieron. Reconocemos que no lo puedes hacer sola, nadie lo ha hecho solo.
La Comprensión
Comenzaste la vida muchas millas atrás de la línea de inicio, y eso no es justo. Pero eso te ha dado un mejor entendimiento de cómo ser compasivo y paciente y confiamos que usarás esta compasión y paciencia para ayudar a otros que pueden tropezar o necesitar la sabiduría de alguien que hasuperado tantos obstáculos. Seguirás comprometida y no te rendirás. Tal vez te acostumbrarás a oír "no," pero nunca lo aceptarás cuando tiene que ver con tu bienestar o tus sueños o el bienestar y sueños de tu comunidad, porque no nos pertenecemos a nosotros solos.
Lo pedido
Para alcanzar estas metas, tienes que venir. Tienes que contribuir tu tiempo y devoción. Soñar grande, trabajar duro.
Nunca debes olvidarte de tu cuna, de donde vienes, y compartirás tu conocimiento y amor con todos con quien tengas contacto.
Cuidarás la madre tierra y la madre que te dio la luz y todos las madres y los padres que ayudaron a criarte. Serás orgullosa y serás una lectora, una buena comunicadora y solucionadora de problemas. Nunca dejarás de intentar. No condonarás ni la violencia ni la discriminación en ninguna forma ni hacerle daño a otro a propósito. No juzgarás a otros porque no te criamos para ser jueces sino pacificadores. Enseñarás a otros a amar a la tierra y el mar y el aire.
Eres una Mariposa. Tus alas fueron hechas por muchas manos. Pero solo tú puedes ponértelas y volar por todo el tiempo que estés en la tierra.