Project Report

| Apr 3, 2023
Update: Emergency Response in Turkiye and Syria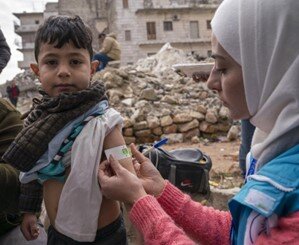 Dear Friend,
2022 was a challenging year for children. Today, there are more children in need of humanitarian assistance than at any other time since the Second World War. Across the globe, more than 400 million children live in areas under conflict; an estimated 1 billion children – nearly half the world's children – live in countries at extreme vulnerability to the impacts of climate change; at least 36.5 million children have been displaced from their homes; and 8 million children under age 5 across 15 crisis-hit countries are at risk of death from severe wasting.
But the situation is far from hopeless. UNICEF knows how to reach children at greatest risk and in greatest need. Decisive and timely humanitarian action can save children's lives, while also sowing the seeds of future development.
For example, UNICEF was in Türkiye and Syria long before the devastating earthquakes struck on February 6th and was ready to assess and respond immediately. Together with partners, within the first week following the earthquakes, UNICEF shipped more than 70 tons of supplies from its global warehouses, while simultaneously mobilizing supplies already pre-positioned in-country.
In Syria, UNICEF has deployed mobile health and nutrition teams to provide services and supplies to those in need, including those in shelters. UNICEF began water trucking where water and sanitation systems were compromised, and immediately trained dozens of trainers on psychological first aid and began distributing recreational kits so that tens of thousands of children receive the means to play, connect with peers, and regain a sense of normalcy amid the chaos. In both Türkiye and Syria, child protection is a high priority, including the reunification of separated children as well as ensuring the safe reopening of schools, which are an important place for children to return to a sense of normalcy and support.
Thanks to your generous support, UNICEF was ready to jump into action the moment the earthquake struck and is continuing to work closely with partners to ensure children and families receive the supplies, support, and resources they require as they cope with the loss of homes, schools, and the psychological trauma caused by the disaster. Thank you, we are so grateful for your support of children around the world who are most in need.
In Partnership,
Whitney