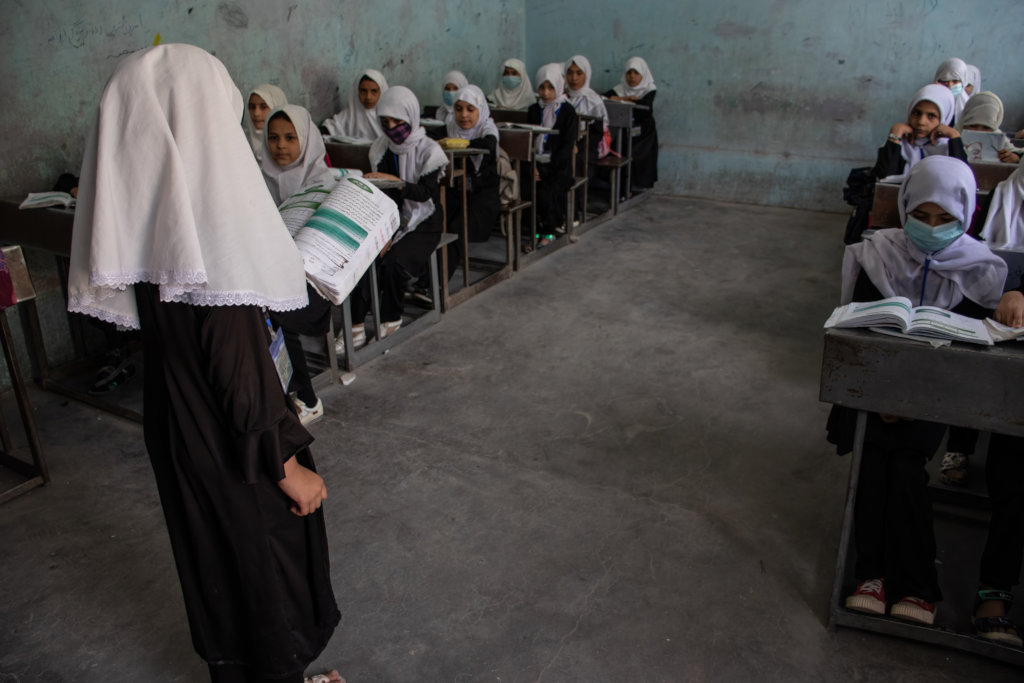 Dear Friend,
For many years, Afghanistan has been one of the most dangerous places on earth to be a child – and over the past few months, children have been faced with fresh conflict, violence and turmoil. Even at the start of 2021, 18.4 million people – around half of the population - were in need of humanitarian assistance, nearly 10 million of them children. But the humanitarian situation has greatly deteriorated in recent months due to the triple impacts of conflict, COVID-19 and drought, leaving Afghanistan's children facing a more precarious future than ever. Since the end of May, the number of people displaced by conflict has more than doubled and now stands at 575,000. In addition, pressures on livelihoods and harvests have left 12 million people experiencing emergency or crisis levels of food insecurity.
The situation is fluid and unpredictable – but UNICEF has been delivering life-saving support in Afghanistan for 70 years, and UNICEF is here to stay. Throughout its time in the country, UNICEF has built trust with communities and nurtured community networks, developed lasting relationships with local partners, negotiated with all parties to conflict for access, and become adept at delivering life-saving supplies and services in difficult circumstances. As needs continue to increase in the face of this current complex crisis, UNICEF's humanitarian work in Afghanistan is more critical than ever.
Thanks to your support, so far in 2021, UNICEF has reached 1.7 million people with humanitarian assistance and despite the many challenges and uncertainties arising from recent events, UNICEF and partners are already supporting mobile health and nutrition teams in camps for Internally Displaced Persons (IDPs). Since the beginning of August, some 2,500 children and 1,700 pregnant and lactating women received basic health services in IDP settlements. Nutrition programs are ongoing and during August, an estimated 11,000 children under the age of five who are suffering from severe acute malnutrition were reached with treatment. In terms of the education response, UNICEF has distributed textbooks, classroom materials and tents in six provinces benefiting over 7,500 children. UNICEF is also providing safe water through water trucking to 12,500 drought-affected people in the Nimroz province which is one of the most water-stressed areas in the country.
UNICEF recently leveraged U-Report, which is a UNICEF-supported free, text message-based service to launch a poll to 100,000 Afghans, including 15,000 girls, to understand their most pressing needs. Most individuals responded that they need cash-based assistance to sustain a livelihood, especially with the winter months ahead. As such, UNICEF is scaling up its cash transfer program which aims to reach 20,000 households (around 140,000 beneficiaries) in the provinces that are most affected by multiple emergencies and which have the highest multidimensional poverty levels, including Samangan, Farah, Faryab, Herat and Kandahar. UNICEF appreciates the commitment of partners and donors to stand together with UNICEF, as it stands with Afghanistan's children
------------------
On August 14, a 7.2 magnitude earthquake hit the southwestern departments of Haiti, resulting in the death of over 2,200 people and leaving a further 12,200 people injured. Approximately 130,000 homes were destroyed, putting thousands of people in urgent need of assistance. Overall, the earthquake is projected to have affected over 800,000 people, including 340,000 children. Unfortunately, two days after the earthquake, Tropical Depression Grace made landfall in Haiti, causing heavy rains which delayed immediate relief efforts and further compounded the humanitarian situation.
These disasters struck Haiti as the country was reeling from the assassination on July 7 of former President Jovenel Moïse, as well as an escalation of gang violence that has led to the displacement of 19,000 people since September. UNICEF reported that gang violence in Haiti's capital, Port-au-Prince forced nearly 8,500 women and children to flee their homes in just two weeks during the month of June.
Thanks in part to your support, since August 14, UNICEF has been able to scale up its emergency response activities in Haiti. Some of these activities include:
Provided emergency medical kits that contain essential medicines and supplies to several hospitals which will serve 30,000 people for three months. UNICEF also provided tents for the continuity of health care for hospitals which were destroyed;
Reaching over 73,000 people on a regular basis with safe water through water trucking, portable water tanks and water treatment plants;
Identified 14 children who were separated from their families during the earthquake and is currently conducting family tracing activities to reunite them with their caregivers. The identification of further separated children is ongoing;
Set up recreational spaces throughout communities and health facilities to reach children with mental health support activities; and
Coordinating with the Food and Agricultural Organization of the UN as well as World Food Program to target 100,000 households with humanitarian cash transfers to help families meet their most pressing needs.
Of particular concern is the impact that the earthquake has had on the education sector. According to the latest assessments, over 730 schools have been damaged or destroyed, leaving 100,000 children at risk of not being to access an education this year. UNICEF is supporting the Ministry of Education to rapidly provide learning spaces for children where it will support the implementation of emergency curriculum for children ages 3-18 as well as provide early childhood development materials, school furniture, textbooks, and teaching materials. In addition, UNICEF will provide the most vulnerable families with cash transfers to support their children's continued education. While the emergency education response is ongoing, UNICEF will support the rehabilitation of nearly 2,800 individual damaged classrooms
UNICEF and partners have developed a six-month response plan in which UNICEF will continue to work with the government and other partners to provide humanitarian assistance and recovery support to the people most affected by the earthquake, while working to ensure the continuity of essential health, nutrition; water, sanitation and hygiene; education and child protection services.
On behalf of the vulnerable children of Haiti, thank you for your support!