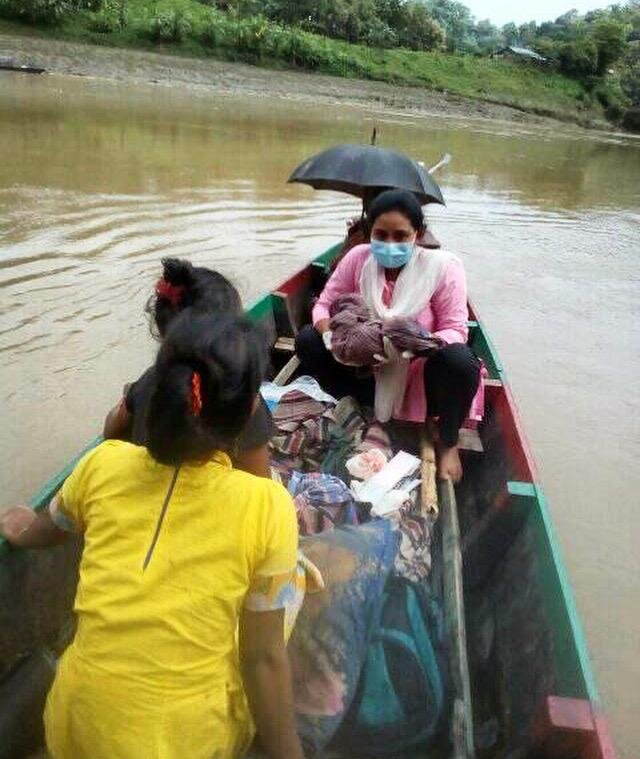 Zilkee, a midwife in the remote Bandarban District of Bangladesh, knows all too well the dangers of leaving women without access to maternal health support.
For pregnant women in Bandarban, there are great barriers to receiving lifesaving reproductive health care. Distance, lack of affordable transportation, and during the COVID-19 pandemic, a fear of seeking treatment, all stand in the way of expectant mothers receiving care. In June 2021, UNFPA deployed Zilkee and many other midwives to remote regions, to ensure no women was left without support during childbirth.
Just one month after Zilkee arrived, one of her patients went in to labor. The women's only option was to travel for two hours in a worn-out fishing boat, through monsoon rain, to reach her nearest clinic. However, her labor had progressed so much that by the time she reached the clinic the only option was for her to give birth in the boat.
Thanks to you, Zilkee was there. She rushed to the boat with her equipment, ensuring the mother could deliver her baby girl safely.
"I am so happy that I was able to save both a life of a mother and a baby girl today. If I would not have come to the river, the situation could have been really serious. I have never been as proud to call myself a midwife!" Zilkee stated after the delivery.
$100 provides five midwives, just like Zilkee with the equipment needed to ensure women everywhere can give birth safely, no matter what.
The COVID-19 pandemic has exacerbated existing strains on maternal care provisions worldwide. Hospitals are overwhelmed, lockdowns are disrupting routine pre and post-natal treatment meetings, and disruptions to family planning supplies are leaving women without the ability to plan if, and when they get pregnant.
UNFPA is working tirelessly to overcome these challenges. Investments in telehealth services are connecting remote regions like Bandarban to expert care providers, allowing midwives to guide women in through their pregnancies from afar. However, there continues to be a shortage of midwives around the world.
$25 provides five expectant mothers with emergency birthing kits, which include all the supplies needed for a woman to give birth, even when she can't access a clinic.
As the COVID-19 pandemic continues to overwhelm health systems and place barriers between women and care providers, your support is essential. With you, UNFPA can be there for midwives like Zilkee, for new mothers, and for their babies, no matter what.