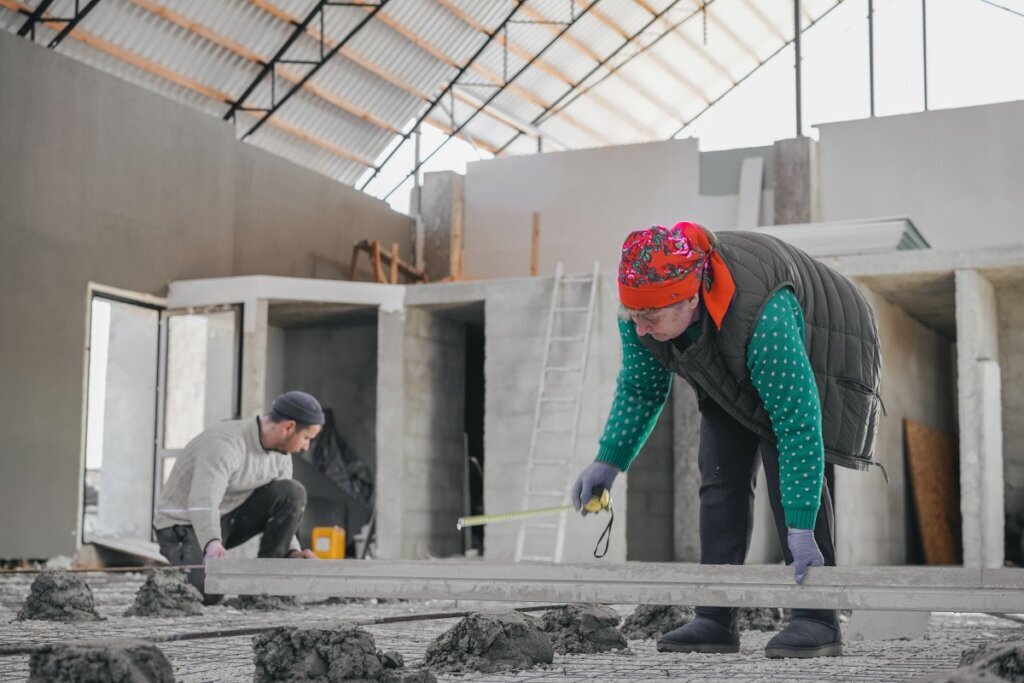 Tragically, the latest war in Ukraine is approaching its fourth month. Details of the casualties, human rights violations, and humanitarian impacts of this violent conflict continue to flood the news and social media. Our collective heart breaks as we learn that 16 million people need humanitarian assistance.
Among those millions are a young mother of three, a loving grandfather physically unable to leave his home with his family to seek safety, and a boy undergoing chemotherapy with the sound of sirens in the background.
Throughout these long and arduous months, your generosity and words of support provide much needed reassurance to the courageous local leaders on the front lines of this war. My team hears firsthand about their steadfast optimism and incredible resilience. And we hear that they are grateful to you.
In our largest grant round yet, GlobalGiving this week sent an additional US$3 million to 55 vetted nonprofit partner organizations helping people in Ukraine and welcoming refugees in Albania, Hungary, Moldova, Poland, Romania, and other countries in the region. This is our fifth round of emergency grants in our long-term response, with more support to come as needs grow and evolve.
Below is a short description of some of the humanitarian relief and long-term support you have powered with your donation:
Legal Development Network launched #StandWithUkraine, which is working in collaboration with 15 organizations in different regions of Ukraine and serving 200,000 people monthly. They provide relocation services for families to relatively safe areas of central and western Ukraine. They also aggregate and disseminate information about legal services and access to humanitarian aid, including mental health and counseling. Their teams support the humanitarian center in Kyiv, which provides food, water, clothing, footwear, and medicines for city residents.
Fundacja Koalicja Dla Mlodych (Coalition for Youth Foundation)

focuses on supporting refugees in Poland. Working with more than 200 volunteers, they manage the largest warehouse in the region with essentials like food, hygiene products, clothes, and medical supplies. In addition to meeting basic needs, they also coordinate with local authorities, companies, and schools to help refugees safely relocate to other regions in Poland and find shelter and jobs. The coalition covers the cost of school starter kits and meals for kids and also coordinates deliveries of emergency supplies to their partner organization working in the Ukrainian town of Biaobrzegi.
Fuel Relief Fund is distributing fuel to power generators and humanitarian fleets across Ukraine. With their GlobalGiving grant, FRF is focusing on fuel delivery to local organizations providing critical humanitarian assistance and to civilians impacted by the ongoing conflict.
Since the Russian invasion started, your donation has helped provide urgent relief to individuals and families in Ukraine and in countries across the region. In the months and years ahead, GlobalGiving will continue to work closely with vetted nonprofits on the ground delivering humanitarian aid and longer-term support for these communities to rebuild. Thank you for supporting these efforts. We will inform you about how your donation continues to make a difference for individuals and families affected by the war in Ukraine.
With immense gratitude,
Sandrina + the GlobalGiving team
Nonprofit Partners Receiving Emergency Relief Grants
AarogyaSeva: Global Health Volunteer Alliance
Agencja Rozwoju Aglomeracji Wrocawskiej SA (ARAW)
Bike Maffia Egyesulet
Centrum Praw Kobiet
CF Orphanni Synytsi
Charitable Foundation Zaporuka
Charity Foundation Democratic Society
ChildAid to Eastern Europe
Direct Relief
Dzherelo Children's Rehabilitation Centre
Equal Chance
European Food Banks Federation
Federacja Polskich Bankow Zywnosci (Federation of Polish food bank)
Fondazione La Stampa Specchio dei tempi onlus
Fundacja im. Doktora Piotra Janaszka PODAJ DALEJ/ Doctor Piotr Janaszek Pay it Forward Foundation
Fuel Relief Fund
Fundatia ROLDA
Fundacja Koalicja Dla Mlodych
Give Life Association / Daruieste Viata
Grupa Stonewall
Habitat for Humanity International
Happy Paw
HelpAge USA
Hinsehen und Helfen e.V.
IBO ITALIA
International Blue Crescent Relief and Development Foundation
International Cultural Diversity Organization (ICDO)
International Medical Corps
International Registration Systems
IsraAID
Katalyst
Kharkiv Regional Charity Fund - Daruj Dobro
Kidsave International
Legal Development Network
Life Quality Fund
Maisto Bankas
Mercy Corps
Mission Bambini
Multifuncional community center (MCC)
Non-Governmental Organization Universal Peace Federation
Norwegian Refugee Council USA
Odessa Charity Foundation Way Home
Pallottine Missionary Foundation Salvatti.pl
Polska Misja Medyczna
Public Movement Faith, Hope, Love
Seed Programs International
Soleterre - Strategie di pace Onlus
Tabletochki Charity Foundation
Telecoms San Frontieres
Terra Renaissance
The Mustard Seed Mission
The HALO Trust
War Child Holland
WONDER Foundation
Worldwide Hospice Palliative Care Alliance