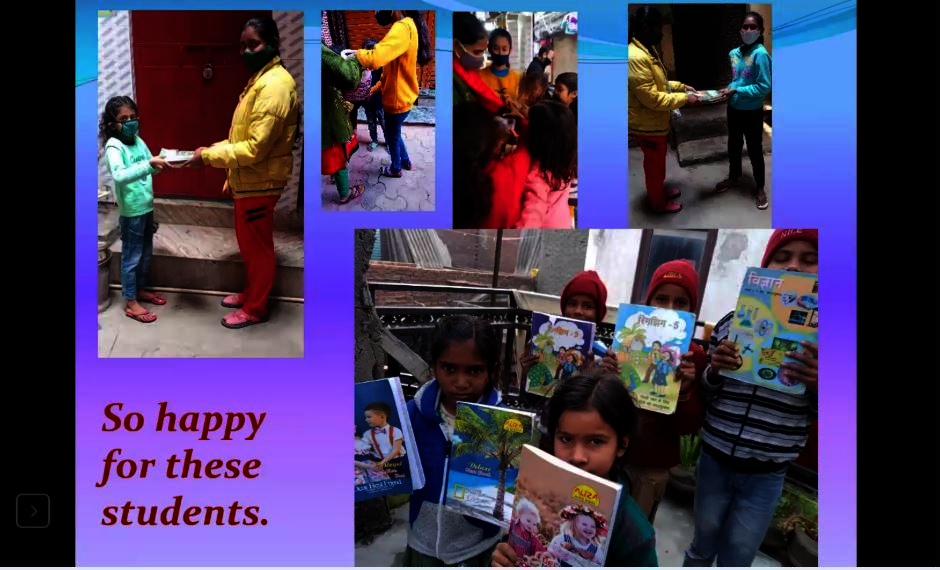 Background
Udayan Shalini Fellowship programme (USF) of Udayan Care is a unique academic excellence and personality development programme for deserving and talented girls from weak socio-economic background aiming to turn them into empowered and dignified women or Shalinis. It is unique because it goes beyond being a usual scholarship programme by not only supporting higher education but also providing regular mentoring and leadership development and inculcating a sense of social responsibility in them.
Summary
We have ushered in the New Year, with positivity and optimism for a safe and healthy 2022. We all hope the world will come out of desperate times soon and move ahead towards a more sustained and healthy life.
The USF team continued their efforts to support Shalinis and their families whenever required and encouraged them to keep enhancing their skills through various sessions and programmes.
The second and third wave of the pandemic, again impacted the lives of many including our shalinis and their families. The Emergency Response Fund (Phase 2) was initiated and 2896 shalinis (2717 supported once, 168 supported twice and 11 supported once) were supported under the initiative. We continued with our endeavour to bridge the digital divide and ensure that our shalinis do not lose out on their studies because of lack of access of a device and internet. Total 783 smartphones and 144 devices which included smartphones, tablets, desktops and laptops were distributed across chapters on priority basis and according to availability of resources.
The FY 2021-22 was very encouraging for Udayan Shalini Fellowship Programme, where we successfully inducted 1675 shalinis across India and also added 5 new chapters into the programme (Agra, Faridabad, Nashik, Ahmedabad and East Delhi) to maximise our reach to many more girls. The USF Family is now present in 26 chapters, 24 cities and 13 states.
The entire USF team including our core committee members have played a vital role in the Selection Process, ensuring that the most deserving students are inducted into the fellowship.
Our workshops and sessions continued through the virtual and offline mode as per the ground situation. Sessions were conducted on various diverse topics to help shalinis enhance their skills including Environment Sustainability, Cyber Security, Digital Marketing, Mental Health, Importance of Hindi, Human Trafficking, Careers in Banking, Law and Design and Career Counselling. Various programmes were also initiated like Harappa Placement Programme, Design for Change, White Hat Junior Pravah Programme, Missing Awareness and Safety School Program.
We have also made great progress in mentoring, various corporates like EY, Tata Proengagers, IVP, Deloitte, ING Netherlands, TresVista and Genpact India joined us to hold hands of Shalinis who needed guidance and mentoring at this crucial stage. These workshops and mentoring sessions have helped Shalinis to be focused and ensure their mental wellbeing.
Spanning from November to January, our Shalinis had the privilege of attending sessions conducted by experts from diverse fields. We conducted Employability sessions on the topics Problem solving & conflict management, Verbal Communication, Personal finance management and various small workshops and sessions were also conducted on topics career in law, how to prepare for UPSC, career counselling and cyber securityto keep our Shalinis motivated and positive. It has been a sheer blessing to have support from partners like Deloitte, EY, Genpact India and TATA Volunteers who have helped us keep our Shalinis encouraged through regular mentoring and positivity.
As an initiative to keep our Shalinis engaged we celebrated International Women's Day to make our Shalinis aware about their rights and be vigilant against gender bias. We also celebrated Republic Day and Holi to keep them away from the effects of the outside world.
We will also take this opportunity to thank all our donors and partners for always being the pillar of support for our shalinis and extending all the help required. We also hope that they continue their support, so that we continue working for the betterment of girls' education and expand our reach to induct more girl students in 2022-23.
Key Highlights
5 Employability Workshops
Interviews of New Applicants for Selection Process
Session by YuWaah DFC (6 Sessions)
Harappa Placement Program & Harappa Graduation Ceremony
Session with Deloitte on Public Speaking
Mock Interview Session
Deloitte Impact Day
3 Google Digital Marketing Session
Mock Interview
ING Mentoring Intervention
Session by ING on Interview Skills
Session on Cyber Security by EY
Career Counselling Session
Google Digital Marketing "I am Remarkable" Session
Session with IDFC (Email Writing & Etiquettes)
Session on English Speaking, Importance of Hindi, Career Awareness, How to prepare for UPSC, POSH
Communication & Interpersonal Skills by WhiteHat Junior
Media Interaction on Age & Marriage
Alumnae Meet of North Delhi Chapter
November 2021
Emotional Intelligence
"When dealing with people, remember you are not dealing with creatures of logic, but with creatures of emotion." As this quote suggests emotions are the most important part of our personal social and professional life. The session on emotional intelligence was conducted by Rosy with class 12th Shalinis, as they will be appearing for their boards exams and will be going to college life very soon. And it is necessary for them to deal with their emotions intelligently. The session includes the meaning of emotions, types of emotions, positive and negative emotions and how to deal with your emotions intelligently. The girls have shared their different emotions and how they deal with it. The session was really interactive and informative.
Goal Setting
Setting up the goals for the future and daily life, is an important activity that one can do in their lives. The session on Goal setting was conducted by Bhaskar with Batch 20, class 11 shalinis. Class 11 is the crucial stage to choose their goals and career choices. So, this session was the most needed session for our shalinis.
The session includes the importance of goal setting, what are long term or short-term goals and how does it affect our lives in day-to-day activity. Girls shared about their short-term goals also their long terms goals. The facilitator helped shalinis to develop goals to move ahead in their lives. It was an interactive and interesting session where girls participated in activities and shared their thought.
Deloitte Impact Day| Goal Setting
Deloitte Impact Day has been their annual tradition of volunteering for more than a decade. Keeping with the unique times, on 26 November, 2021, Deloitte in India volunteered towards improving learning outcomes among students from underserved communities, virtually. For this Occasion, Deloitte has organized a session on Goal setting. The session was joined by 1st year , 2nd year and 3rd year shalinis.
The session was started with the Q & A session with Atul from Deloitte India, where he shared about his personal experiences on Goal Setting. He also shared the importance of Goal setting in our day-to-day life. He pointed out few important points:
1. Before setting goal, ask yourself few questions; What, Why, How.
2. Do goal setting everyday
3. Do not give up even if your goal is not completed, work upon it again
4. Never Stop learning
Then session followed with the breakout rooms where girls joined their respective rooms and has proper session on goal setting with different speakers of Deloitte.
Google Digital Marketing
There is an intervention by Google Team. They have conducted session on "Digital Marketing" on 26th November 2021, Friday. The workshop will carry on for another 4 sessions.
The sessions will help our shalinis gain knowledge on Digital Marketing so they will be able to make informed career decisions in this field. The session includes the importance of Internet, how everything is becoming digital.
They also shared about the scopes and opportunities in the digital marketing field.
Mock Interviews
Mock Interviews was arranged for the Alumna shalinis to help them to get ready for the future upcoming interviews. The interviews were facilitated by Manvika who is a HR professional.
She took interviews of three shalinis each for 20 minutes, also in the end of session she also shared her feedback with the shalinis like what to impove or what to change. The interviews were the full package of training for our shalinis.
ING Mentoring Intervention| Introductory Session
As a pilot with ING Germany & Netherlands team, 7 mentees have been aligned to 7 Mentors from overseas. All 7 Mentors are senior professionals at ING. Their intervention will bring about new perspective and will widen Shalinis' horizon.
In the introductory session with mentors All Shalinis introduced themselves with full enthusiasm to their Mentors. They all are very excited to take forward their interaction with these Mentor Volunteers from ING. The introductory session was full of enthusiasm and interaction.
December '2021
Session | POSH
A session on POSH was conducted by Ananya who is a Lawyer. She started session with the definition of Sexual Harassment and who is a harasser? Then she described that the law is for workplace and to make girls understand she explained what workplace and she shared that who can complain. She also explained the procedure of complain.
She said that there is an internal committee, which handles everything in the organization, she also explained about the number of members the committee have and the number of women in it. The session was useful for our Shalinis as they will be going out for work and study and this law will protect their rights. She alsoexplained about the UGC Act for school and college students. It was an informative and interesting session.
Interview Skills(Super Sunday Series)
Our shalinis in third year are applying for jobs and higher studies as their Bachelor degree is about to complete. Interview skill is one of the most important skills that they must have. For this we have scheduled a workshop on interview skills which includes all the important points that one needs to take in mind when they go for interview.
Ashish from Genpact has taken the workshop he started with questions that commonly asked in an interview and then he also helped shalinis for suitable answers. Also, he asked shalinis to get ready with something different that will help interviewer to find out the right candidate for their company or organization as employer look for a different and talented candidate.
I am Remarkable Session by Google (Digital Marketing Series)| Google Team
Google team organized session on "I am remarkable" theme with USF chapters across India. The session was started with a common discussion where all the google team shared about the theme.
Then after 25 minutes they divided shalinis into groups and interacted with them. In that the Shalinis shared thoughts on why they feel they are remarkable or special. It was so interesting to hear inspiring stories from shalinis and Google team members. It was an interactive session which helped everyone get motivated with each other's stories.
Session by IDFC | Email Writing & Etiquettes
A session on Email Writing and Etiquettes was conducted by IDFC for our shalinis. The session was started with the code of conduct at workplace that helped our shalinis to understand the behaviour that they need to do during their worktime. The session helped shalinis to understand about the email subject line and mail body. It also suggested shalinis about the Do's and Don'ts that they need to follow when they want to write an email. Which includes when to write an email, what kind of words need to be used, never write email when you are angry and never write when you are too happy. All these things gave shalinis a proper understanding of writing an email and code of conduct of a workplace.
Session | English Speaking
A session on English Speaking was conducted by one of our Mentor Ulhas, the session was a demand from our shalinis. The session included all the important guidance that one needs to follow to learn to speak in English. The session was started with the importance of English speaking or why one wants to learn English speaking. Then he shared what personal qualities and support required to learn English speaking i.e. Keen Desire, Strong Need, Persistence & Patience and Thick Skin.
He also shared some suggestions for all the shalinis to become pro in English speaking. His quick suggestions helped our shalinis to understand and practice it in daily.
Session on Importance of Hindi
A session on "Importance of Hindi Language" was conducted by Rahul. He is a Journalist, Indian languages activist and Trustee, Samyak Foundation. He has spent more than 30 years in print and electronic media. Rahul explained importance of Hindi language and career aspect related to it. He highlighted language can never be a barrier if one wants to achieve success. Shalinis participated actively. The session helped shalinis to understand the career opportunities in the same field. Rahul's real-life example made the session very enjoyable. It was very informative & motivating session for our Shalinis.
Session | Design Career Awareness
A session on Design career awareness was organized by Neena and Konia. The session was started with why to choose design as career, they shared few reasons for that. She shared about the different kind of design field which are;
Graphic designer
User experience (UX) designer
User interface (UI) designer
Interior designer
Multimedia artist & animator
Art director
Advertising & promotions manager.
She also shared about the different timelines of the colleges and admissions in the same field. It was an amazing session. Girls got a proper knowledge for the same.
Communication & Interpersonal Skill
A session on communication and interpersonal skills was organized by Nandidni from WhiteHat .The session was started with the importance and meaning of Communication and interpersonal skills. The session included some of the guidance and tricks to enhance their communication skills. It was an amazing session where the facilitator shared her personal experience about the skills and later shalinis also shared their experience. It was an amazing session.
Media Interaction with Shalini's| Age & Marriage
There was an interaction with DW TV a German News channel with shalinis for a shot film shooting on the topic of Age & Marriage that has been recently amended by the Govt. of India from 18 years to 21 years.
During the interaction, initially there was a group discussion with all the shalinis, where girls have discussed about their views on the same. Later on, there was a fun activity over the terrace where all of them have participated. Then they have featured three girls for interview, where one spoke in favor of the topic and others spoke on the concerns related to it. I
It was a wonderful opportunity for shalinis where they have come physically (after a long time) and interacted.
January 2022
Employability Workshop | Positive Language
A session on positive language was conducted by Kunal for class 11 Shalinis, the session included major points give below
- What is Communication?
- Process of Communication?
- Why it is important in our lives?
- How to become an effective communicator?
The facilitators have shared about some daily to do practices for being an effective speaker, those are
- talk to yourself
- think before you speak
He also shared about the benefits of practicing daily, also conducted few activities so that the session could be interactive. Girls participated enthusiastically and the session was really interactive.
Employability Workshop | Verbal Communication
A session on Verbal communication was conducted by Rajnish , He divided the whole content into three parts, which is
-Presentation
-Listening
-Reading
He explained all three parts with examples and activities, where all the shalinis were engaged. In presentation part he explained three rule formula which help shalinis to give a presentation in an easiest form.
He also shared the importance of listening and reading skills for verbal communication. He shared some tips to improve listening and reading skills which was really helpful for shalinis to enhance their verbal communication.
Session DFC YuWaah | 6 sessions
Second phase of DFC session was started with 30 shalinis of class 12. All these shalinis were divided in 10 groups of having 3 shalinis in a group. All the session was facilitated by Sharada from DFC team. The First session included about the basic information for second phase project submission.
In the next session She guided students to choose a problem statement or topic for their project. She also explained about problem statement and how to define their problem statement. Then students started working on their chosen topics with their teammates, they have brainstorm and used component of FIDS (Feel, Imagine, Do and Share) in their projects.
In the next session all of them bring their topics and plan to proceed it. They have shared it with facilitator, and she has given feedback. In the next session shalinis did few changes and came with their final plan and choose their mode of submission of the project (Video/PPT). In the last session they have presented their projects and learn the process to upload it over the YuWaah DFC website.
Session on Interview Skils
A session on Interview skills was conducted by ING Netherlands, it was facilitated by two facilitators. The session objective was to help shalinis understand about the Interview skills. They majorly shared about the questions that asked in an interview and how to answer those questions. They have divided these questions in four categories:
- Questions related to yourself
- Company related questions
- Stress interview questions
- Behavior related questions
They have shared about their personal experience. Which helped shalinis to understand different kind of interviews in different countries. It was an interactive session. Girls asked their questions and also shared their experience.
Session | Cyber Security | All Batches
Cyber-crime is one of the prominent criminal activities that happens now a days and it specially targeted to the young minds, as they are not much aware about the cyber security.
To make aware shalinis about the cyber security a session was conducted by EY, facilitated by Arunachalam. He started the session with giving an understanding to shalinis about what is cyber and why it is important in our lives, He also shared some suggestions to secure our mobiles and social media accounts. The session was really interactive, girls have asked their questions and queries.
Digital Marketing Session | Google Team
In the series of Google session, they have conducted their third session of the series which majorly based on digital advertisement. In the session they have shred about social media, importance of social media in our lives and how it is very prominent now a days. They also explained about the types of advertisements and how these advertisements are an important part of this digital world. It was an interesting session where girls shared the use of their social media account.
11th Alumnae Meet | North Delhi Alumnae
The 1st chapter of USF, North Delhi conducted its 11th Alumnae Meet on 30th January, 2022 virtually. The theme of the event was Celebrating two decades of Shalinis. The event was graced by Kiran , Anjal , Arun ,Faheem and Ricky. The entire event was beautifully moderated by Dimpika,our alumnae. Our alumnae shared their experiences and journey with all present and amazed everyone.
Faheem emphasised on the need of making one Alumnae Association Cell where all the chapters will strengthen their cell and participate at national level too.
Technical Support
Due to the lockdown and sudden conversion to online education mode, many of our Shalinis were lagging behind due to no access to a digital device or internet. Udayan Care believes that there should be no digital divide as it puts a student behind someone who has access to these technologies.
Udayan Care and USF are trying to bridge this digital divide and mobiles were given to 6 shalinis in January.
Success story
Vandana
Vandana is in class 12 with Arts stream, she has joined Udayan Shalini Fellowship Program in 2021-22. She belongs to a family of 6 members having 2 sisters and 1 brother. Her father is a shopkeeper and mother are a house wife. She has recently participated in State level Yoga Competition where she got third Position.
For this she has worked so hard, as after her school hours she stays in school and practices her yoga postures, even during the time of time of COVID it was really tough for her to continue her practices at home without any motivation or guidance. Then she attended a session on Yoga organized by USF program where she got some new ideas and postures to enhance her skills and got motivated to participate and continue her practice of yoga. Recently she has participated at state level from her school and got 3rd prize at state level. She always says that "we should trust ourselves and work over our skills and one day surely we will achieve success." She is still practicing every day to make herself better.