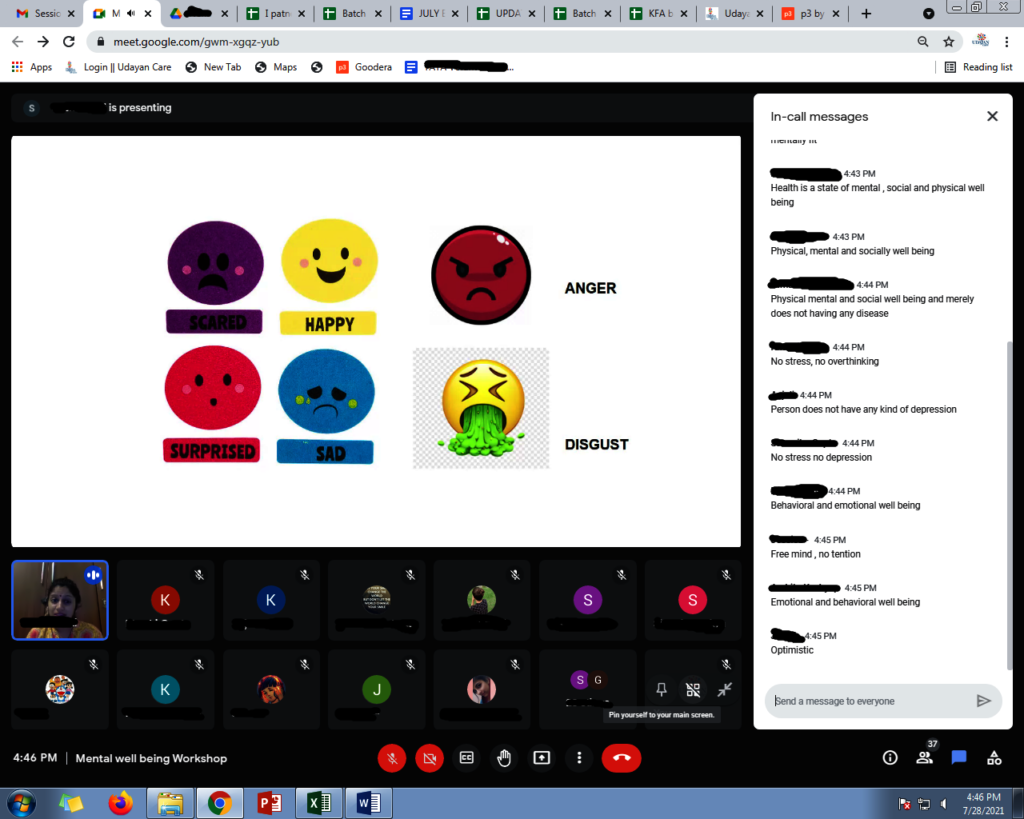 Background
Udayan Shalini Fellowship programme of Udayan Care is a unique academic excellence and personality development programme for deserving and talented girls from weak socio-economic background aiming to turn them into empowered and dignified women or Shalinis. It is unique because it goes beyond being a usual scholarship programme by not only supporting higher education but also providing regular mentoring and leadership development and inculcating a sense of social responsibility in them.
Summary
The beginning of the new financial year 2021-22 made us stare again at the vulnerable situation we faced last year. The 2nd wave of the pandemic was more devastating and catastrophic. The pandemic hit all of us hard, including Shalinis, their families and the USF team.Despite grave situation the USF team was at the forefront to help Shalinis and their families in these desolate times. The Emergency Response Fund 2.0 was initiated again and a survey was conducted to assess and prioritize the Shalinis according to their needs. The survey focused on 2 major aspects, one if any shalini or family member affected by Covid and secondly if there is any loss of livelihood of family member due to the pandemic.
The survey was conducted in last week of April with a sample size of 3993 Shalinis across 21 chapters and it reflected that 22% families were rendered jobless almost 890 families across chapters. 2797 Shalinis were supported under ERF either financially to help them buy basic essentials and sustain themselves or in some chapters through ration kits by generous donors.
USF is also concerned about the continuity of education of our Shalinis as everything has switched to online mode in the current scenario. Similar to last year we are worried about the availability of a digital device to our Shalinis as in today's world access to a digital device and internet is as important as Right to Education. A digital survey was initiated to assess the digital divide and access of a smartphone to shalinis. USF will ensure that Shalinis continue their education.Our workshops and sessions continued through the virtual mode, as it gives us the platform to expand our reach and connect Shalinis with experienced professionals who have vast knowledge and guide Shalinis in the right direction. We have also made great progress in mentoring, various corporates like EY, Tata Proengagers, IVP and Genpact India joined us to hold hands of Shalinis who needed guidance and mentoring at this crucial stage. These workshops and mentoring sessions have helped Shalinis to be focused and ensure their mental wellbeing
Spanning from May to July, our Shalinis had the privilege of attending sessions conducted by experts from diverse fields. We conducted Employability sessions on the topics Career awareness and guidance, IT- Skills – using internet for jobs, Foundation- Values, IT Skills-Email writing skills and various small workshops and sessions were also conducted on topics Environment Awareness, Stress Management, Financial Planning to keep our Shalinis motivated and positive. It has been a sheer blessing to have support from partners like Genpact India, Ernst & Young and ICICI who have helped us keep our Shalinis encouraged through regular mentoring andpositivity.
As an initiative to keep our Shalinis engaged we celebrated Environment Day and International Yoga Day to help our Shalinis become aware about our Environment and also stay positive and healthy. Various other activities were also conducted which included celebrating Mother's Day, Nurses Day and Doctors Day to keep them away from the effects of the outside world.
Key Highlights
Employability Workshops on Career awareness & guidance, Using internet for jobs, Foundation- Values, Email writing skills andAssertiveness
Small Group Workshops on Environment Awareness, Stress Management, Financial Planning and Reproductive Health &Hygiene
5 New Corporate Mentorsadded
World Environment DayCelebrated
International Yoga DayCelebrated
Take Charge of your money workshop byLXME
UNICEF Young Warrior Collaboration Programstarted
Emergency Response Fund Support to 169Shalinis
Survey Bridging DigitalGap
Technical Support to 5Shalinis
MAY 2021
Financial Literacy Workshop (ICICI Workshop) 1st May | All Batches | Jitender
A session on Financial Literacy was organized for all batches of North Delhi on May 1st by Jitender.The session was really important because it opened a new perspective of employment to the shalinis. Jitender shared about various entrepreneurship projects like Dairy, Organic Farming and Wormy composed businesses.He also showed videos that helped shalinis to understand the importance and success of these businesses. He shared about various types loans like Pradhan Mantri Mudra Yojna, CIBI that one can take to start an entrepreneurship. He emphasized that before starting any business one should take proper training and guidance, for that he suggested some institutes. It was an informative session for girls.
Using Internet for Jobs | 2nd May Batch 17 | Subhalaxmi
A session on 'Using internet for Jobs' was organized for second year Shalinis of north Delhi on May 2nd by Subhalaxmi from TATA group. It was a really important session for second year girls as they are preparing to find some jobs and according to present scenario it could only possible by using internet. Subhalaxmi shared about negative aspects of internet, She shared that job scam happens, how there are many fake websites which fool'sstudents. She discussed how one can identify authentic websites, she also shared some very popular and authentic websites. She specially talked about Naukri.com and LinkedIn and taught our girls how to create profile over these websites. In the end she shared about other usage of internet like online courses, self-education, Fitness, Entertainment, Research etc. It was really interactive and informative session for our girls.
Email Writing |Rosy & Swetcha | 2nd May Batch 16
A SessionEmail Writing was organised for Third Year Shalinis of North Delhi by Rosy and Swetcha.It was a really important session for these girls because they all are at the final year of their graduation and now they have to write emails to professionals and companies to get jobs and even after getting jobs they have to communicate by this medium. At the beginning of session, the facilitators discussed about the language that most of the youth population are using on their social medial handles. They shared that the world of Email is very different from that, then they shared how to write a profession email and how to greet different people in different kind of Emails. They shared the importance and use of CC, BCC, MOM, KRA, SOP, Font size and Font style. It was an interactive session our girls also shared their experiences and questions related to Email Writing.
Worrier to Warrior Session | 5th May | Sanjeev
A session on Worrier to Warrior was conducted by Sanjeev for all the staff Members of Udayan Shalini Fellowship program. It was a much needed session as the present scenario is going on. Cases of COVID 19 is increasing day by day and it's led to the lockdown in many states of the country. That is leading to a negative and depressed condition of each and every one ofus. He shared 3 major things Firstly, Day by day the negativity in people is increasing. He shared the causes of these negativity and how to overcome from it. Secondly, People should believe that whatever they have is special and enough, we need to spread happiness all around. Thirdly, Grace and Gratitude – At this difficult time god is with us and for that we need to show our gratitude, also this is the time when we can become hope for others. He ended the session with a really good story. was an inspirational and motivational session for all and it was much needed session according to this pandemic situation.
Interactive Session | 15th May | Batch 19
An interactive session was organized with batch 19, the purpose was to introduce them with new coordinator and inform them few important things like Re Admission Form, Three Monthly Proforma, Attendance in workshops and some other basic details. The session was initiated with an ice breaker so that girls could engage and interact comfortably. The ice breaker opened up girls with us then there was another ice breaker that taught them that how the priorities in life changes, we need to always be aware and open minded for the opportunities we are getting. Then the facilitator guided girls how to fill re admission form and also importance of attendance and three monthly Proforma. It was a successful and interactive session. And the purpose wasfulfilled.
Stress Management | 16th May | Batch 18 | By Rajneesh
A session on stress management was organised for class 12th shalinis, it was an important session according to present scenario,as our shalinis of class 12th are in under stress for their exams dates due to this pandemic.The session was facilitated by Rajneesh, he explained girls very beautifully how to manage stress, and he shared an amazingstory of cockroach.He shared that we all have life with stress and there is no way out to remove this stress because if we remove it there will be nothing left in our lives, so we should have to know 'how to combat this stress' he also shared techniques to do so. He said "we need to keep three things happy – Our Body, Our Mind and Our Soul".
Mentor Briefing | 17th May Corporate Mentors | By Garima
Mentoring is one of the important component of USF program and corporate mentoring is also playing a vital role in this. We got 4 new corporate mentors for North Delhi chapter inMay.We have allotted them on the basis of 1:3 ratios of shalinis. Three of them are based in Delhi, India and one is based in California, USA. There was a mentor briefing session for these new mentors. Garima (Senior Manager (Training, Development & Placement) conductedthis session. She shared about USF program briefly and goals of Mentorship to mentors. She also shared some Do's and Don'ts while mentoring. She guided them for their first session and asked coordinator to take up for further. At the end there were Q & Asession.
Mentoring Training Session | 22nd May Mentor Didis | By Garima
In every quarter there is a training session for mentor didis who are engaged in mentoring sessions. This month mentoring training session was facilitated by Garima (Sr. Manager Training, Development & Placement). Garima shared about mentoring goals also she asked about experience of mentordidis.All of them have shared their experience and challenges they are facing while mentoring. She solved their queries also shared some ice breakers that they can use during their sessions. Also some of them have shared that they are doing proper training program with their mentees to make them confidence and ready for public speaking. Some of them are doing really good antiquates training. We advised them to share their Feedback on monthlybasis.
Inter Chapter Mentor Meet | 15th & 22nd May
The meeting started with Pooja welcoming and thanking all for attending the meet. Then agenda and the flow of the meeting was also shared by her, starting with Kiran who shared the Vision 2020-25, followed by Faheem who shared USF achievements of 2020 and the road ahead for 2021.Kiran shared the Vision and Mission of Udayan Care, our CIRCA Values and the history of Udayan Care, she focused upon Vision 2020-25 She shared that over 1,000 fellows were inducted this year through both online and offline Selection Process and We plan to expand USF programme in the coming year and plan to open 2 newchapters. Then Faheem presented USF achievements for the year 2020 and the road ahead for 2021. These achievements included Emergency Response Fund, Technological support, 2 Surveys to assess the loss of livelihood and access and availability of smartphones to Shalinis and the Selection Process conducted in both online and offline mode as per groundsituation. Then at the end there were Q & A session and many amazing ideas shared by different people to support shalinis during this pandemic and to expand USF programme. Also there were discussion how USF Alumnae can become brand ambassador to develop shalini programme and to reach out to many more resources.
JUNE 2021
Building Capacity of Young Evaluators in Gender and Equity: Lessons from the Global South 3rd June | GENSA
It was about an hour (approx.) session with 50 participants, mainly hosted by Bijita with 4 other speakers from different places i.e. Shweta, Radika, Ifrah ,Neha . The main focus of the webinar was on the below mentioned points along with the introduction of GENSA (Gender and Equity Network South Asia).
Discussed points:
Challenges facing the non-profit sector and corporate funding in India.
Challenges Faced by Young Evaluators in Pakistan.
Challenges Faced by Young Evaluators inIndia.
Challenges Faced by Young Evaluators in Sri Lanka.
Introduction of GENSA(Gender and Equity Network SouthAsia).
Gaps for young evaluator community: - Lack of mentors in the network, lack of collaborative approaches and publications, Lack of proper access to materials, good approaches and reaches, Good methodologies and brainstorming sessions etc. Also different countries have different gender evaluation policies is also a challenge for youngevaluators.
World Environment Day | 5th June 2021 | By Deloitte
A session on World Environment Day was organised by Deloitte to raise awareness among our Shalinis regarding Environmental degradation and Conservation. The session started with few interesting questions like, Does Climate change real? What is it? What are the causes? Then there were some poll questions that were answered by our shalinis and then the facilitator discussed every poll question and its answers. Then Shalinis sent into different breakout rooms where they were introduced to share their way of bringing change to save the environment. Also our shalinis shared their pledge of activities that they will do to save the environment. It was really interesting and interactive session.
Take charge of your Money | 5th June Senior Shalinis & Alumnae | By Preeti
A session on Take charge of your money organized by LXME group for all the senior Shalinis and Alumna. Earning Money and fulfilling our needs and family needs is one of important part of Everyone's life. Most of our shalinis are becoming independent and earning not only for themselves but also for society.
Only earning and spending is not enough, there is an important need of saving and investing money too. To help our shalinis to take charge of their money there was a session organised by LXME Group founder Preeti. The session was focused upon saving and investing money for their future. Preeti share the importance of taking charge of their money, also she shared different platforms where shalinis can invest and save their money. It was a wonderful session for all of our shalinis as they got to know about safe places of investing and savingmoney.
How not to Procrastinate and Stay self-Motivated | By Kumkum | 6th June
This COVID and a long lockdown made every one of us very lazy, Procrastinated and also it decreased our confidence, Shalinis were also facing these Problem. So there was a session to help shalinis become proactive and stay motivated. Session was started with a simple example that how we all the time delay our work and give excuses to ourselves, then the facilitator shared about her own experience and how she combats from it. She shared that every one of us should prepare a daily goal book where we write our goals and try to accomplish those on daily basis. Girls also share their experience and questions, where some of them have shared about their own initiative, that they have created a group where they set their daily goals, accomplish it and help and motivate others to do so. Overall it was an interesting and interactivesession.
Financial Planning Workshop | 6th June | Batch 16 | By Pavan
A session on Financial Planning was organised by Pavan with Batch 16 Shalinis, where the facilitator started the session by discussing financial planning, what is it? Why is it important? Where girls have shared their perspective, then facilitator shared about different types of schemes and policies where one can invest their money. He shared about Mutual Funds, Post Office Scheme, Gold Loans and other number of platform which provide easy way of investing Money. He also explained that how much money one can contribute in the initial time period. Shalinis also shared their queries regarding the safe way of investment, they asked about the good source of information from there they can learn about it more, also there were queries regarding cryptocurrency. It was interactive session.
College Admission and Fellowship | 11th June | By Neha | Batch 18
As 12th class result is approaching and this is the crucial time for our shalinis to get better guidance and support, for that a session was organized for the same, it was a much needed session where shalinis got to about college admissions, facilitator made them aware about our Fellowship policy, which means it will continue when shalini takes admission in regular college.
They also got to know about Gap Year, if they want to prepare for any Entrance exams for further studies, USF gives them a gap year. They have also got to know about Diploma courses and how they can pursue that if they are planning to take admission from SOL.The session was really fruitful for all our shalinis; it was an interactive session where girls resolved their queries.
UNICEF Young Warrior Collaboration | 16th June | By Ananya
Due to COVID there is huge tension in the country and its a belief that our youth can become a big agent of change and if they get opportunity, for that YuWaah has started a campaign called young warriors, an orientation session was organised by the YuWaah team where all our coordinators and one shalini from each chapter have joined the session. The session started with What youth can do? They shared about their target and the platform that they are providing for Young Warriors. Then they shared about the step by step procedure to do registration and complete the task. They shared that it is available at every platform of social media and even if someone does not have an internet connection they can complete the task by giving a miss call on the provided number. The session was really informative.
International Yoga Day Celebration | 21st June |By Surendra
International Yoga Day was celebrated on 21st of June 2021 and Genpact India had organised a session of Yoga conducted by Surendra from Yoga Expert. It was attended by 18 Shalinis of North Delhi Chapter. The session started at 8:30am, it was an hour-long session where the facilitator shared a little about Yoga day and he also showed many Yoga postures also shared their benefits.
He majorly focused upon breathing exercise and also shares different types of yoga poses for diabetic patients. The session was very good, it refreshed the body and mind of everyone present there.
Survey Bridging Digital Gap | June 2021
A survey was conducted in the month of June to assess the digital divide and accessibility of smartphones to Shalinis.As COVID has increased and the need for electronic gadgets like mobile phones and laptops due to online classes. The purpose of the survey was to understand how many shalinis do not have their personal mobile phones and how they are managing with their online classes and workshops. The finding of the survey was that out of 228 shalinis 56 have only one mobile phone in their family.
Emergency Response Fund | April - June 2021
As the 2nd wave of the pandemic caused destruction and led to the loss of livelihood of many parents of our shalinis, a survey was conducted and Emergency Response Fund 2.0 was initiated. On the basis of survey shalinis were divided into three Categories i.e. A, B, and C according to the urgency of their need.
In North Delhi Chapter total 169 shalinis were supported under the Emergency Response Fund from April to June 2021. The funds raised towards ERF was to help shalinis and their families purchase ration, study material and some even used it for medicalexpenses. They are very grateful to our Udayan Family and Donors for helping them during this Pandemic.
JULY 2021
Non Verbal Communication | 4th July | By Rosy & Swetcha
Communication is one of the most important part of our lives and good communication skills are the need of the hour, not only verbal Communication but non- verbal communication is also very important, a small group session was conducted for third year shalinis as they are going to the job world, the session was started with what is communication and why it is important. then the facilitator about role models of shalinis and then they describe how your behavior is inspired from your role models. Some key points of the session are:
Habit formulation is an important part of Nonverbal communication
Focus on softskills
Ask for new responsibilities to learn newthings.
Be like asponge
Always be a learner.
It was an interactive session, shalinis learned newthings.
Assertiveness | 4th July | By Reet
A session on Assertiveness conducted by Reet with Batch 18 shalinis. Session was started with defining assertiveness and for this facilitator did a role play with 2 shalinis and that helped everyone to understand it clearly. Then she described Aggressive behavior by using few examples and role play. Then she shared about Passive behavior with the same trick. Shalinis also shared their experiences and the way they behave. At the end of the session the facilitator helped shalinis to differentiate between all three kinds of personalities: Assertive, Aggressive and Passive. It was a really interesting and interactive.
Personal Productivity | 17th July | By Deepanshi & Geetali
Productivity is the word that reminds us about economy and commerce, but when we talk about personal productivity it is an important term of our day to day life. A session on personal productivity was organized by Deloitte for Batch 17 shalinis. The session was started with what is Personal Productivity. The facilitator shared how it will help us to achieve our goals. For achieving productivity one can plan their day and create a time table. When you are aware about your day and tasks to do you can do it efficiently. Shalinis asked few questions to them that hope they can stick to their time table, how to make our day more productive. Facilitator provided a solution for their queries. It was an amazingsession.
Reproductive Health & Hygiene| 17th July |By Chhavi
Reproductive Health is a hush hush topic in our Indian society and sharing about reproductive issues is not very normal and common thing. Our shalinis can open up and share about their reproductive health freely, for that a session on Reproductive health organized by Chhavi a practitioner gynecologist with all our shalinis. The session covered many important points like Breast cancer, Contraceptives, PCOD, STDs, and especially Menstrual Health. The session was really informative. Initially shalinis were feeling a little shy but once the session continued, they started sharing their experience and questions. They have asked many questions related to their reproductive health. It was a wonderful session where girls opened up and shared alot.
TATA Proengage Mentoring | Orientation Session | 24th July | By Garima
TATA Proengage project (Mentoring) was started from August 2021, We have got 8 TATA mentors for our chapter. For all of them an orientation session was organised by Garima, Senior Manager (Training, Development & Placement). The orientation session started with a warm welcome of Volunteers. Then Himadri shared our Udayan Care profile and projects in brief, then it was continued by Neha, shared about workshops and Mentoring Goals and Structure. At the end Garima shared few key points that everyone keeps in mind while mentoring. The session ended after Q & A by volunteers.
Initiative & Enterprising | 24th July | By Rosy & Swetcha
An Employability session was organized for Batch 16 shalinis on Initiative and Enterprising. The session started with the importance of initiative in our lives, the facilitator shared how small initiatives can change our lives. The facilitators shared how everyone can take small initiatives and that can become a good opportunity. Shalinis shared their life experience of small initiative and how it benefited them. At the end of the session, the facilitator gave every Shalini a task to take an initiative and share when they complete it.
Mental Well Being & Suicide Prevention | 28th July | By Sanchi
A research was done by DUKE University on Mental well- being with our shalinis, on the basis of their outcomes there was a need for a mental well-being session. It was facilitated by Sanchi , she started the session with, what is Health? It's types? Where shalinis shared about it. The facilitator asked about Mental Health, Different kinds of emotions. How these emotions are present in everyone's life, problem comes when Sadness and anxiety stays for so long. She also shared about suicidal thoughts and what are the symptoms for it. At the end she shared a trick on how to help themselves and others, when they are in need. She suggested the solution ACT, where A - Ask, C - Care and T - Treat. She also shared some helpline numbers where everyone can reach out for help. Girls asked their questions to the facilitator and got solutions. It was an interesting and interactive session.
Technological Support
Due to the lockdown and sudden conversion to online education mode, many of our Shalinis were lagging behind due to no access to a digital device or internet. Udayan Care believes that there should be no digital divide as it puts a student behind someone who has access to these technologies.Udayan Care and USF are trying to bridge this digital divide and smartphones were given to 5 Shalinis in the month of July
Success Story
Anukriti is our Shalini from Batch 14 inducted in 2015- 2016. She belongs to a middle class family. When she joined Udayan Shalini Fellowship her dream was to pursue engineering and become a software engineer. After lot of hardwork and dedication she secured admission in B.Tech and after completing it she found her perfect job. She got placed in Trangile Services with a starting package of 3.8lakh/per annum. She is very thankful for the guidance and support she received fromUSF.
"The guidance provided by my mentors and members of USF is valuable. I am looking forward towards my future growth through the opportunities."