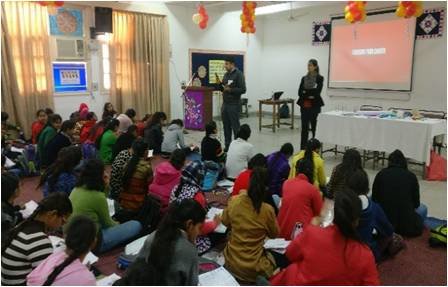 Project Background:
Udayan Shalini Fellowship (USF), one of the unique programmes of Udayan Care, aims to promote and support higher education for girls hailing from disadvantaged backgrounds, in order to develop them into dignified, independent young women. The fellowship ensures that the lives of the girls do not succumb to monetary hardships and they do not give up their dream. However, USF is not just envisaged as a monetary assistance programme but rather as a holistic programme of sustained mentoring support and association. The growth is fostered with continued association of mentoring, motivational workshops, and development of socially responsible behaviour through awareness drives. The fellowship stands different because of its pyramidal mentoring.
Key Highlights:
In this quarter, we organized our 7th Annual Alumnae Meet and our Social Awareness Campaign on Road Safety. Apart from this, special emphasis was laid on not only making the Shalinis more self-aware and but also gaining perspective regarding their interests, career choices and passion.
Activities Undertaken During the Period
Career Counselling by Akshat
Mr. Akshat, along with GSIF (Genpact Social Impact Fellowship) fellow Chhavi Goel, conducted a workshop on 'Career Guidance' with the aim to help our Shalinis identify the appropriate career domain out of their passion, and draft a plan of action with regards to their career.
They initiated the session with understanding our Shalinis' perspective on the meaning of 'passion' and emphasized the significance of identifying the same. Reflecting upon the current scenario, where a study by Deloitte indicates that 85% of the people are unhappy with their jobs, some of the major reasons contributing to it are:
A large number of people are unaware of their passion
People are not aware of themselves, and
People do not usually receive the right guidance.
Quoting Mr. Narayan they stated that India hasn't made any breakthrough innovation in quite a few years, and we require more visionaries who provide us with impactful strategies. In order to receive clarity over one's career, the individual needs to identify what his/her passion is and get the right and relevant information regarding different career choices.
This was followed by an activity where Shalinis were required to list down 5-7 things they are passionate about. This could include anything they liked doing or feel strongly about. After making a note, they had to analyse them on the basis of their consistency, perfection and flexibility, if they are learnable, and if they are helpful. If they found that their choices could qualify for all the four parameters, they could consider it to be a choice of career.
A majority of them stated travelling and exploration as their passion, and they were advised over how they could learn different forms of adventure sports and be involved with agencies that engage into providing travel packages and treks. Another girl stated that she loved cooking but could only cook vegetarian food which limited her flexibility. She was advised over how she could perfect her skill and be a part of those restaurants that serve vegetarian food.
In order to choose a career, the individual needs to identify the appropriate domain which again relates to the passion that they identify for themselves, receive the right education, and match one's personality with the career of interest. This is followed by paving the road to success, which involves step-by-step planning and goal setting. Shalinis were acquainted to the 'SMART' goals that ease the entire process and provide them with milestones to achieve, which help them live up to the best of their potential. They were asked to develop their own SMART goals with regards to the career they aspired to pursue.
Mentorship Orientation by Shreya
Genpact Social Impact Fellow (GSIF) Shreya, conducted the pilot test of the Mentorship Orientation Manual. The session was attended by our newly appointed mentors Aakansha, Sapna, Priyanka, Ritika, and Garima. Through the session, Shreya oriented the mentors regarding what takes to be a good mentor, how to effectively build a rapport with the mentees and how to help the mentees achieve their desired career goals. The purpose of the session was to pilot test the mentorship goals which can be refined through the feedback of our mentor.
Paint Your Own Canvas' By Devyani
Focusing on the 'Employability' of our Shalinis, our Genpact Social Impact Fellow, Chhavi invited Devyani to conduct a session with our Shalinis. The session started with, what is a 'canvas' and how it represents our life. She further went on to explain how we are the Picasso's of our own painting and it is us who can ultimately decide what our painting (life) turns out to be.

Following this, Devyani asked 'What do we want to become in our life? The fellows answered on what they wish to become in the future starting from an IAS officer, Doctor, to a politician and Chartered Accountant. However, Devyani posed a question about what are the careers which are there but not often talked about. For instance, becoming a nurse, becoming the ground staff of an airlines companies, assistants of the head chef etc.
Though they aren't seen as real career opportunities, but Devyani highlighted that the most successful people we know, started from the bottom and through their hard work, determination and perseverance, they rose to the top. For this she showed pictures of famous and influential personalities such as Mahatma, Virat, Amitabh, Sundar, Malala, Mithali and Chef Vikas. The purpose of this was to understand that successful people that we see in the news and tabloids, aren't born successful; rather their paved their own way, fought the odds and then emerged as victorious.
'Women's Wellness & Preventive Health Care '
The CSR team of Genpact, along with the medical Professionals Dr.Manjusha and Dr Kshama organized a full day awareness session on 'women's health and wellness.The areas covered were; Menstrual health, oral care, dental care, skin care and health care. The purpose of the session was also bust myths about our body and health.
Session 1- Menstrual Health and care
Dr.Manjusha asked each Shalini to talk about one taboo which is attached to menstruation. Following this, she busted myths regarding menstruation and highlighted the discriminatory practices which are perpetuated by age old custom. Further, she went on to talk about menstrual health, wherein she highlighted the importance of menstrual cups over synthetic pads. She also answered many questions of the fellows regarding dietary needs, menstrual flow and menstrual cycle
Session 2- Dental care
This session was conducted by Dr.Kshama and she explained various aspects of dental health. She talked about oral hygiene and dental care which are important to our overall health
Session 3-Skin and hair care
It was again carried out by Dr.Manjusha and was designed to educate Shalinis on their individual skin care needs, what products to use, how to apply them, and when to use them as per their skin and hair needs. She talked about the problems related to acne and clarified all the doubts.
This was all followed by a discussion on different problems faced by women. She explained the reasons symptoms, precautions and treatments for that Shalini's were asked to maintain proper hygiene and to consult doctors if required, they discussed many problems with her and got resolutions as well. A balanced and healthy lunch too was provided to the Shalinis.
Session 4: -Realization of the challenges faced and outcome of the workshop.
After this, there was an open discussion session, wherein the Shalinis talked about the issues regarding their health. The facilitator also raised the need of Breast Cancer Awareness, wherein she talked about self-examination of our breast to detect early stages of cancer. The entire session stressed upon prevention better than cause when it comes to our own personal health and body.
Kathak Workshop by Ms. Pratibha
Ms. Pratibha, a versatile professional Kathak Dancer with an experience of six years in the field, took a theoretical workshop on Kathak dance to acquaint the Shalinis on the historical background, current status and developments of Kathak as well as other dance forms of India. Explaining how these dance forms are highly representative and glorify the culture of India, she started with facts related to the origin of Shastriya dance, its 8 different forms, and how they differ according to the states. She also spoke of how the Shatriya dance form is one of the most prevalent dance forms in North India.
Moving on to folk dances of India, she explained how folk dance is different from classical dances with regards to the costumes chosen for the performances and the styles in which these dance forms are performed. She introduced the concept of 'Gharanas' and how different states of India are specialized in different art forms. For example, the Jaipur Gharana Dance is one of the toughest ones and symbolizes bravery and courage. The Lucknow Gharana Dance is more on the softer side which requires high command over one's facial expressions. She also introduced the Raigarh and Banaras Gharana Dance forms, and how they are different in their presentation and style.
She then moved to the historical backgrounds of the dance forms, explaining that Kathak is inspired by Lord Shanker, and Lasya Dance Form was performed by Goddess Parvati. She led the Shalinis through the trends followed in the Mughal and the Nawab Era, the contributions of Wajid Ali Shah to Kathak dance, and the ritualistic performances in temples in those times. She also spoke of the status of dancers during this period, of how they were required to be uplifted as they were not treated with dignity and respect.
Apart from explaining about the different dance forms, she also gave guidelines on the importance of confidence building and presentation. She encouraged the Shalinis to identify their strengths and capitalize on the same, as high confidence and freedom greatly facilitate self-expression and brings perfection in one's movements. She also said that one should take pride in simple living and graciously accommodate such a lifestyle.
To conclude the workshop, she referred certain books related to Kathak dance and offered to distribute some of them herself. She also encouraged the Shalinis to watch different dance videos and critically analyze the factors that appeal to them with regards to the dance forms and the dancers. The Shalinis were highly inspired by the experiences of Ms. Pratibha, and look forward to watching her perform, and to learning Kathak in the coming months.
Social Awareness Campaign on Road Safety
In a metropolitan city like Delhi, where there is an explosion of population; there is also an increase in the number of vehicles on the road. The lack of knowledge about road safety intertwined with the increase in the number of vehicular traffic, road accidents have become an everyday phenomenon.
In the light of recent events, where there is an increase in the number of road accidents and when victims of road accidents are left to die on the streets due to the lack of action taken on the behalf of the citizens; the Shalinis of the North Delhi Chapter decided to raise awareness on Road Safety and Traffic Rules. We assembled in Jahangirpuri from where we started our rally towards each block and street and wherein our Shalinis actively engaged with the residents of Jahangirpuri. The fellows also organized a street play on 'drunk driving' and on 'how to help road accident victims'. The acts left a powerful impact on the audience. In the end, the fellows organized a freeze mob, wherein they silently stood on the road side, holding up banners and posters on road safety.
Careers in the BPO Industry by Vikas Varma
The BPO industry is today booming in our globalized economy. Mr. Vikas from Accenture took a session with our Shalinis, making them aware about the BPO industry, who works there? What work does a BPO industry do? And how one can become a part of the Industry?
He started by talking about the top BPO companies in India such as Genpact, Accenture, Cognizant etc. and how they do business across the globe. He also explained the logic, process and the different factors which result in the outsourcing and ultimately the profit of the business empires. He also talked about how google outsources it works/projects to Accenture, and what are the nitty gritties that are to be taken into consideration in such cases. For instance, request for proposal, proper training and budgeting, monitoring plans etc.
Lastly, he talked about the various career options available in the BPO Industry such has Human Resource Management, Auditing, Budgeting and forecasting, Operations and sales, Marketing etc. Following the session, Mr. Vikas, answered the various questions of our fellows regarding the BPO industry, how is it relevant for students who are from non-commerce background. Overall, the session proved to beneficial to our fellows who are from the commerce background and are interested in working in multinational companies.