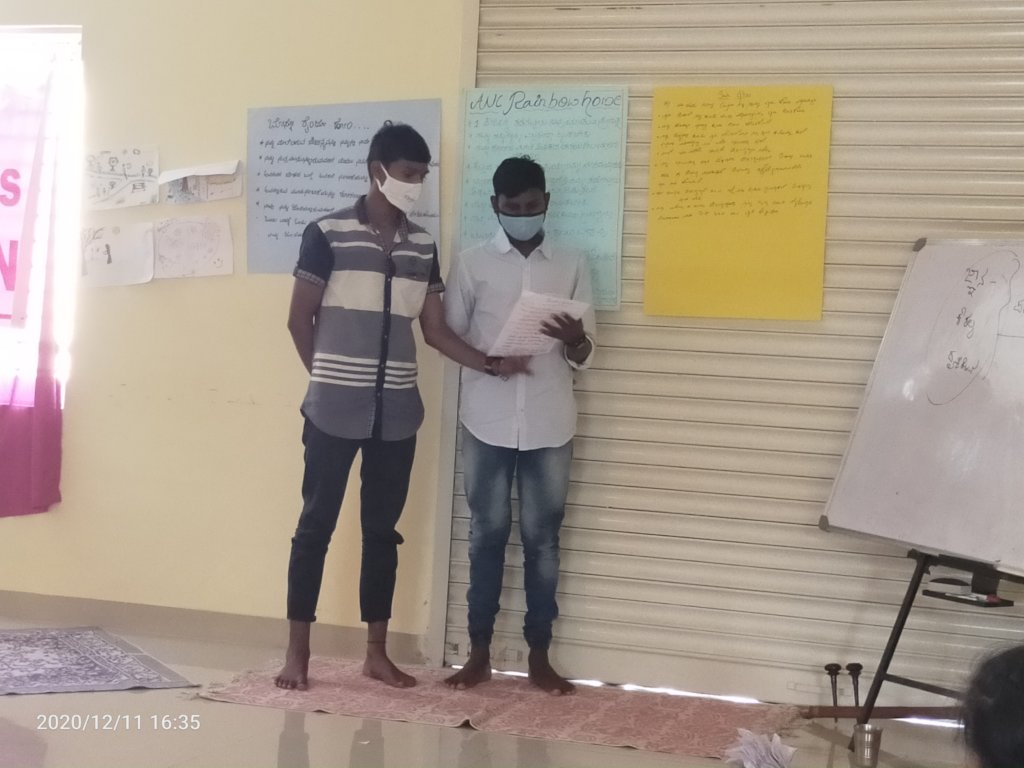 Dear Friend of the Rainbows
Hope you're keeping well.
This quarter's report talks about the immediate intervention taken up by the Futures team at Rainbow Homes Program. Through workshops, we aim to help the young adult tap his/her hidden potentials and grow in the area of their interest. Below are some workshops interventions taken up:
Workshop on Self Identity Introduction: The young adults (YAs) started with a list of expected objectives of the program in their minds. Next involved talking about opinion, giving respect to each feeling, maintaining confidentiality about shared thoughts.
Life journey: Activity: all YAs to sketch their life's turning points.
It helps them to analysis the highs and lows from a panoramic view.
Everyone has a different identity they associate themselves with.
Due to this, some are suffering and some don't in everyday life.
Need to give importance to their own identity and respect others identity. Post this discussion they were asked separate from their groups and sit alone to rechart their interest, strength, and weakness.
Outcome:
Have strength, how can they practice self motivation.
Have to build their own identity and try to analyze society given identity.
My Relationship: Activity: In the session, we made YAs group of two members. One person was made to close their eyes with clothes so another person needs to give direction. We had a discussion on trusting others instincts and teamwork with each individual. Post activity the YAs shared - some were hesitant and scared and some got confused on how to trust the other completely, in life's ways.
Multiple Identities and Me: Activity: To stand in a circle and come forward on being asked about certain labels they identify themselves with, for example - who is having glasses, a watch, earrings. Who identifies themselves as lazy, black-skinned, shy, low caste, high caste etc.
Outcome: here YAs felt proud in the beginning of their identities but after many rounds they began understanding the labels they associate with and how these labels are a factor to boost or bring their confidence down.
Conclusion: we all have different Identities we set for ourselves and let the society set for us too. What is needed is we stop restricting ourselves and not judge others on it too. And even if they change in society takes time, start from yourself.
Me and My voice
Activity: YAs had to volunteer for this activity. They went outside the room and the facilitator made arrangements for small things on each sides of a curtain where one side was arranged and the other wasn't. After this, both volunteers came and sat on the opposite side with partners. The participant of arranged side needs to guide through his voice on how to arrange the other side.
Outcome: YAs got to know there are many different perceptions and each one will understand in a different way. What is needed is to analyze what fact remains same for all and how to get the right information from the right person. How to communicate with each individual with clarification, own effort or analysis is very much important and the need to be a good listener before working on something. Then we will get the society or others to listen the voiceless too.
Self and society - Workshop on "Understanding Sustainable Development"
Ecological Footprint Calculator: the impact of a person or community on the environment, expressed as the amount of land required to sustain their use of natural resources.
Activity: Before the workshop day, we gave the task to YAs to work on ecological footprint calculator. This will be available online will help our YAs to understand what are the things they use what contribution we are giving to the environment issues, Made 4 groups and gave topics to different group food, shelter, energy, cloth.
Process : In this discussion, YAs were asked to have a discussion about how food is important and how we procure it to consume. YAs presented their thoughts on food lists and had a discussion on organic and healthy food.
Shelter - what materials we are using and how much land is needed for living space. After hearing the presentation we talked about building, the space and stress on land.
Energy utilization, what kind of cloth we need to use and how it works to help farmer.
A story from a book on development concept.
Outcome: In the presentation, all Yas participated and practised leadership skills while leading discussions. Participants started to think about their contribution to saving the earth through sustainable living, And about farmer suicides and stress.
Life exposure:
Anoop: founder of Nalanda institute. Anoop gives priority space to include youth for higher education. After having interaction with YAs he extended his support in examinations and preparation.
Laxman : he is a theater activist and makes plays on understanding dalit community where he wants to make society listen to stories from poor people, focusing on Dalit and religious intolerance issues in his story.
Kuvempu : he is Kannada jhnanpeeta awardee talking about pluralistic life and sustainable life in his poem and stories. His poems and stories are a syllabus in Kannada literacy. A resource person Dr Kumarswami, a Kannada lecturer in Loyola college with an understanding of kuvempu thoughts gave lecture on kuvempu writings.
Outcome: YAs get exposed to people and their work in society through these interactions and get inspiration, guidance and strength. In the second life journey, many YAs heard about the mantra mangalya (simple and respectful marriage) concept the first time. This concept introduced by Kuvempu. In Karnataka, many social activists and thinkers are supporting and getting married. Some YAs asked about the book availability of kuvempu writings.
Financial management: a session on financial management session to understand Financial management.
Activity :
Introduction of name, age, and goal
Smart concept introduction in goal.
Financial management to reach my goal
Process: thought PPT all activity was done by YAs where they made a list of their needs in the future. It was a very expensive budget after some discussion they got the knowledge about practical things in financial management.
Outcome: YAs got to know about realistic goal setting in reality, and how to work the way to reach the goals, a practical calculation on expenditures, and priority of savings.
Apart from the workshops, this quarter we had some good achievements;
1. Living Arrangement :
3 YAs are got the job in November, they got salary in December so stopped taking Stipend support.
3 18 above YAs are going to sift PG for the future living plan. so they are searching PG, they got contact and shifted in January first week with Home team's help.
2. Continuing education:
One dropout YAs in Puc rejoined in college writing exams in march having preparation.
After 18 years one YAs restored in family but she got early marriage and discontinued education. With intervention from state team, she got re admission for distance education.
3. Health awareness: session on menstrual practices. In this YAs got understanding on menstrual myths in India like touching trees, entering a temple, not having certain food. After discussion, YAs understood the hollow beliefs of the patriarchal society.
4. Living support and personal expenses: 21 members living support in different category process done.
5. Entitlement:
3 YAs are got new Bank account
8 YAs are got correction in Adhar date of birth
2 applied scholarship in LIC Department.
2 applied for voter ID
(All names were changed for privacy).