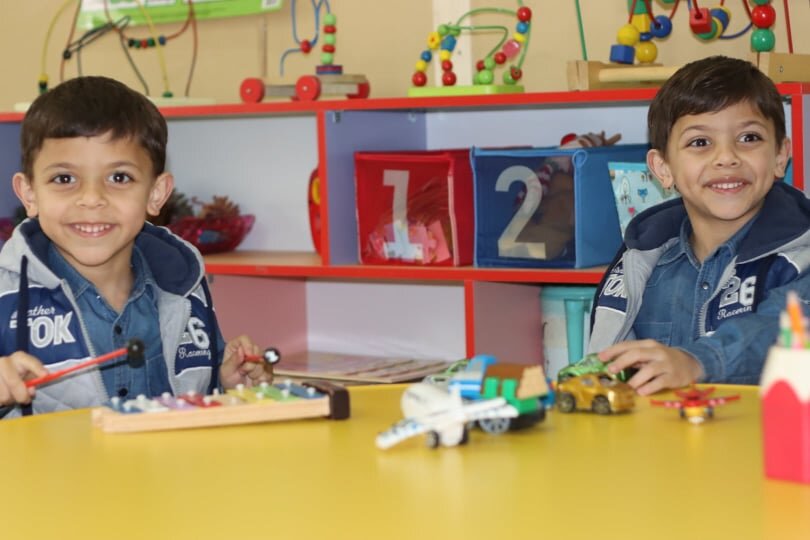 At Tomorrow's Youth Organization (TYO), we think of our Early Childhood Programs as building a foundation for the future of our children and society. Our programs open the door for many children who may not have the opportunity to attend kindergarten or preschool for various reasons, especially financial limitations. At TYO, we offer the most marginalized children quality early childhood education to cultivate the next generation of changemakers.
Ismail and his twin brother Ali, both three years old, were among the children who particularly benefited from our holistic and personalized program. When they first started the program, they held onto each other and their mother. While their bond helped them feel comfortable in the new classroom environment, it soon came time to separate from their mother and engage in the program with other children. Initially, they cried without stopping, fearing that their mother would leave and never come back. The focus of our teachers became integrating the twins into the classroom and environment and building their sense of safety and trust. Working with their mother, the teachers gradually supported the boys until they became comfortable.
Now, when the family arrives at TYO, Ali and Ismail leave their mother, run to their class, hug their friends, and play with them. "I can't believe that I was able to get over the separation problem," said the mother of the two boys. "It was like a dream that could not be achieved, but it became a reality thanks to the support of Tomorrow's Youth Organization, as my life and the lives of my children changed indescribably for the better after joining the organization's programs. Originally, I was feeling resentment and frustration because I saw that other children were not reacting like my own. Once I received the support and help I needed, I began to realize the individual differences between children."
Today, Ali and Ismail's mother is able to continue her education and attend university because TYO is able to care for the children. The twins are also looking forward to attending school next semester with new friends who love to play, explore and learn. When approached by his teacher, Ismail said "Teacher, please take pictures of me and my brother looking happy so our mother would see. We will not cry so our mother keeps bringing us here every day."
Tomorrow's Youth Organization continues to be a safe and supportive refuge for many families, empowering them to build a bright future.