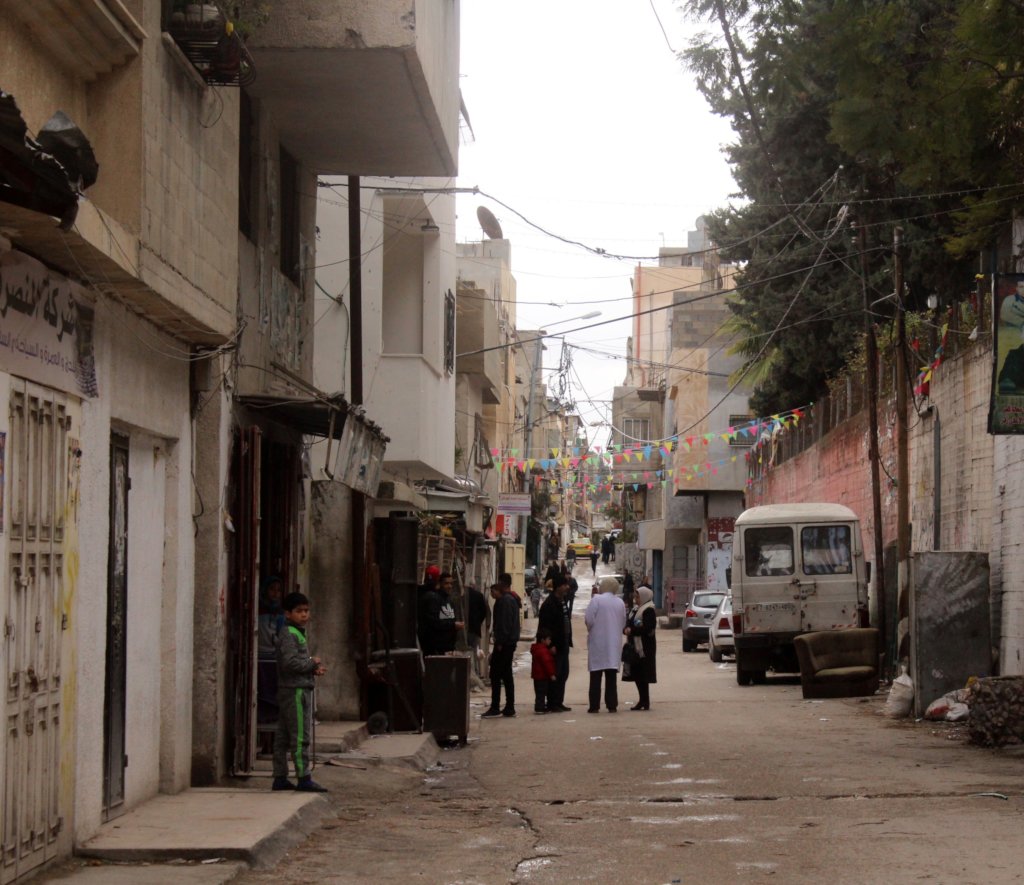 "I've been married for 6 years. I have 3 girls and I'm currently 9 months pregnant. My daughters are 5, 4 and 2 years old. Since the beginning of my marriage I lived with my in-laws in the same house in Balata Refugee camp, where we experienced many hardships from being poor, not enough food, and too many people living under the same roof. It was very challenging and my father-in-law gave me a very hard time. Five months ago we moved to a room on the rooftop of my in-laws house. It has a bedroom, bathroom and small kitchen. The bathroom and kitchen are still not ready to be used so whenever we need to use the bathroom we have to go to my sister-in-laws room."
TYO social workers have been in touch with Sara* and her family during the COVID-19 crisis. When asked about their current situation, she explained:
"Our situation is very difficult right now, it's the hardest time I've ever been through in my life.
My husband worked in the vegetable market at night where he would transfer vegetables. But ever since the Coronavirus crisis he hasn't been able to work in anything at all. It's been a whole month since he lost his job. This Coronavirus is ruining everything. Even before this situation we used to only eat once a day when my in-laws would bring something at night, but now there is absolutely nothing. For the past 2 weeks, there hasn't been any money or food in the house. My mother-in-law and brother-in-law also used to work but with the current situation they also lost their employment. So right now we have no source of income.
There's an organization that gives us 3 kilos of bread every other day for the whole family, but we're 9 adults and 6 children in the house. We feed the children bread with vegetable oil, some days we add a little bit of thyme. The children cry a lot because they're hungry, but I swear there isn't any food. Because they cry so much, my sister-in-law and I give them plenty of water to drink so they feel full and can go to sleep. Two days ago the children cried so much that we went to ask for food from other relatives. We came back with a little bit of rice and made them a plate. They all sat around it and ate together, every last bit. They were so happy, as if they were having a feast.
To tell you the truth, I'm exhausted. I haven't been able to rest or sleep properly as I'm always thinking of our situation, throughout the entire pregnancy I barely ate anything. I'm so worried that this lockdown might be extended longer. I'm scared of my upcoming due date in the middle of this month (April), especially since I can't afford the fees for giving birth; the clinic in the camp gave me a referral to a hospital but it would cost 130 NIS which I don't have. I also haven't prepared for me or the baby and this is making me very anxious. We don't have cleaning supplies at home so I won't be able to clean and sanitize the house. I'm afraid my girls might catch something from me after I come back from the hospital."
Thanks to your donations and support, Tomorrow's Youth Organization staff are on the ground in Balata Refugee Camp, Nablus's other refugee camps and it's most disadvantaged neighborhoods, providing healthy food, medicine and basic supplies like baby formula and diapers to Sara's* family and as many others as possible.
Sara delivered a healthy baby girl in the hospital in April via C-section. Our social workers were able to advocate for Sara and her situation to the hospital management, resulting in the hospital treating Sara and delivering her baby for free, without any fees. We were also able to provide Sara with a care-package of newborn baby supplies, to ensure her and her new daughter had everything they needed at home.