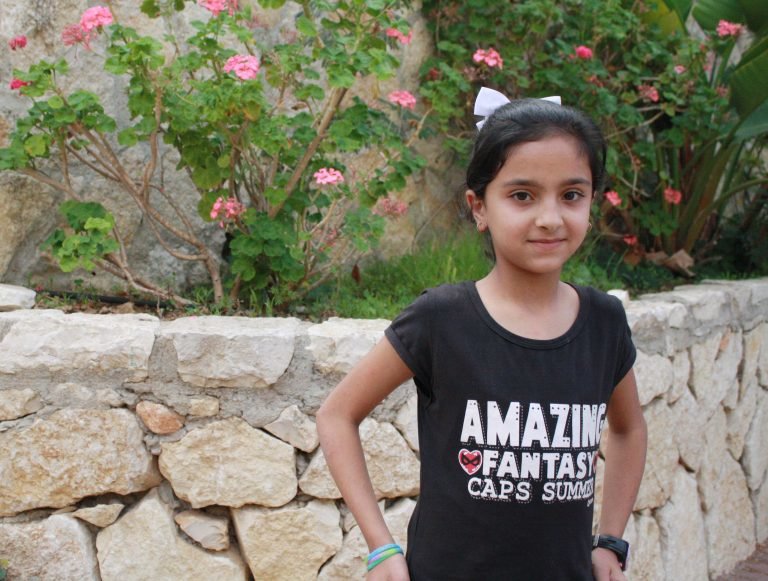 TYO is in the seventh session of the Academic Support Program for students between ages 9-14. What started out as a pilot project for the residents of the Khallet El Amoud neighborhood, the Academic Support Program has been scaled up with incredible success to welcome children from the wider Nablus community, including all four of the refugee camps in the city. This affords the children of the most underserved communities with an opportunity to learn, play, and grow through TYO's interactive approach to education. New beginnings are also an important time for reflection. As such, we invited Raneen, who is entering her fourth session of the program, to share her thoughts and experiences at TYO.
Welcome back! Can you tell me about yourself and how you got started at TYO?
I am eleven years old and in the sixth grade. I come from the Khallet El Amoud neighborhood and I am the oldest of five siblings. I have two younger brothers and two younger sisters. I started out at TYO in the Core Program and am now in the Academic Support Program. My parents noticed how my grades in Math and English started to improve, so they decided to enroll all four of my brothers and sisters at TYO.
It seems that TYO has become a family affair! How has TYO impacted your family?
My mom comes from a village nearby and my dad is from Nablus. My mother attended school until the eighth grade and my father attended school until the fifth grade. My mom is a housewife and my dad is a worker in his friend's carpentry shop. My mother registered me in the program because I had trouble with English and Math. My parents cannot help my siblings and I with our homework and they do not have the money to pay for a tutor. TYO is where my brothers, sisters, and I come to learn and play.
Have you noticed any particular changes in yourself since starting at TYO?
Before I came to TYO, I was very shy and did not feel comfortable speaking in the classroom. Now I am the first student to answer questions in class. I even volunteered to participate in this interview! This confidence came from being able to play games and activities with other students and volunteers. I also like learning English and practicing math, especially multiplication.
What are some of the activities you participated in at TYO that helped you build your confidence?
When the weather gets really hot, we go outside and have water balloon competitions in teams. This is definitely one of my favorite games because I get to make new friends from different neighborhoods and villages. I have made friends from my neighborhood that I never spoke to at school, as well as the Balata camp and the Old City. I really like how TYO teaches us activities that use materials I can easily find at home. After I learn a new game, I teach it to my siblings so we can play it together. The fisherman game is really simple to set up and I love to play it at my house with my brothers and sisters.
You mentioned how you really enjoy playing the games you learn at TYO in your home, why is that important to you?
I usually only leave my house to attend school and the Academic Support Program at TYO. Before learning new games that I can play at home, I was bored and my house is very crowded. I study between 3-4 hours a night when I am at home. In Palestine, we have many tests at school, which does not leave much time for students to play. My house is very small, we only have two rooms, one for my parents, and one for the children. I am not allowed to leave and play in the streets like some of the other kids in my neighborhood, because my parents do not think it is safe. TYO is a safe space where I can be a kid.
Can you give me some more examples of how TYO is different from your experiences at school?
I really enjoy coming to TYO because it is a completely different way of learning than at school. At school, we have to remember everything we learn by studying with our books. When I am at TYO, we learn by playing fun games. The students at school are always shouting at each other and it can be very distracting for the teachers and the class. There are fewer students at TYO and the classrooms are much bigger, so students have more space to speak and do activities.
Do you have a favorite memory since starting your journey at TYO?
All of the volunteers at TYO are so nice and helpful, but there was one volunteer from the Academic Support program that I liked the most. She took the time to help me work through the challenges I had in English and Math. Her patience and kindness is what really encouraged me to keep coming back to TYO.
Links: