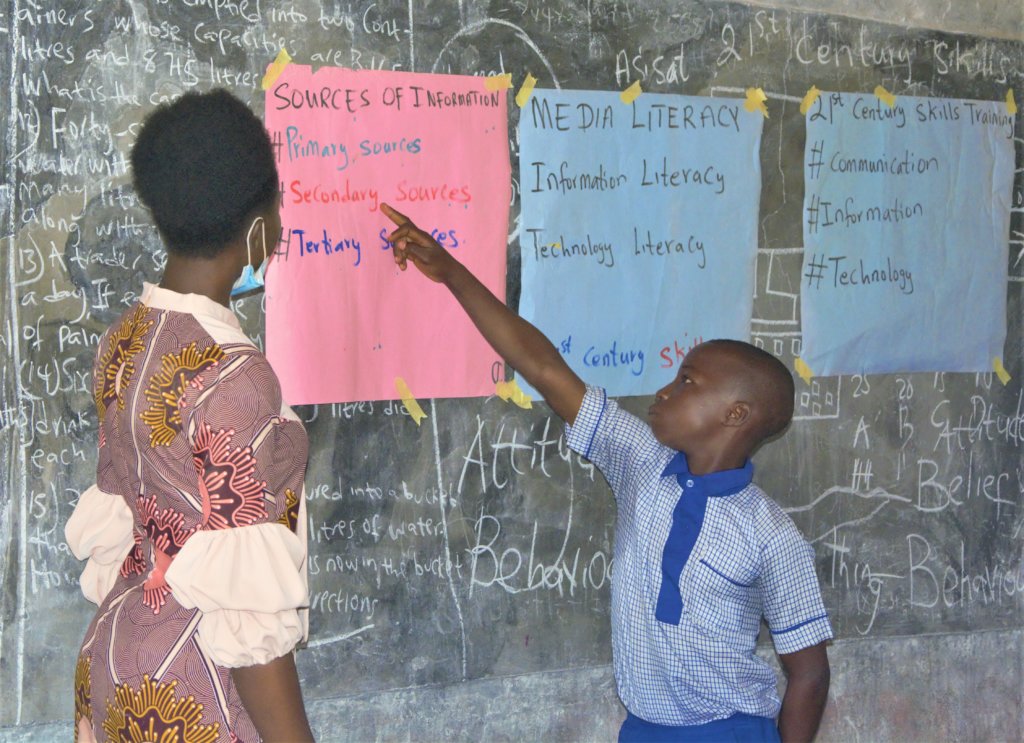 On Wednesday 23th of June 2021, Olive Community Development Initiative carried out a training on 21st century skills with pupils from ISOBAT Nursery and Primary School.
The facilitator, a staff from OCDI commenced by highlighting the various means of communications such as use of pebbles, stones, pictures, marks on woods, writing on walls as means of communication used in the olden days comparing it to the modern methods used in the 21st century such as radio stations, television stations, use of phones, laptop etc and how media bias has influenced the attitudes, behaviors, beliefs of people.
Furthermore, detailed explanation was given by the facilitator on Information (sources, how to access information efficiently and how to analyze information), communication (how information flows from one person/place to another- using oral, written or non-verbal language), technology (how to use digital and communication tools such as web-based resources, e-mail, blogs, chat, video appropriately).
During the session, the facilitator asked the pupils to list some devices used for communication and how they can be used to pass information from one person to another. Sulaimon a 15-year-old boy in primary 5 said phone can be used to make calls, send messages from one person to another.
Aishat an 11-year-old girl in primary 4 added that laptops can be used for video calls, sending of e-mails to family members.
In addition to the listed points, Rofiat a primary 5 girl said phone can be used to send messages through WhatsApp, twitter, Instagram, and Facebook.
After the session, what is the difference between Attitude and Behavior? asked Aishat a 10-year-old girl in primary 3. The facilitator answering said attitude is a feeling or belief or opinion towards something, while behavior is an action or reaction towards something.
Students are excited as they were told that they will be able to use phones and laptops to access web-based resource, emails, in their next session.