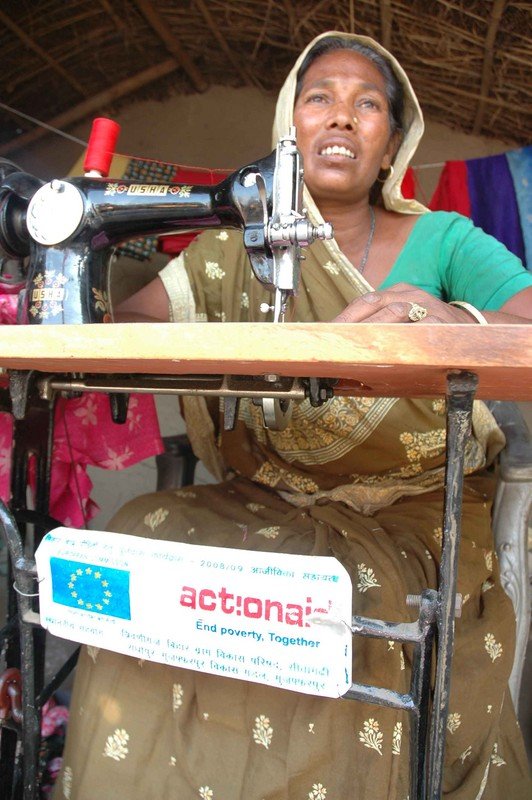 Overview
You've helped people affected by floods in Bihar have a better life. Thank You!
Two years after Bihar was struck by one of the worst floods in its history, communities and families are living their lives again.
Following this emergency , a long-term engagements were undertaken to restore livelihoods, create new jobs and build community resources. ActionAid started livelihood support work in Triveniganj, Raghopur block of Supaul District as well as other areas months after the floods.
ActionAid had reached out to the most vulnerable families through the village councils in the area. A Participatory Vulnerability Analysis (PVA) survey was conducted to identify the most vulnerable people, with a special focus on women.
Stories from flood affected communities:
Forty-year-old Neelam Devi has found a new role in life after the floods swept away her life two years ago. She now runs a daycare for children of the villagers who have found employment at Cash for Work project as a part of an intervention in Satanpatti village in Raghopur Block.
"I look after 50 children at this daycare. They are given food and medical support," says Neelam Devi. "My life has become better and I can now afford to feed my family vegetables and pluses, as opposed to just onions," she adds with pride.
"I am very happy that I got this stitching machine. My life is made," says Saliman Khatun, 50, a widow, as she stitches a new skirt for her granddaughter in her small but beautifully kept shop. She received the machine as part of ActionAid's livelihood initiative for flood-affected families. She lost her house and livestock and lived in a shelter in a nearby government-run camp.
"With what I earn now, I am able to pay the school fee of my two children." She now receives several orders from neighboring villages and earns about Rs. 75 a day.
"The support has allowed me to get my life back on track," she adds.
------------------------------------------------------------------------------------------------------------------------------------
To ActionAid Bihar project supporters,
As winter approaches, the UN estimates that there are currently 1.2 million people in 6,300 camps and settlements across Pakistan. The largest number of displaced people is currently in Sindh, where the worst of the flooding has taken place. The need for shelter, health, nutrition still persists.
Health and hygiene remain the most critical concern in camps and gastroenteritis cases continue to be high and 453 schools have been vacated since 17 September, bringing the total number of schools used as shelters down to 3,180 (housing 957,441 people).
ActionAid is allocating its resources to provide relief assistance to people in Pakistan and we need your help. Please continue to support our Pakistan relief project on Globalgiving as we are retiring our Bhair project.
Please visit www.actionaidusa.org for more information.
Thank you for your life-saving work.