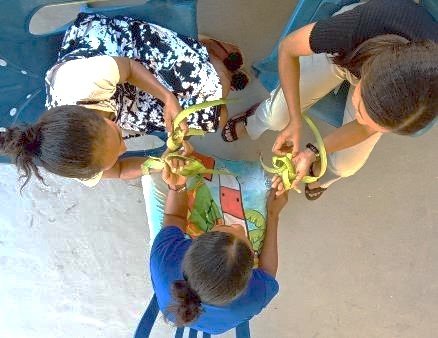 Empreza Di'ak and rural communities started 2020 looking ahead towards a better future. The impoverished Atauro island has an unique and incredible tourism potential to be explored. While many people go the island for diving or hiking, communities are also willing to share their culture and traditions to the visitors.
We have been working together with artisans from Arlo, Makadade, Makili and Baruana on preparing handicrafts workshops for tourists.
During the last 3 months, 40 local artisans representing several groups were involved in various trainings on identifying which kind of traditional handicraft knowledge could be shared with visitors, and on how to directly provide a workshop to a group. (see pictures about Training on teaching Katupa – a traditional cooking technique)
Moreover, young women from the same communities also started an internship at ED's SAT center in Atauro aimed at improving their skills and preparing them to be facilitators able to organize and conduct a workshop side by side with the artisans.
Our team also kept supporting local communities through product quality improvement, business assessment and access to market for artisans' production. As usual, this permanent support to artisans was made possible by our staff's effort in running monthly community visits and our shops in Atauro and Dili.
Facing challenges
As many other countries, Timor-Leste has recently been affected by the threat of COVID-19's propagation. In March, this resulted in the evacuation of international volunteers who were working at Empreza Di'ak. Since 28th of March, the State of Emergency was decreed as a prevention measure. This situation is having a direct impact on the national economy in general and will hit even harder rural communities and social tourism initiatives due to health concerns and travel bans.
In spite of having to suspend temporarily training activities to the communities according to the application of social distance rules, Empreza Di'ak refuses to forget its commitments in fighting poverty. That is why we are taking the right prevention measures, reorganizing our work and planning new ways to perform our mission.
More than ever, your donation to this project will contribute to smoothen the impact of this global crisis, by giving Empreza Di'ak and 150 artisans the means to address this unprecedented challenge.
Thank you for standing beside us! Keep safe!