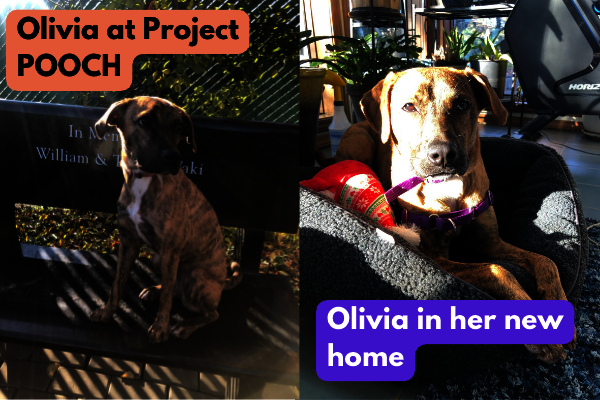 When you think of home, what comes to mind? On these darkest days of the year, do you think of warmth and light? Maybe a snuggly comforter, good food, or family and friends?

There's something about the holiday season that makes home feel that much more special. Maybe it is the hustle and bustle of the season, or simply the colder temps and limited daylight hours.

On December 22, on a chilly sunny day, a POOCH pup went home. Little Miss Olivia, she of the giant brown eyes, is off to her grandest adventure in her short 10 months of life ... a home of her very own.

On the morning of her adoption, the youth got her all prepped and ready. They carefully packaged up food for her first few days in her new home, along with a brand new leash and collar, a starter kit of poop bags, and a new toy. The youth gave her lots of pets and hugs and wished her well as I loaded her up in a travel crate for her trip to her brand new home.

When we pulled up outside her new home, Olivia was subdued. She has a bit of a nervous tummy, so she was a little wobbly as she disembarked. As we walked to the door, she was cautious, with her tail down and slightly tucked. We were met at the door by Olivia's new person, whom Olivia had already met twice, along with a new big (dog) sister—a built in playmate!

It didn't take long for Olivia to find her confidence. She found the dog toy box and started pulling out toys and testing them out to find a favorite (she settled on a plush lobster). She explored a few rooms and found the new crate that was purchased just for her. Less than 45 minutes later, she was happily entertaining herself by throwing a toy in the air and catching it. Post-active play session, she settled into a plush dog bed with a soft "harumph" and started happily chewing on a dog bone.

As I readied myself to leave, I walked over to say goodbye. I held her head in my hands, looked deep into her hypnotic brown eyes, and whispered to her, "you are home baby girl. Happy trails."
___________________________________________________
Over the next couple of days I received updates from Olivia's new mom. Olivia was settling in well and quickly becoming a part of her new family. She was so complementary of the youth handler who had worked with Olivia over the past few months, and helped prepare her for a home of her own.
___________________________________________________
Project POOCH is a win-win-win-win program. We serve the youth who learn patience, responsibility, and compassion as they work with the dogs. We serve the dogs who need some extra special care and attention to help them on their way to becoming great companions. We serve the people who adopt POOCH pups by helping them find their new family member. And we also serve our community by helping the youth who go through our program grow, and change, and become productive members of society upon release. Now, that's something we can all feel good about supporting.
Thank you for believing in our mission, and for helping us provide life-changing opportunities for incarcerated youth and shelter dogs. We appreciate your support.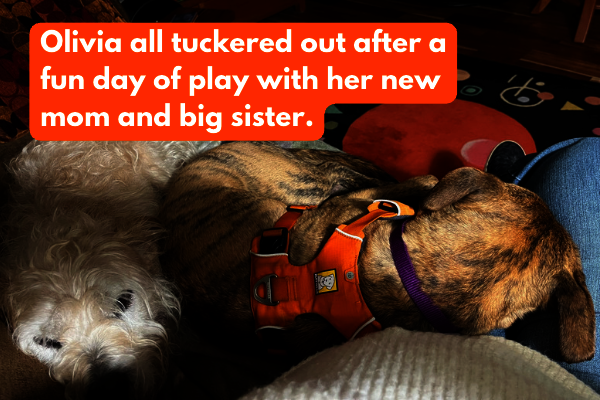 Links: