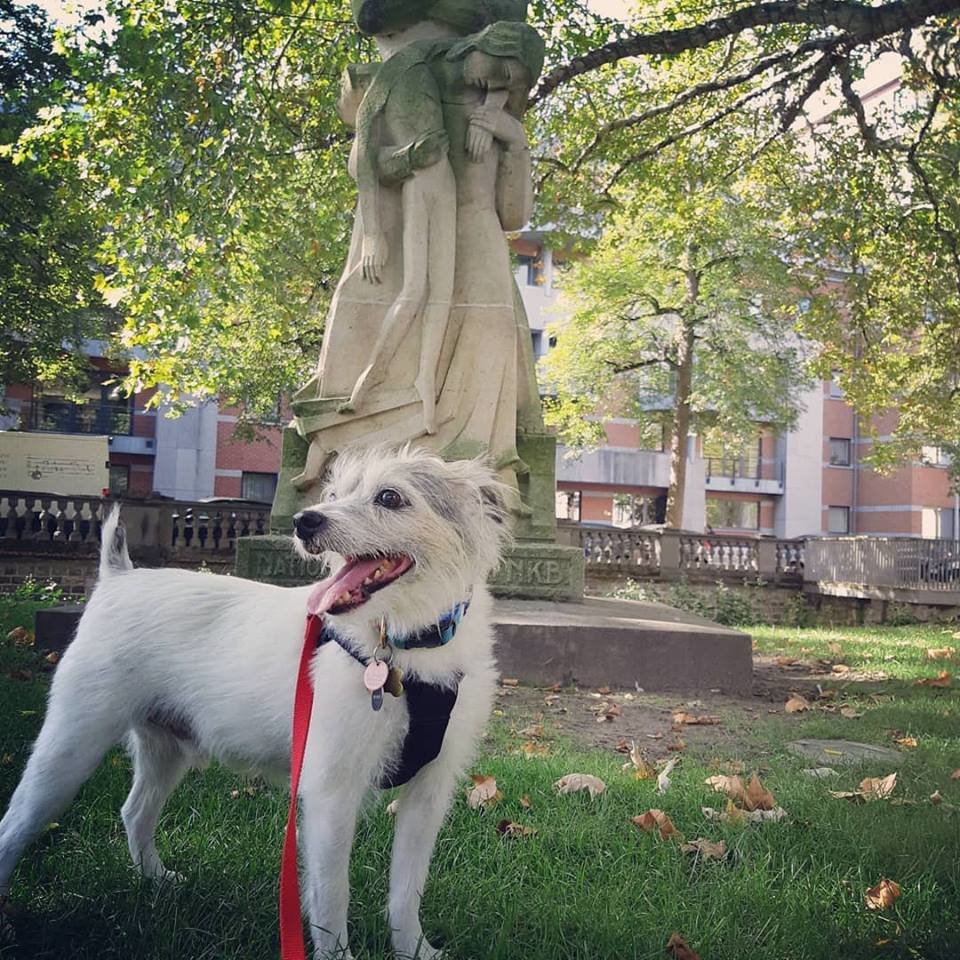 When we asked Gizmo's parents for an update on their little Jack Russell Terrier, we were planning on crafting a story based on the information they gave us. However, when we received their update, we were incredibly moved, and we felt that their direct words for so beautiful that we would just share exactly what they wrote. So here is a heartwarming update from Gizmo's forever family that exemplifies everything we love about the human-animal bond:
"Gizmo, his dad and I have been on a long journey of building trust together. Project POOCH had told me that after spending an undetermined amount of time roaming the streets on his own that he'd been through a handful of home visits with no family willing to accept his eccentricities and mental scars. When Project POOCH founder, Joan, brought Gizmo to meet me it wasn't like a Hollywood movie where Gizmo ran and jumped into my arms. He was nervous at first, or maybe just more interested in being outside and taking in all the smells of the spring. Our first meeting went well so I went to POOCH and saw him where he was most comfortable, with his absolutely wonderful youth handler (who by the way was honored for his immense love of Gizmo with his name being chosen as Gizmo's middle name :-D). He was excited to see me but I still wasn't sure, after all Project POOCH had so many dogs deserving of a loving home. After meeting one other pup, I asked to see Gizmo one more time. That was when I knew that I was meant to be Gizmo's mom. He came out to see me and without any hesitation he came over to me and sat on me with his little bum, a trait that would quickly become easily characterized as Gizmo's way of showing you he likes you.
Fast-forward a few years. I met the love of my life who just happened to be as big of a softy for dogs as I am. Within weeks of meeting Gizmo they were best friends. It wasn't long before Gizmo knew him by the name of 'Dad'. He captured Noah's heart in the same overwhelming way that he did mine. It's just something about Gizzy's tiny body but huge personality. Gizmo has seen the world with us. He's explored every corner of the Pacific Northwest with us and when life gave us the option of living abroad the decision was solely based on whether Gizmo could come with us. If not, then it was not even an option. He is our boy. Luckily Belgium loves dogs (maybe even as much as Oregonians do). We packed up and prepared for the long haul, which if we're being honest was one of Gizmo's greatest challenges yet. But, being the fighter he is, he made it over 5,000 miles with his Gizmo spirit intact.
It would be hard to chose one or two stories that really personify Gizmo's impact on our lives because he's just too important to be described with a summary. Despite Gizmo having been dealt cards of life that pushed him to his limits, he is always there for us. Long days lead to welcome home kisses, no matter what obstacles the day brought. The smallest of sounds and Gizmo is there to stick up for his home and family. He is by all intents and purposes of the word, family and we love him with every ounce of our hearts just as he does us. Our lives revolve around him, and we're okay with that because he has given us joy that nothing else could.
Noah likes to say that Gizmo is the only dog in the world that has seen two different oceans from two different continents. While I am sure that isn't quite true, I'd bet he's one of just a few. Our journey has brought across the world but Gizmo always keeps us at home, no matter where we are."