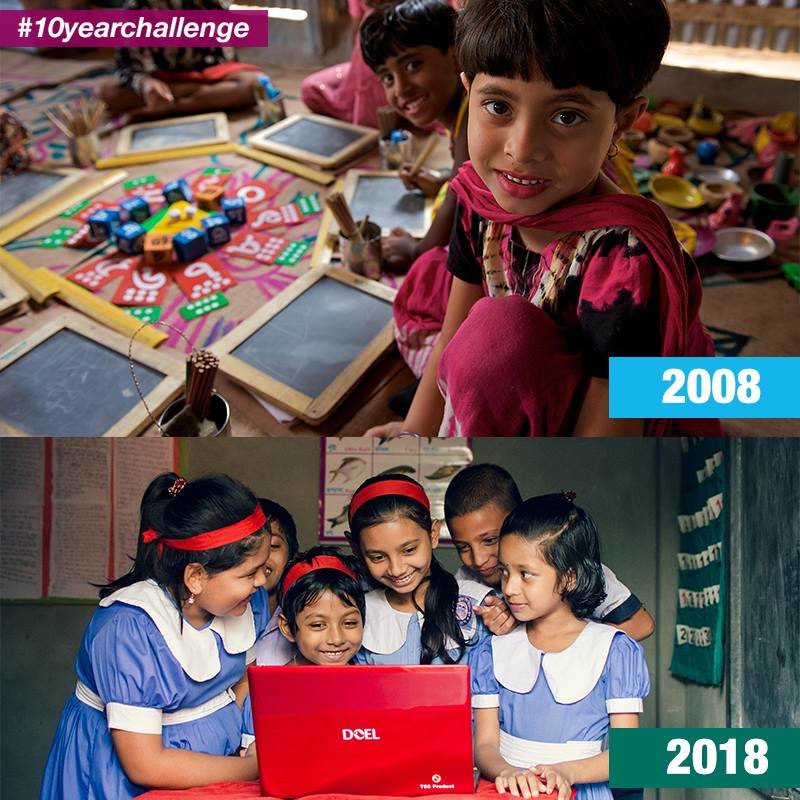 Since its inception in 1972, BRAC's mission has been to empower the poor, especially women and girls, to achieve their full potential. One of the best ways to do this is through education.
The cornerstone of BRAC's education program is continuous innovation. In 1985, BRAC developed a revolutionary primary education model: women from the local community were trained as teachers who would lead a classroom of 33 children through an accelerated primary curriculum, completing five years of material in just four.
Our schools have evolved over the past decade, bringing interactive digital learning to students around the world. In 2016, we partnered with the government of Bangladesh and Save the Children to digitize the national primary and secondary curriculums. Seventeen textbooks were transformed into interactive multimedia to create an innovative and engaging learning environment. This digital curriculum is now present in about 10,000 schools, with a target of 65,000 by 2021.
Over the past ten years, we have also expanded our education programs beyond Bangladesh to other countries in South Asia and in sub-Saharan Africa, adapting to each country's unique context in the process. We continue to use our community-based approach that has been so effective in Bangladesh to reach underserved girls in the most remote areas of these countries.
In Uganda, we provide scholarships, academic support, and mentorship to academically gifted, financially disadvantaged secondary school students who otherwise would not be in school. The program addresses the youth bulge and high unemployment rates in Uganda, which disproportionately affect girls, by expanding access to the country's top secondary schools and helping graduates secure scholarships to attend national and international universities.

In Liberia, BRAC is one of eight organizations chosen to participate in an innovative public-private partnership funded by the government of Liberia to improve its national education system. BRAC currently runs 33 schools, reaching about 7,600 students in pre-primary and primary grades. We are also helping to strengthen systems and build local capacity to improve learning outcomes.
Thanks to generous donors like you, BRAC continues to develop and implement innovative, contextualized education initiatives to provide a quality education to disadvantaged students, especially girls. We are grateful for your continued support.