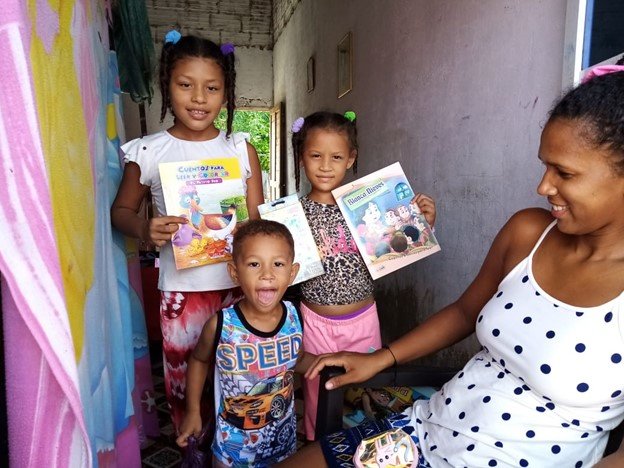 As we shared in the previous report, our city has been impacted by the global pandemic, with those in conditions of need and poverty suffering the most. The government shutdown all schools and a general lockdown was in force. This meant that it was not safe for us to gather our kids as we had wished and provided them with the food and support, they needed. However, this did not stop us from being nimble and resourceful to find new ways to help and serve them. Below are some examples of how we overcame the difficult environment and supported our children.
Adapting to virtual learning
Rather than meeting together for the usual English and reading lessons, we opted for recording videos of those lessons and deliver them to the parents via mobile phones. Here is an example of such an online class https://www.facebook.com/watch/?v=679424683012003. We leverage a similar model for reading and arts activities, for which we also equipped the kids with the necessary books, colors, and the like as you can see in the pictures below.
Artistic activities
Once the kids received their artistic kits, they spare no time to put their hands on the paintbrushes and make some beautiful art as shown below.
School reinforcements
Recently, the restrictions on indoor gatherings have eased to the point that we are now able to gather small groups of kids to provide them school reinforcements, especially in the areas of reading and math. You can see the kids enjoying themselves whilst learning these important subjects in the following picture.
Parent-child bonding challenge
Strengthening the affective bond between a child and their parent is a very effective tool to build the kids self-esteem and help them integrate better at their schools and community, this is the reason we launch a challenge that required the parents to give them at least 4 hugs a day, varies praises for their qualities, and a time of active listening. We received very positive feedback about this activity, and it is amazing to see how such little actions make a difference in their homes.
We are planning to reopen our facilities in full and resume the breakfast club in January, by when the health crisis will be over in our city. In the meantime, we will continue to be nimble and resourceful to continue supporting our kids despite the current difficulties. Once again, we rely on your continued support and contributions to serve our kids, we remain committed through obstacles and challenging circumstances with the unwavering hope that your support alongside our actions will continue bringing a meaningful and positive transformation to the lives of our children.