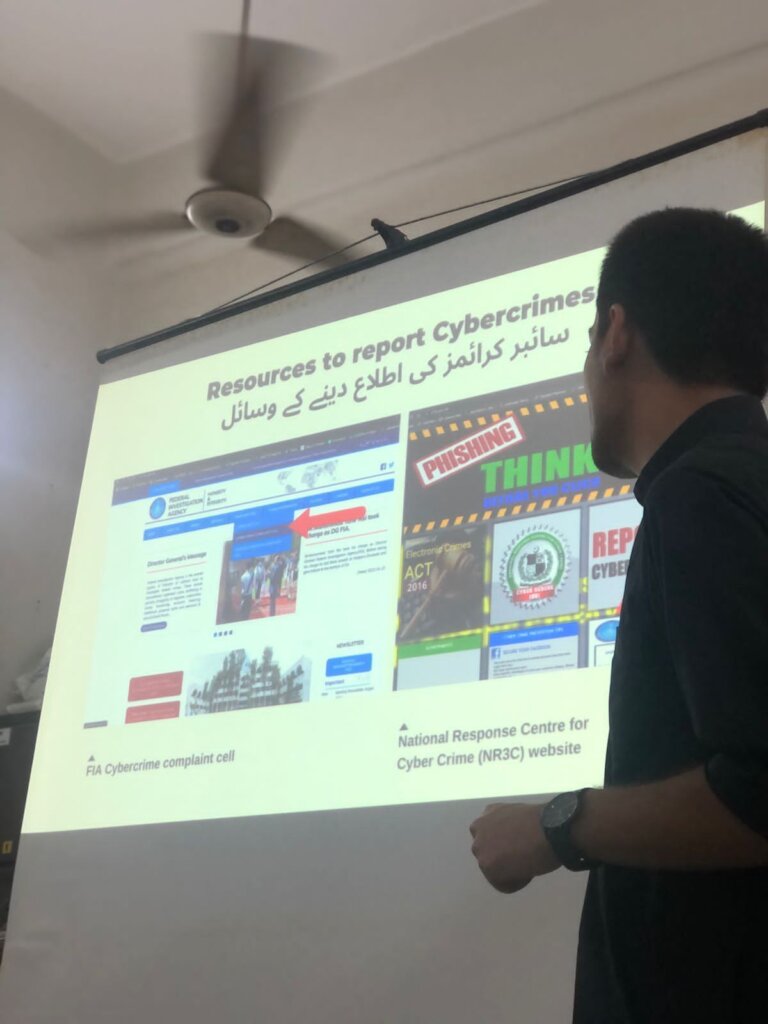 As an active agent of change, Zindagi Trust has been taking initiatives to remodel the educational landscape of Pakistan. Zindagi Trust believes it can advocate for a country-wide reform by leading through example, i.e better governance, academic enrichment, and teacher professional development in its adopted government schools.
One intervention that falls under governance is ensuring students' safety in the two adopted government schools. Enabling a safe environment for its students at the schools and beyond remains a priority for Zindagi Trust. For this purpose, Zindagi Trust has collaborated with leading global tech companies to look over the digital safety of its students.
In July, Zindagi Trust in collaboration with Meta (Facebook) hosted a policy dialogue at The Government Elementary College of Education in Karachi to identify ways to make digital platforms safer for children and share policy recommendations with government agencies to help create better reporting mechanisms. Relevant stakeholders such as representatives from the Federal Investigation Agency (FIA), The National Commission for Human Rights Pakistan, the Sindh Child Protection Authority, the National Commission on the Rights of Child, and the Digital Rights Foundation were invited to share their valuable insights and pave a way forward together in ensuring that children's safety is prioritized even in the virtual realm.
A follow-up policy dialogue is underway, in the meantime efforts are in progress to strengthen the team internally to be well-versed in safety measures on digital measures for which a training session has been scheduled in the coming week. Meta's APAC and Public Policy team from Singapore will be visiting Karachi to train the staff at Zindagi Trust on safety tools within the platform of apps (Facebook, Instagram, Whatsapp, and Messenger) and a revision of how to report violating content.
At the schools, as part of the digital safety campaign in collaboration with TikTok, workshops are in progress for teachers, students aged 13+ and their parents to disseminate information on how to navigate the digital world safely. These workshops provide comprehensive guidance on the different harms present on the internet, rules of interacting with strangers online, protection and correction mechanisms, safety features and settings present across digital applications, cyber laws and local reporting. Furthermore, an essential component of the workshops is building and strengthening trusting relationships between students and their parents and the students and their teachers so students have trusted adults to turn to incase of any cyber trouble.
To maximise student retention and learning on this topic, a digital safety module has been included in the Life Skill Based Education Curriculum in the schools of Zindagi Trust.
On the pedagogy front, in August before the academic year commenced, an In-Service Training program (INSET) was held in both adopted schools of Zindagi Trust, stretching over a couple of days where teachers and subjects leads received multiple trainings and workshops categorised into multiple overarching themes such as mental health, child protection, professionalism, performance evaluation and effective teaching practises. These themes further branched into sub-topics such as workshops on teaching practises included addressing student centred learning, strategic teaching, lesson planning and homework management, effective utilization of instructional time, reflective practices etcetera.
While emotional and intellectual well-being of students is of paramount importance, Zindagi Trust strives to play an active part in the physical welfare of their students as well. A Life Saving Skills training was given to 60 teachers at SMB Fatima Jinnah School as part of the Pakistan Life Savers Programme (PLSP) by Aga Khan University Hospital. The attendees got to practise CPR, body position and depth of compressions, amount of force needed to control heavy bleeding in an emergency, etcetera. At the end of the training, the PLSP instructors examined the teachers and marked them on the basis of the performances after which they were awarded certification.
Furthermore, in September an inauguration ceremony of the Pediatric Covid Vaccination Campaign was held at the Khatoon-e-Pakistan Government Girls School. The chief guests were District Health East, DC East and other members WHO, UNICEF and USAID. As part of this campaign, Pfizer vaccines are being administered to children aged 5-11 in all public schools including the schools of Zindagi Trust which will be the first step towards safeguarding the health of our children.
As the academic year continues, Zindagi Trust makes sure to provide its students with opportunities to engage in multiple extra-curricular activities as it believes in dispensing holistic education. Over the period of July-October students engaged in multiple extra-curricular activities such as attending an interactive science exhibition at the lincoln's corner where they learned about virtual reality, 3D printers, robotics and simulations etcetera. Alongside this a few workshops on climate change were held to create awareness regarding the on-going climate crisis and encourage students to make efforts of living sustainably.