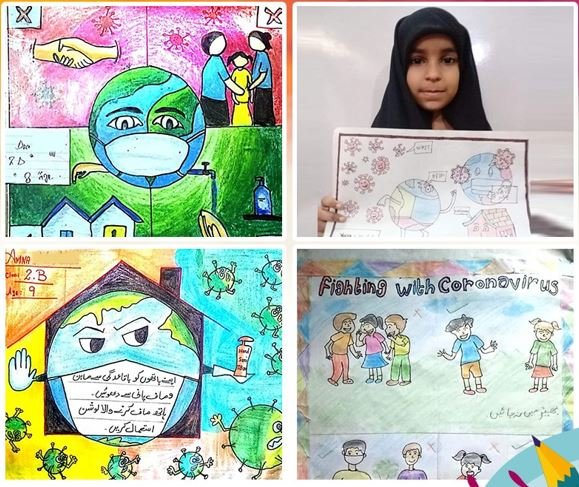 Innovating Holistic Education for Under-resourced Schools during a Pandemic
Four months into the pandemic-mandated schools' shutdown in Pakistan, we are continually innovating ways to deliver holistic education to the girls in our under-resourced government schools. In the initial days of the lockdown, our focus was to engage our students in creative activities to help them cope with these unprecedented circumstances. With the help of some great local artists, illustrators, and our own art teachers, we formulated learning packs that had activities promoting mindfulness, gratitude, reflection, and fun and sent them to our students' homes.
While our students came up with creative responses to the questions and exercises in the first set of worksheets, the school management and government school teachers, who were previously not tech savvy, made Whatsapp Groups for each section of each class to allow student-teacher engagement. Teachers have sent text, video and voice instructions on these groups both to introduce new topics and conduct follow-along activities with students who have since participated in art competitions, and learnt to tie-dye their clothes using kitchen ingredients instead of fancy art supplies. Our students love engaging with their teachers through Whatsapp and social media and demand more activities to let their creativity flow.
It was important for us to focus on nourishing our students' body and soul along with keeping them mentally engaged, so we introduced weekly online meditation and yoga classes conducted by a Yoga Alliance certified yoga instructor trained in classical hatha yoga from South India. Many students, including some girls who were very active in sports at school, are attending these classes regularly and feel refreshed after much needed physical exercise. The students have not only learnt several basic yoga poses, including mountain, cat-cow, constructive rest pose, and bridge but also breathing exercises and how being mindful of their breath can help manage feelings of anxiety and anger. These yoga classes are a hit among the students and teachers alike, and as the weeks pass, our students have started involving their family members in these classes too.
Continuing our focus on the mental wellbeing of our students during these challenging times, our school counsellor has been reaching out to our students to check in with them and identify if they need any help. We are also conducting Mental Health First Aid workshops to train our art and sports teachers as lay counsellors, who will then reach out to students for phone check-ins. When the lockdown was announced, we conducted a survey with our students' families to gauge their immediate needs and their access to technology. Based on the findings, we distributed care packages with food and hygiene essentials to our students to take care of their and their families' immediate needs.
Meanwhile, our teachers were making a second set of learning packs for each class, this time focusing more on academic content and continuing education. These packs were made for students from Kindergarten to Grade 8, focusing on the revision of topics in English, Mathematics, Science, Social Studies, and Urdu that have already been taught to the students. While some of the exercises in the learning packs are similar to class worksheets, the Science worksheets include a lot of experiments that can be done with material readily available at home. Currently, we are in the process of sending these learning packs to more than 2500 students enrolled in our schools.
As the distribution of the learning packs is completed for each class, teachers will start engaging with students of that class via their class Whatsapp groups – sending them explanations and instructions, helping them where needed, and checking their responses once completed. The students with limited or no access to technology will be reached through phone calls through which their teachers will give them instructions to follow and complete the worksheets in their learning packs. After one month of revision targeting mastery of the previous term's content, next month's learning packs will introduce topics from the new term.
Our teachers are also going through rigorous training online to get accustomed to conducting online classes via Zoom, developing pre-recorded lessons, and using Knowledge Platform, a Learning Management System that will not only allows student-teacher engagement but also has its own content deployed for English, Mathematics, and Science which our students will be following. The teachers will conduct online classes with the students of Grades 9 and 10 via Zoom and assign associated tasks for them on Knowledge Platform.
Donate!
With COVID-19 cases on the rise in Pakistan, we need your help now more than ever to deliver holistic education to our students. With your help, we can continue supporting our students to continue their education during the lockdown.