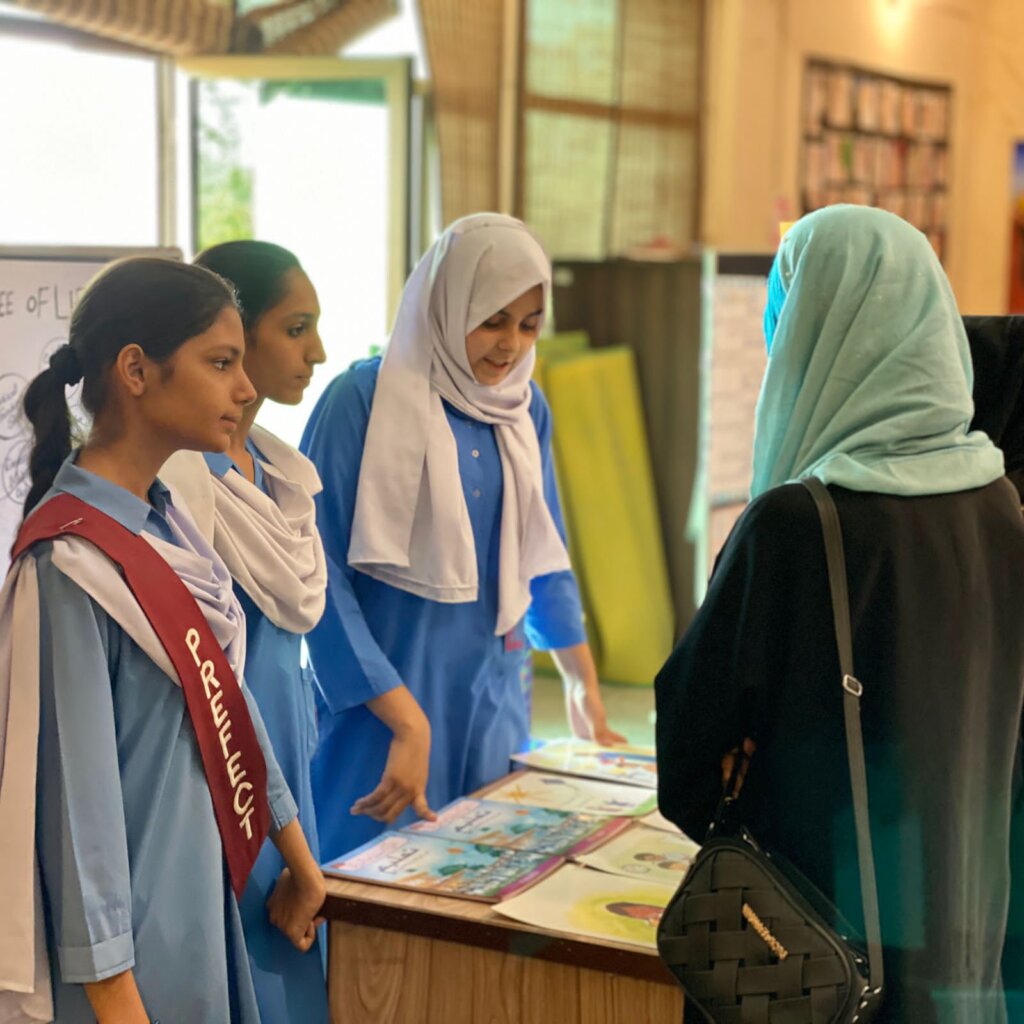 As the year progresses forward, Zindagi Trust strides forward as well with its continuous efforts of transforming the schools of Pakistan for the better. The two adopted schools of Zindagi Trust - SMB Fatima Jinnah and Khatoon-e-Pakistan school incorporated different activities to make learning efficient for students. Keeping this objective in mind, a Math Olympiad was arranged in both schools around mid-March 2022 where students competed against other teams internally to solve math problems and learned about teamwork and time management. Two teams from Grades 5 and 6 secured 1st and 2nd position in the Math Olympiad. The winners alongside their teachers were appreciated in the morning assembly for their efforts and committed wits.
Similarly, students were encouraged to participate in other events and tournaments for increased exposure and skill acquisition. Students from Khatoon-e-Pakistan participated in a speech competition held at District East where they secured 1st and 2nd positions under different categories. Anoosha from Grade 8 secured 1st position, Mafia from Grade 7 secured 1st position, Areesha from class 9 achieved 2nd position, and Aroosha from class 6 secured 1st position.
A team from Zindagi Trust's school also participated in the Open Chess Category for Women at the Punjab Minds Sports Master Open Rapid Championship in March'22 held in Lahore, Pakistan. Amongst 100 women participating from all over Pakistan , Mehek acquired 7th position, Hira, 15th, and Almira secured 21st position.
Since Zindagi Trust believes in strengthening its programs, it is actively working towards capacity building of the mind sports program. Through monitoring and evaluation surveys and observations, we have noticed how Mind Sports helps students develop self-confidence and the ability to tackle challenges in all spheres: in classrooms, art lessons, sports fields, exam halls, and beyond. For this purpose, Zindagi Trust has signed a Memorandum of Understanding with the Mind Sports Association of Pakistan for capacity building of the Mind Sports program at the schools of Zindagi Trust.
Zindagi Trust believes education should be accessible to all children, regardless of their circumstances and cognitive ability. In April, we partnered with Autism Spectrum Disorder Welfare Trust (ASDWT) for an awareness session on Autism, ADHD, and dyslexia. 20 of our ECE teachers enjoyed the session at SMB Fatima Jinnah on 9 April and were eager to learn more and understand how to better help our students with learning disabilities.
For our younger students, we arranged a fun trip to the Karachi Zoo where students actively participated by singing rhymes and enjoying the view of different animals.
The program officers for special programs and advocacy conducted an informal session with the students of grade 10 to teach them about protecting themselves online. There was a healthy discussion on the harms on the internet for children, privacy settings on social media, reporting mechansims, and helpline and laws in Pakistan for digital safety.
The Life Skills Based Education (LSBE) team organized a wonderful opportunity for our students' parents to learn more about the LSBE program. This event, called the LSBE Gallery Walk, was hosted at Khatoon-e-Pakistan School and parents turned up in numbers to watch their children present different themes within LSBE. Some of the themes covered were protection from child abuse, urgency to dismantle gender roles, protection from threatening medical diseases, and managing your personal hygiene. Parents walked towards multiple booths where students had prepared a presentation on an LSBE topic and students answered their questions. At the end of the event, feedback was collected from the parents to measure the success of the gallery walk.
The Zindagi Trust creative team is working on writing and publishing an LSBE book for primary schoolers. The theme of the book is bullying and we hope to teach students about how harmful bullying can be for students who experience it. It also teaches them responsibility and to treat each other with compassion.
In the month of April, our programs team participated in a consultation on internet governance. The general discussion included topics of media regulation, lack of internet access, internet inclusivity, lack of legislation and implementation of digital laws, the relationship between internet and gender-based violence, online education during COVID pandemic, and possible solutions including incentivization and state involvement.The program officers presented how students interact with the digital world and the problems they face in that process. Some of the few include, accessibility issues, language barriers, cultural shame associated with consumption of media, further problems inquired during online learning in the COVID-19 pandemic by the organization at large and the students personally. Further issues that branch out from the topic such as privacy issues during internet navigation were also discussed which Zindagi Trust plans to combat through the digital safety awareness sessions in partnership with TikTok.
The partnership between TikTok and Zindagi Trust is an ongoing campaign which aims to bring awareness about digital safety, and equip students, parents, and teachers with the tools to be safe online and be responsible digital citizens.
After the exam season, students returned to campus for a well-deserved fun summer camp. The summer camp, returning to school after the COVID-19 pandemic, is currently ongoing at both of our schools for students of grades 5 - 8. Students have a program for two weeks where they attend classes for arts and craft, cooking, acting, and photography and learn about emotional regulation, mental wellbeing, and creative expression.