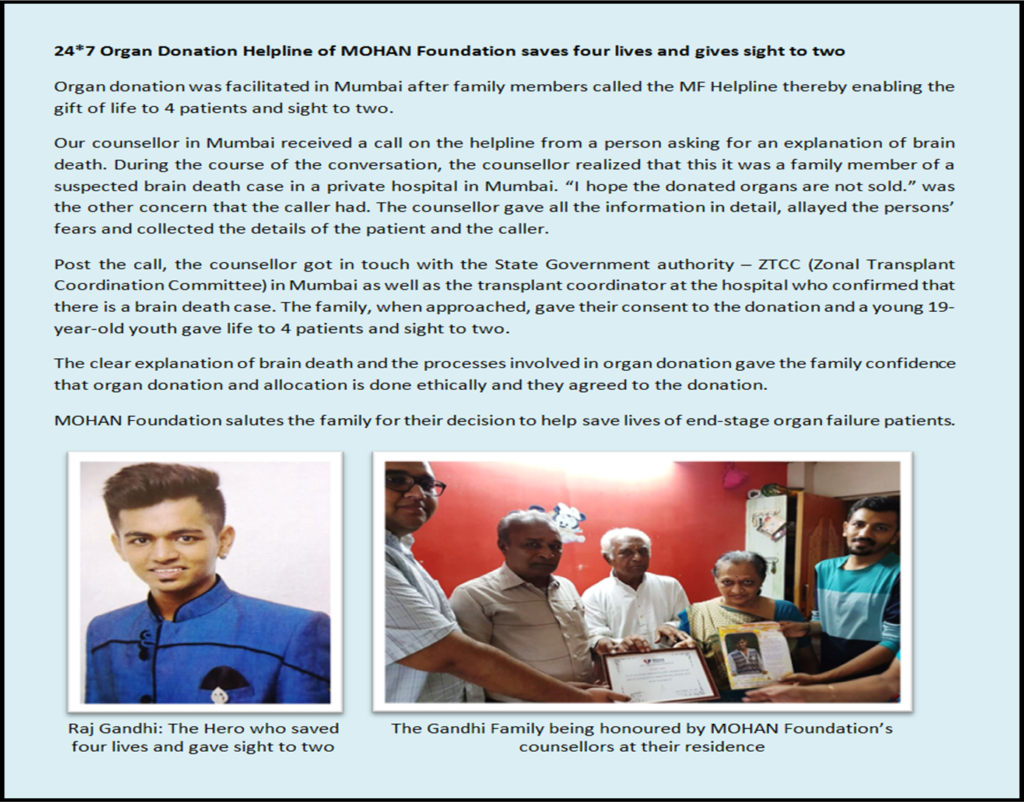 Rippling impact of initiatives creating awareness on organ donation
Media Partnership
Memorandum of Understanding between MFJCF and Dainik Bhaskar to promote organ donation
On August 11, 2017, an MOU was signed between MFJCF (MOHAN Foundation – Jaipur Citizen Forum) and India's leading Hindi newspaper Dainik Bhaskar. Under this MoU, Dainik Bhaskar will publish articles to promote organ donation with the help of MFJCF. It is hoped that this initiative will revolutionize information dissemination on organ donation.
Awareness talks at schools in Partnership with TOI
Every year, Times of India (TOI) organizes various awareness sessions on organ donation in different schools across Delhi-NCR in collaboration with MOHAN Foundation as part of a special campaign supporting organ donation. This is TOI's fifth consecutive year of doing this campaign with MOHAN Foundation being its knowledge partner. The 13-day long campaign starts on August 1 and culminates on August 13, TOI's designated organ donation day. Close to1000 students were covered this year through this campaign.
Ground Events of NDTV Fort Campaign 'More to Give' in collaboration with MOHAN Foundation
MOHAN Foundation is a knowledge partner for the NDTV FORT "More to Give"- a campaign focusing on sensitizing the nation about the need on stepping up to donates organs for saving lives. NDTV is a leading English news channel. As part of this, ground events were organized in Chandigarh, Chennai, New Delhi and Mumbai on August 6
MOHAN Foundation invited Transplant recipients, Donor Families as well as persons on the waiting list, waiting to receive a life-saving organ. They shared their stories which were aired live by NDTV. A few of its volunteers were also part of the event wherein they reached out to the passers-by, spread awareness and helped them take the Pledge.
As part of the event, many students participated in a poster making competition on Organ donation. Flash mobs were organized and street plays were done to sensitize people about organ donation
Diverse training programs across the country
Critical Care Workshop on 'Declaration of brain death and donor optimization', Mumbai
May 13, 2017, MOHAN Foundation along with Indian Society of Critical Care Medicine co-hosted the Fortis Organ Retrieval & Transplant (FORT) workshop named "A Critical Care Workshop on Declaration of brain death and donor optimization" at Fortis Hospital Mulund, Mumbai.
The faculty enlightened the participants on the Role of critical care teams in organ donation and importance of early identification of brain death, Brain death certification protocols, Difficulties in brain death testing, donor optimization, Importance of involving all stakeholders in organ donation, Progress of organ donation in Maharashtra, Grief counselling of family, Concept of Donation after Cardiac Death (DCD) and Brain death in children. The program also included a panel discussion on Brain Death: Unified diagnosis of death, documentation, legal aspects, conflicts as well as a position paper on Guidelines for Donor Maintenance in Hospitals was launched at the event.
Summit on Organ Donation & Transplantation in Children in partnership, Gurgaon
On July 29, 2017, Fortis Organ Retrieval & Transplant (FORT) in collaboration with MOHAN Foundation under the aegis of National Organ & Tissue Transplant Organization organized a Summit on Organ Donation and Transplantation in Children.
Doctors from Spain, UK, USA, Australia, and India came together in the first such summit in the country and discussed ways to take it forward. The summary and recommendations from the discussions are being documented and will be presented to the Government of India.
2nd AORTA-MOHAN Foundation training for Transplant Coordinators
MOHAN Foundation in partnership with AORTA (Army Organ Retrieval & Transplant Authority) under the aegis of Office of DGMS (Army) IHQ of MoD (Army) and NOTTO (National Organ & Tissue Transplant Organization) successfully completed the training for transplant coordinators from July 24-28, 2017 held at Army Hospital (Research and Referral) Delhi Cantonment, New Delhi.
30 delegates of varied profiles that included doctors and nurses, medical social workers, senior managers, medical superintendent and counselors from 5 states (Karnataka, Maharashtra, West Bengal, Haryana and Uttar Pradesh) and 1 Union Territory, Delhi attended the training.
8th One Month Transplant Coordinators Training Programme, Chennai
Under the aegis of National Organ & Tissue Transplant Organisation (NOTTO), Directorate General of Health Services, Ministry of Health and Family Welfare, Govt. of India, MOHAN Foundation conducted a One Month Transplant Coordinators' Training Programme from May 3-27, 2017 at MOHAN Foundation, Chennai. A total of 31 candidates from Assam, Uttar Pradesh, Odisha, Rajasthan, Gujarat, Maharashtra, Andhra Pradesh, Kerala, Puducherry and Tamil Nadu were present. The participants hailed from various professional backgrounds such as Social Workers, Dialysis Technologists/Technicians, Nurses, Hospital Administrators, Doctors, ICU Staff and Transplant Coordinators. They received their certificates with a unique registration number from NOTTO. The training had eminent speakers from Tamil Nadu, Andhra Pradesh and Delhi (via Skype). This was the 8th one-month training programme conducted by MOHAN Foundation and the first in partnership with NOTTO. The training was supported by Tata Trusts.
MOHAN Foundation was privileged to have Dr. J. Radhakrishnan, IAS, Principal Secretary, Health and Family Welfare, Govt. of Tamil Nadu, along with Dr. Vimal Bhandari, Director, NOTTO (via Skype) and Dr. P. Balaji, Member Secretary, TRANSTAN at the valedictory function of the 8th One Month Transplant Coordinators' Training Programme in Chennai.
donation in medico legal cases.
Angels of Change: Chennai, Mumbai, Delhi & Kolkata
Angels of Change is a unique program where select volunteers from different walks of life are taken through a customized training module to enable them to undertake awareness initiatives on organ donation amongst various audiences.
Kolkata
The City of Joy, Kolkata, had its first batch of "Angels of Change - Volunteers for Organ Donation" trained by MOHAN Foundation on June 20 - 21, 2017 at Techno India University in collaboration with Anthyesti Foundation, a local NGO in Kolkata.
The training program was attended by 19 participants from varied backgrounds: First-year students from Techno India University pursuing a course in Hospital Management, Life Members of MOHAN Foundation, representatives from Swadheen Foundation in Guwahati and from Anthyesti Foundation.
Chennai
Chennai office displayed a phenomenal performance by training 7 batches of Angels of Change in the months of June, July, and August. A total of 201 volunteers comprising of medical students, engineering students, school students, life members and National Service Scheme volunteer were trained. Many of them have continued to promote the cause of organ donation through awareness talks, public surveys, skits, posters, and poem being few of the ways.
Mumbai
Mumbai office trained 24 Angels of Change Volunteers in July. The batch consisted of around 15 medical students from Yerala Medical College (Kharghar) and rest volunteered on individual capacity.
Delhi
On August 9, 2017, MOHAN Foundation Delhi-NCR office conducted Angels of Change (AOC) Volunteers for Organ Donation Training programme for Air India Staff. While two of the volunteers were retired cabin crew members, the other two are still serving. They aim to sensitize trainees undergoing to be a crew member by involving an awareness talk on organ donation in the training curriculum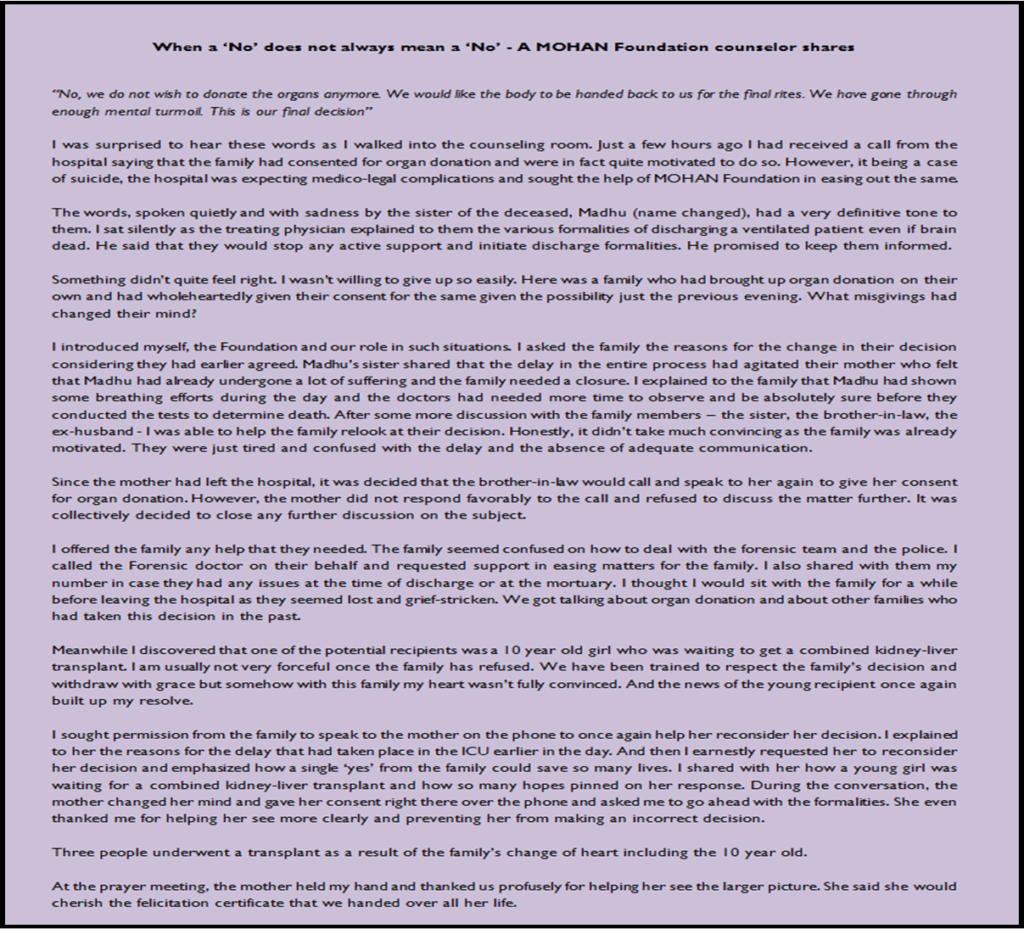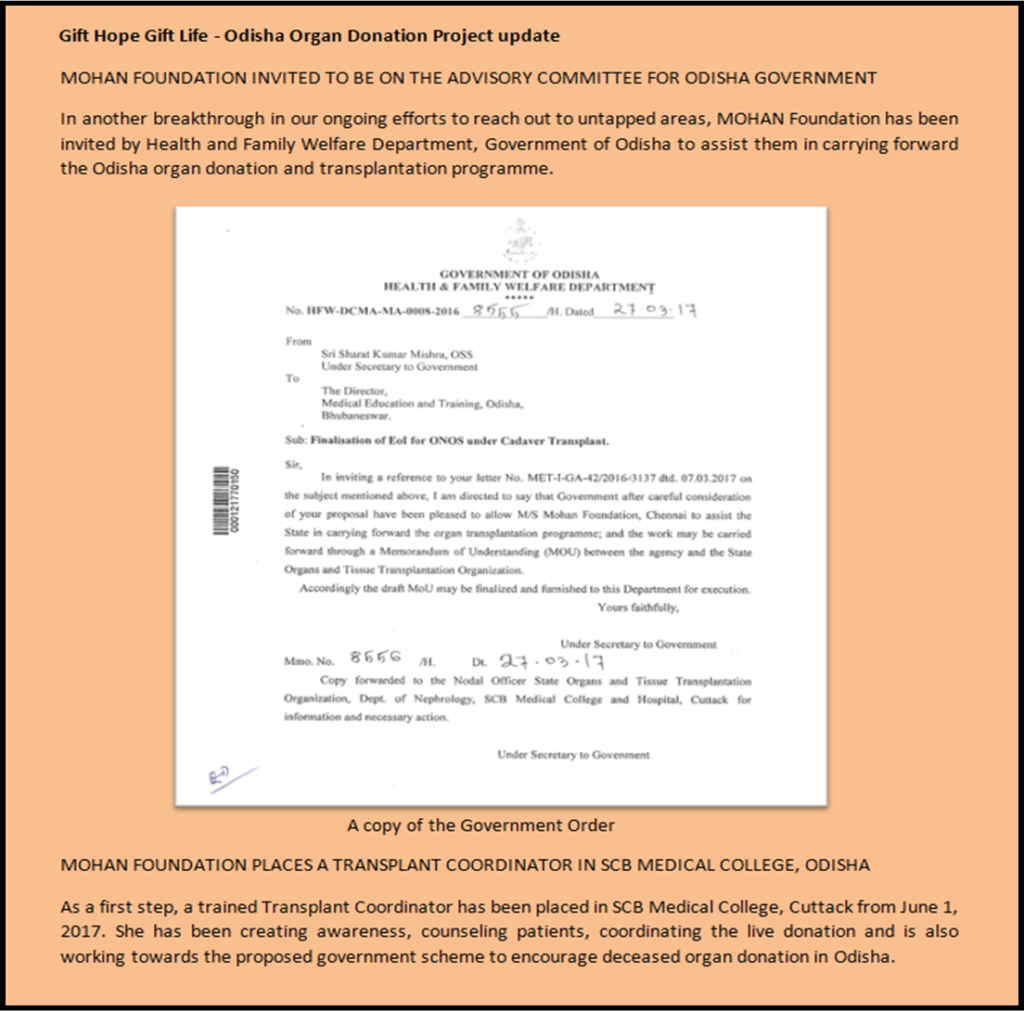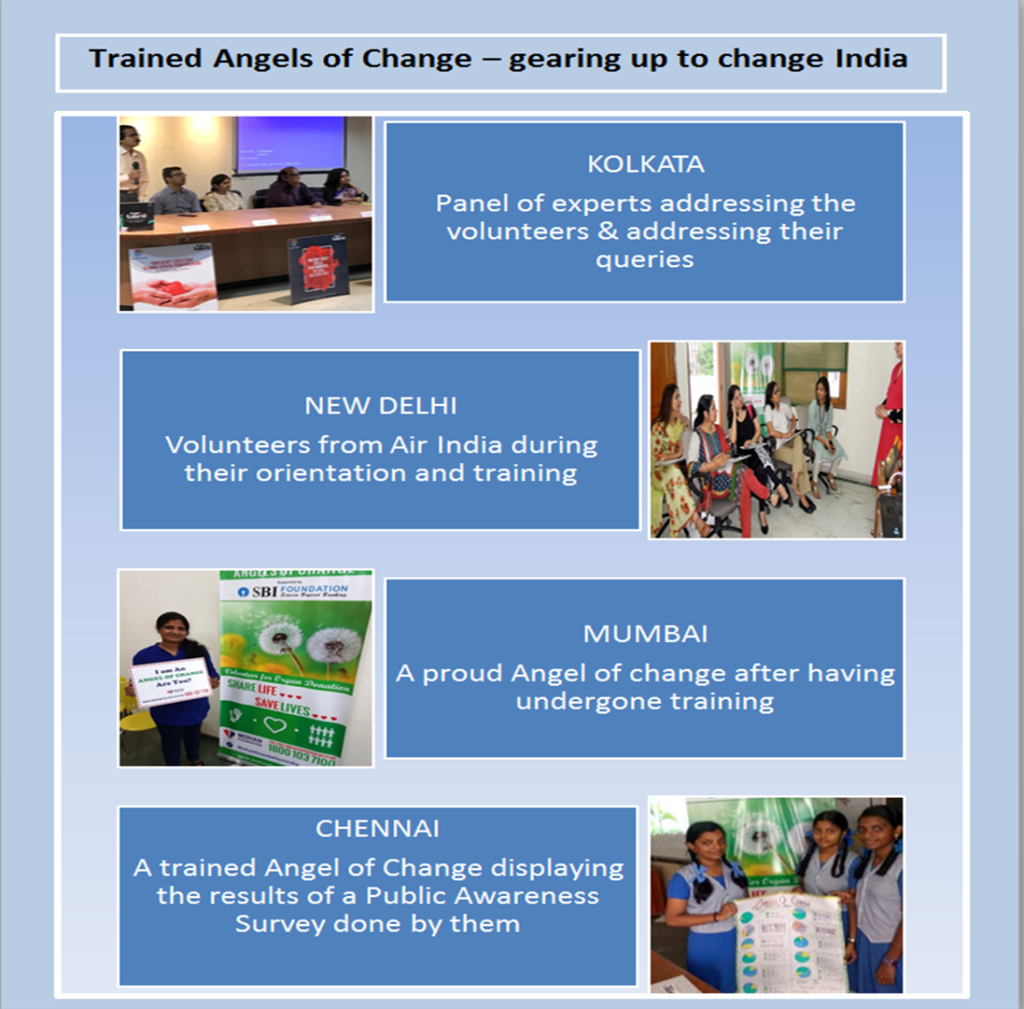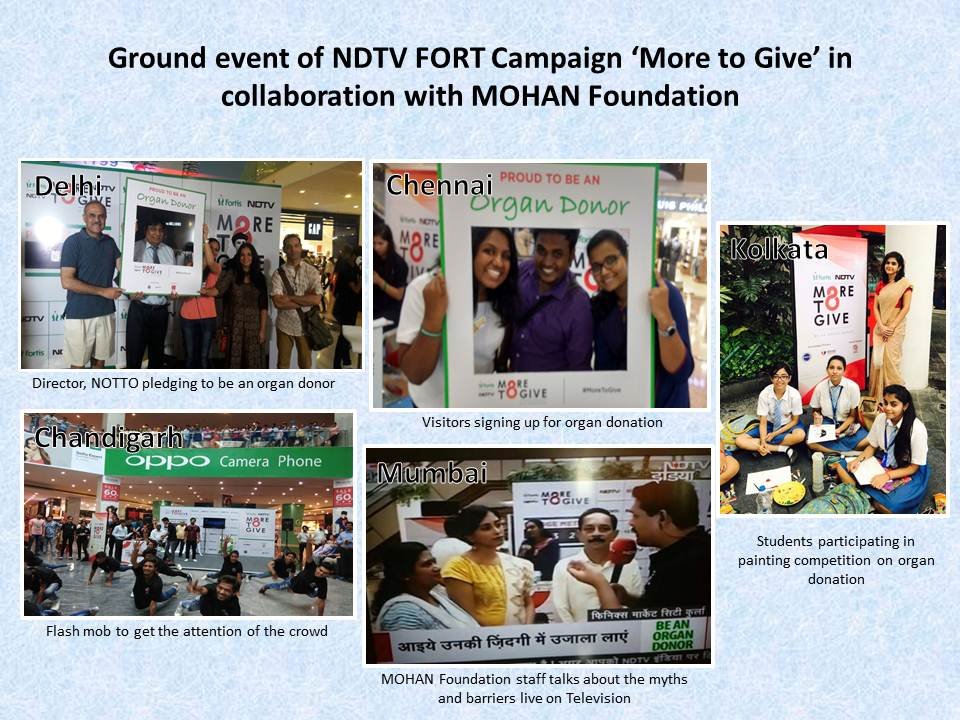 Links: