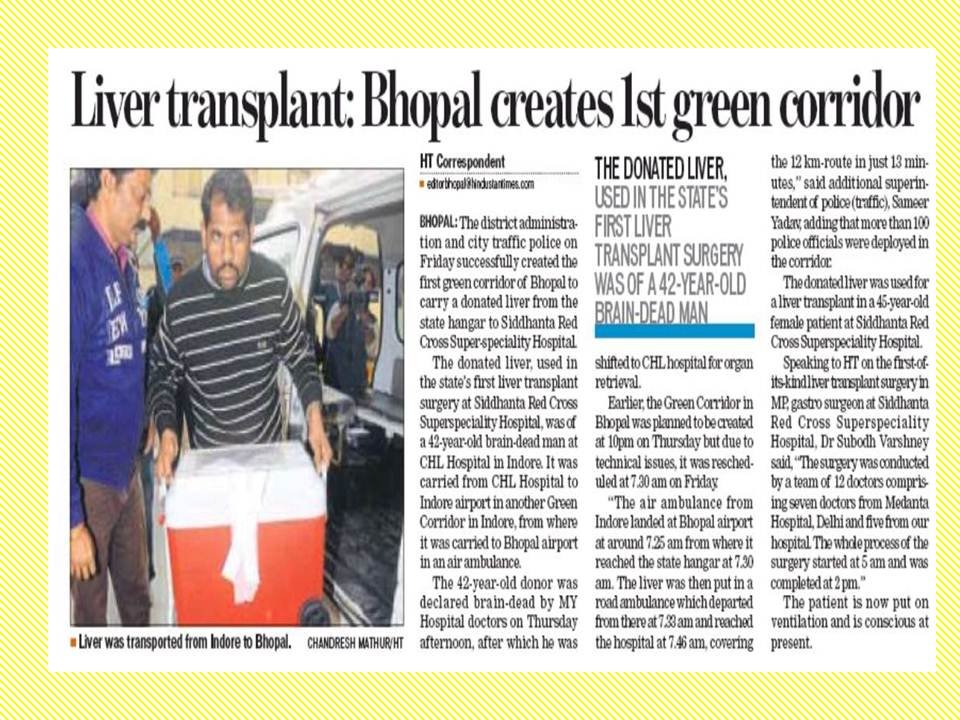 Further efforts in new states
Organ Transplant Summit 2016, Raipur, Chhattisgarh
MOHAN Foundation was invited to organize the first ever Organ Transplant Summit in Chattisgarh by DKS Post Graduate Institute & Research Centre Raipur, Chhattisgarh. It is one of the first moves to adopt the system for organ donation by the state of Chattisgarh.
The Summit was aimed to sensitise and educate medical and non-medical representatives on the various aspects of organ donation and transplantation and had experts from various fields from across the country to address the participants.
The Honorable Chief Minister of Chhattisgarh, Sh. Raman Singh in his address assured that the Chhattisgarh government would fully support the transplant program going forward. He acknowledged that while there has been a delay, the state of Chhattisgarh will soon adopt the Transplantation of Human Organs Act and begin whatever work that is required to start transplantations in the state. The Health Minister echoed the sentiments of the Chief Minister and assured everyone present of full support from the government.
Dr. Sunil Shroff made a presentation on, "Organ Donation & Transplant - An overview and current status in India". He discussed what all ingredients are needed to start an organ donation and transplant program in the country. Ms. Pallavi Kumar gave an overview on The Transplantation of Human Organs Act and rules.
The panelists debated upon the roadmap for Chhattisgarh to enable transplants to start in the state and the role that various stakeholders will be required to play to make it happen.
MOHAN Foundation participates in 3rd COREP 2016- make 1 para
Ms. Pallavi Kumar represented the MOHAN Foundation at the 3rd COREP (Conference of Renal Healthcare Professionals) held at Sanjay Gandhi Post Graduate Institute of Medical Sciences, Lucknow on September 11 & 12, 2016. MOHAN Foundation was one of the partners for the workshop. A half day workshop was organized on Deceased Organ Donation within , with sessions on Brain Death. Ms Pallavi Kumar made a presentation on "Transplantation of Human Organs Act" and "Counseling families for Organ Donation."
More transplant coordinators gets trained
More transplant coordinators gets trained to spread the message of organ donation and enable more families for organ donation.
Guntur, Andhra Pradesh
Under the aegis of National Organ and Tissue Transplant Organisation (NOTTO), Directorate General of Health Services, Ministry of Health and Family Welfare, Govt. of India, MOHAN Foundation in collaboration with Jeevandan, Govt. of Andhra Pradesh and Ramesh Hospitals, conducted a one week Transplant Coordinators' Training Programme from 14th to 18th November 2016 at Ramesh Hospitals, Guntur, Andhra Pradesh. It is the first time that any such program was organized in Guntur which is another new area where MOHAN Foundation has entered to promote and set up the system on organ donation. 35 candidates were present not only from Andhra Pradesh, but also Telangana, Tamil Nadu, Karnataka and Kerala. They received their certificates with a unique registration number from NOTTO, the apex body incharge of promoting organ donation
Jaipur, Rajasthan
Navjeevan-MFJCF Team and MOHAN Foundation held a one week Transplant Coordinators' Training Programme at the J K Lon Hospital, Jaipur, Rajasthan from 12th to 16th September 2016. There were 74 participants from all over Rajasthan and India. This is the 38th training programme that is being conducted by MOHAN Foundation.
Delhi
NOTTO (National Organ & Tissue Transplant Organization) in partnership with MOHAN Foundation conducted its fifth Transplant Coordinators' Training Program from September 26-30, 2016 at NOTTO office, Safdarjung Hospital, New Delhi. 39 participants of varied profiles like doctors, nurses, medical social workers, psychologists and quality managers from both private and government hospitals of Delhi-NCR attended the training. In the valedictory session the newly trained transplant coordinators were reminded of their importance to make organ donation a successful program. It is only when the transplant coordinators push the system in the hospitals to set up an organ donation program and show their empathic approach towards the families that would accelerate the process of organ donation in our country.
National Deceased Donation Simulation Workshop organized by NOTTO in partnership with MOHAN Foundation, VMMC & Safdarjung Hospital and ISCCM - small
In the first of its kind, NOTTO in partnership with MOHAN Foundation, Vardhaman Mahavir Medical College & Safdarjung Hospital and Indian Society of Critical Care Medicine (ISCCM), Delhi, organized the National Deceased Donation Clinical Simulation Workshop on October 10, 2016.
Doctors in the Intensive Care Units (ICUs) have a key role to play in the deceased donation programme. The Transplantation of Human Organs (Amendment) Act, 2011 and the Rules, 2014 have expanded the brain-stem death certification panel which now includes anaesthetists / intensivists nominated by the head of the hospital and duly empanelled by the Appropriate Authority to certify brain death as a member of the Board of Medical Experts. In addition, ICU doctors are involved in "required request" and in donor optimization if the family consents to donate the organs of their brain dead relative. MOHAN Foundation over the years has conducted 10 such workshops in the country.
This one-day certificate course was in collaboration with NHS Blood and Transplant (NHSBT), UK as part of the MoU signed between MOHAN Foundation and NHSBT, UK, to work together to improve the organ donation rate in both countries.
The rationale behind the course was:
Any opportunity for deceased donation occurs at times of significant family distress and it is often inappropriate to allow junior staff to take a lead in discussing donation with families.
It is usually not possible to 'train' during these periods, due to it being a time of sensitivity. Therefore, much of the learning occurs in a piecemeal fashion on the job and quite removed from the real world of the critical care environment.
Simulation allows staff training and development in a safe environment while enacting real-time events.
"Knowledge enriches and empowers" - 9th Annual Transplant Coordinators' Conference held in Chandigarh, October 2016
The 9th Annual Transplant Coordinators' Conference was organized by MOHAN Foundation and the National Association of Transplant Coordinators (NATCO) under the aegis of the Indian Society of Organ Transplantation (ISOT) and National Organ & Tissue Transplant Organisation (NOTTO) on 8th & 9th October, 2016 at Hotel Hyatt, Chandigarh. 93 delegates from various hospitals / institutions attended the conference.
The Swamy Narayan Memorial Lecture, the highlight of the conference, by Dr. Dale Gardiner on "Achieving moral balance in organ donation – Clinical decisions". Dr. Dale Gardiner's lecture addressed many pertinent points related to the ethics of organ donation. He emphasised that talking about organ donation was part of good end of life care and that families should be given the opportunity to say 'Yes'. He said that for ICU doctors and staff a responsibility ensues because of their obligation to the patient and family under their care, that the giver can give their gift. He spoke about how to practise objective ethics and developing ethics as a skills by using the moral balance, i.e., balancing out the four principles of medical ethics – Beneficence, Non-maleficence, Autonomy and Justice.
The conference covered a series of interesting topics which were presented by excellent speakers across the country. To name a few, Symposium on raising funds for transplant recipients, Ensuring relationships in living donor transplant programme – Transplant Coordinators' Role, Post-transplant issues in women and children, Transplant Coordinators' dealing with stress and burnout.
SAMARTHAN 2016 - Doctors singing in aid of Organ Donation - pictures
On November 6, 2016, MOHAN Foundation organized an awareness event, "SAMARTHAN 2016 - Doctors singing in aid of Organ Donation," at Zorba, MG Road, New Delhi. The event presented a unique opportunity to witness doctors of various specialties from leading hospitals across Delhi-NCR come together and sing in their melodious voice, old & popular Bollywood numbers in aid of organ donation.
Dr. Yash Gulati, Senior Consultant, Joint Replacement and Spine Surgeon, Indraprastha Apollo Hospital was the MC for the event. The doctors who regaled the audience with their talent were Dr. Ashok Rajgopal Executive Director & Chairman of Fortis Bone & Joint Institute, Fortis Group of Hospitals, Dr. Sudipto Pakrasi Chairman, Division of Ophthalmology, Medanta - The Medicity & the curator of the show, Dr. Ramani Narasimhan Senior Consultant, Paediatric Orthopaedic Surgery, IP Apollo Hospitals, Dr. Harsh Mahajan Founder & Chief Radiologist, Mahajan Imaging, Dr. Praveen Khilnani Director Paediatric Critical Care & Pulmonology Services, BLK Super Specialty Hospital, Dr. N. Subramanian Senior Consultant, Urology, IP Apollo Hospitals, Dr. K. Lalitha Senior Consultant, Anaesthesia, IP Apollo Hospitals and Dr. Padmavati Dua better known as Dr. Chinna Dua.
A separate sign up table was placed near the registration desk where people who wished to pledge their organs could pick up their donor cards. A MF representative was there to give them complete information of the sign up process.
Many distinguished personalities and supporters of the cause attended the event and it was made more memorable by the beautiful music and songs sung by the doctors.
MF Delhi participates in walkathon organised by NOTTO
On November 27, 2016, MOHAN Foundation Delhi-NCR team participated in the walkathon organized by NOTTO (National Organ and Tissue Transplant Organisation) in association with NDTV and Fortis Group of Hospitals. The walkathon was a part of activities leading up the 7th Indian Organ Donation Day being celebrated on November 30, 2016. The 1 km walk from India Gate to Nirman Bhavan saw the participation of thousands of people from various public and private hospitals, NGOs, NCC cadets and others.
The walk culminated at Nirnam Bhavan where the Honorable Health Minister, Sh J P Nadda addressed the gathering and urged those present to pledge for organ donation and help bridge the huge gap between demand and availability of organs. Ms Pallavi Kumar received her donor card from Sh Nadda.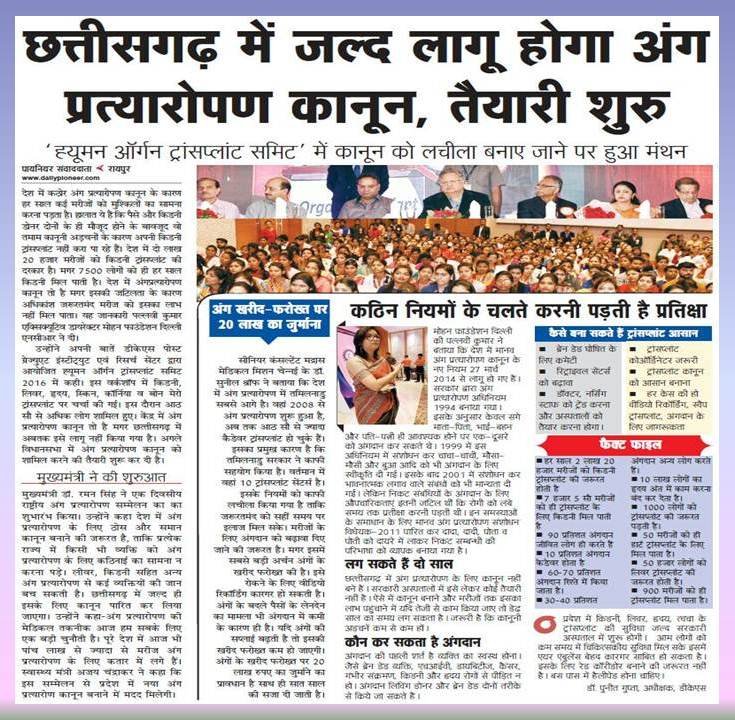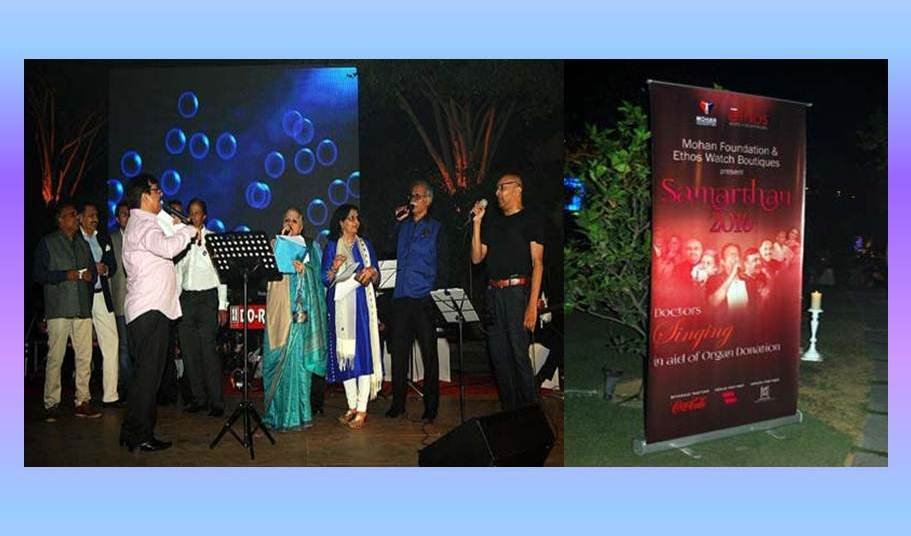 Links: