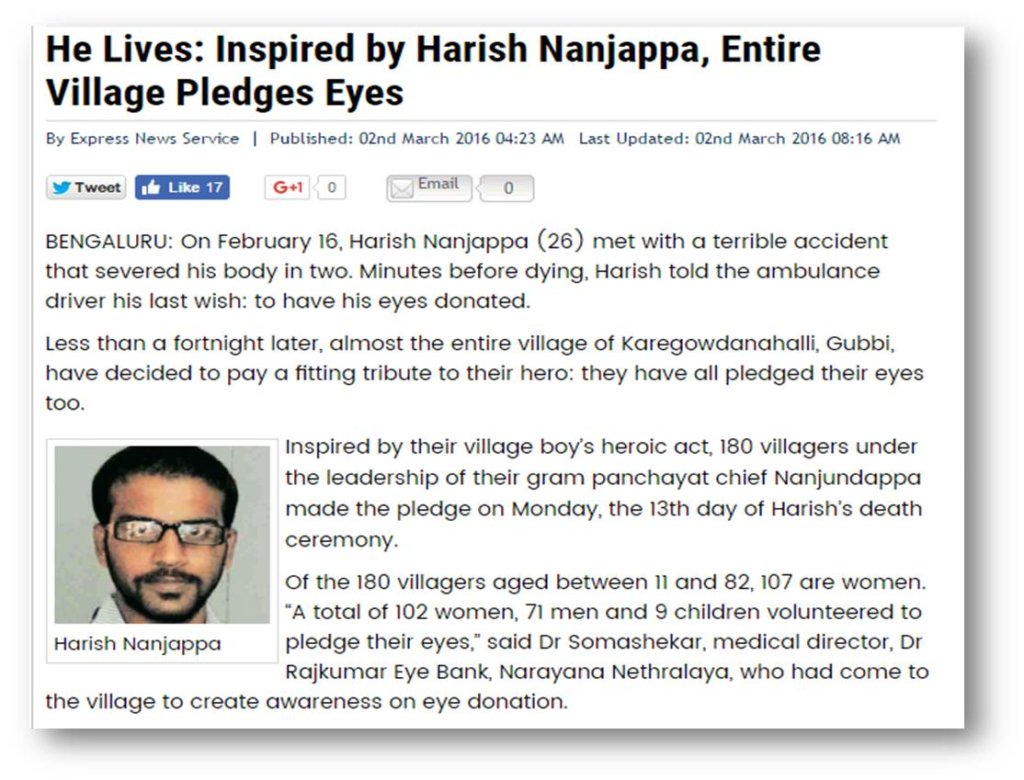 Braveheart shouts for organ donation in last minutes of life
A 23-year-old resident of Bengaluru met with a tragic accident while returning from his village Gubbi, in Tumakuru district. The accident took place in the Tumakuru-Bengaluru National Highway, where a lorry loaded with sugar bags tried to overtake Harish's bike. Unfortunately, his body went under the wheels of the lorry, got cut into two and was dragged for a few meters.
As he laid into two, the first cry he made to the nearby villagers was to donate his organs. Instead of desperately shouting to save his life, the man asked the passerby to take him to a hospital for harvesting his organs.
He was immediately taken to a hospital and his corneas were harvested. As he was wearing a helmet, his eyes were saved, but all the other organs got damaged in the accident.
His eyes were donated to Narayana Nethralaya. Doctors and the villagers were astonished by the man's presence of mind and hailed him for his passion for humanity. Nanjappa gave his voice for organ donation in his last minutes even without caring for his life.
Related links:
http://www.medindia.net/news/villagers-pledge-their-eyes-as-a-tribute-to-harish-nanjappas-inspiring-organ-donation-158253-1.htm
In Kolkata, the first multi-organ cadaver transplant gives new life to 4
If cadaver transplant needed a poster family to break the jinx in Kolkata, it's got one in the Sarkars of Panchashayar, a quiet locality on Kolkata's southern fringes. The donor was 71-year-old Sovana. And the men who took up her last wish as a mission were her husband Rabindra and son Prasenjit, who burned up the miles between Health Ministry and the hospital to untangle a maze of red tape. It resulted in the first multi-organ cadaver donation in Kolkata.
It took four days of grind for Prasenjit to get all the clearances. Sovana's corneas, kidneys and liver were extracted on Monday to give new life to at least four others. At the end of an emotional day, Sarkar said, "We are happy that my mother's organs can at last be donated. I felt it is a tough system and the relatives have to search around for officials to get the nod from the government. Instead, there should be an easier process for cadaver donation."
Sovana was admitted to hospital with an acute headache on June 20 but suffered a cardiac arrest the next day and slipped into a deep coma. She was declared brain-dead on June 23. Rabindra, a retired bank officer, and Prasenjit, an entrepreneur, promptly gave their consent for organ donation. Over the next four days, fighting through the grief of losing his mother, Prasenjit ran from one official to another to get all the approvals. All this while, his mother was on ventilation at Peerless Hospital. With the clock ticking, Prasenjit approached the Chief Minister's office. "The CM's office gave the necessary guidance and all the contacts, which led to the transplant," Prasenjit said while surgeries were underway to transplant his mother's kidneys to recipients.
Related links:
http://timesofindia.indiatimes.com/city/kolkata/Kolkatas-first-multi-organ-cadaver-transplant-gives-new-life-to-4/articleshow/52950651.cms
http://timesofindia.indiatimes.com/city/kolkata/In-Kolkata-a-lifeline-for-organ-donation/articleshow/53088014.cms
Transplant Coordinators' Training Programme Successfully Held In Kochi, Kerala
Under the aegis of National Organ and Tissue Transplant Organisation (NOTTO), Directorate General of Health Services, Ministry of Health and Family Welfare, Govt. of India, MOHAN Foundation in collaboration with the Kerala Network for Organ Sharing (KNOS), conducted a one week Transplant Coordinators' Training Programme from July 18-22, 2016 at Aster Medcity, Kochi, Kerala. This was the first time that such a training programme was held in Kerala. There were 51 candidates not only from Kerala, but also Tamil Nadu, Karnataka, Puducherry and Delhi.
Three green corridors help save six lives in Delhi
In yet another landmark incident, three green corridors created from Max Healthcare hospital in Shalimar Bagh to Max hospitals in Patparganj and Saket and to a liver Institute in Vasant Kunj saved six lives in Delhi.
The feat wwas achieved around 9 p.m. on June 10, 2016. The first green corridor was over 32 km long from Max Hospital Shalimar Bagh to Max Hospital, Patparganj; the second stretched 40 km to Max Hospital, Saket; and the third was 38 km long to the Institute of Liver and Biliary Sciences (ILBS) at Vasant Kunj.
While one kidney harvested from the cadaver of a 57-year-old woman - a resident of Sonepat in Haryana - was transplanted in Max Super Specialty Hospital, Shalimar Bagh itself, her other kidney and heart were transported to Patparganj and Saket, respectively. Other organs donated included corneas, which were transported to All India Institute of Medical Sciences (AIIMS), and liver, which was transported to ILBS, Vasant Kunj.
A team of experts from Max Super Specialty Hospital, Shalimar Bagh, worked for more than nine hours to ensure a seamless and successful harvesting.
Times of India (TOI) campaign
In its fourth year, TOI's Organ Donation Daycampaign with MOHAN Foundation as its knowledge partner aimed to further increase awareness about organ donation, help dispel myths and explore issues that deter organ donation. The campaign, whose earlier chapters motivated thousands to sign up as donors in a matter of weeks, also aimed to engage with relevant authorities to prioritize the setting up of infrastructure to ensure organ donation is a fair practice, and the process smooth enough so donated organs do not go waste.
Minister Shri Jagat Prakash Nadda meets with stakeholders
On August 9, 2016, Times of India in partnership with MOHAN Foundation hosted a round table wherein representatives of DGHS (Director General of Health Services) and NOTTO (National Organ and Tissue Transplant Organization) along with doctors from public as well private hospitals submitted their recommendations to Honorable Health Minister Shri Jagat Prakash Nadda to promote organ donations and transplants in India.
Shri J.P. Nadda in his address stressed on the need for a mass movement to promote organ donations across the country and save lives. He further added that the government would take steps within a week to develop a policy mechanism and address the institutional gaps. The act of giving life, he said, should be turned into a year-round movement. Sh Nadda said his ministry would hold detailed consultations with all stakeholders and initiate steps to institutionalize the process of organ donation and transplantation. Highlighting the gaps in awareness on the issue, Nadda said an all-inclusive approach was needed. "We cannot compartmentalize issues. We should strategize in a holistic manner to create more social awareness and simultaneously build capacity and address logistics and legal issues," he said.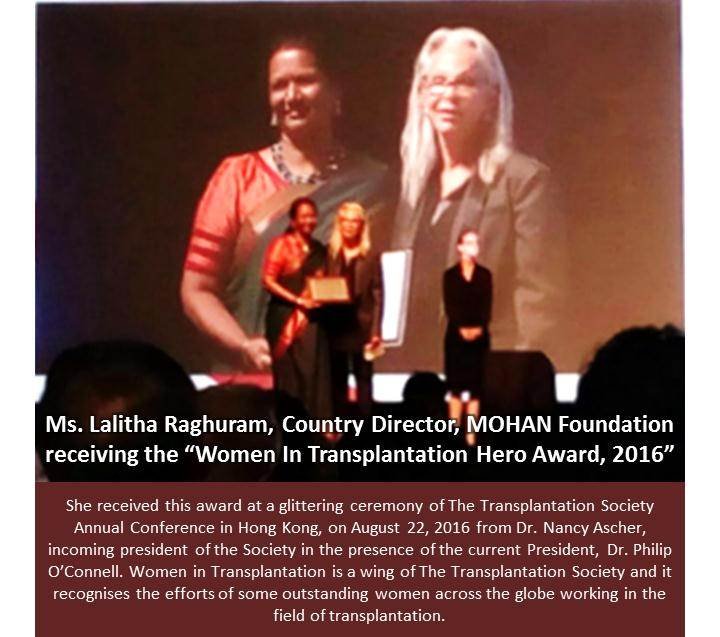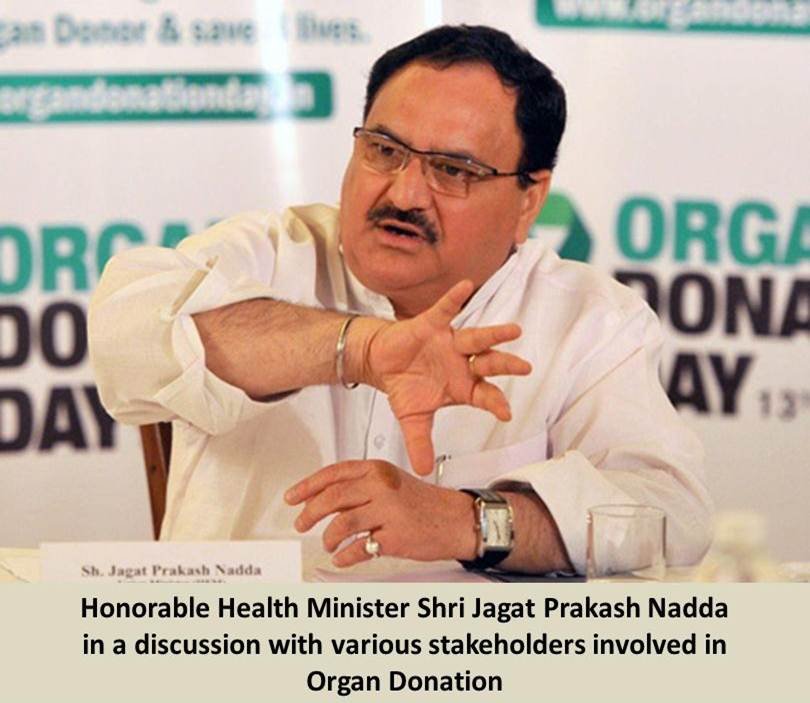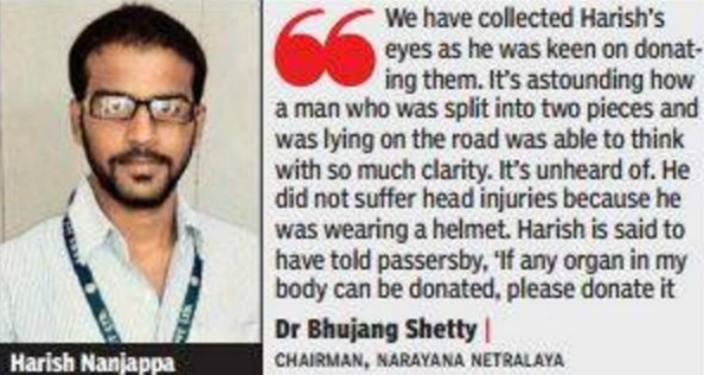 Links:
Attachments: