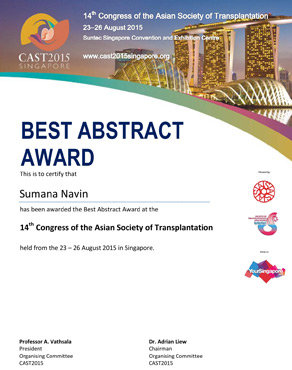 MOHAN Foundation's work with Transplant Coordinator training gets international recognition
Dr. Sumana Navin (Course Director, MF) represented the Foundation at The Congress of the Asian Society of Transplantation (CAST) in Singapore and her paper on 'Impact of Trained Transplant Coordinators on the Deceased Donation Transplantation Programme in India' was conferred the Best Abstract Award. CAST is the region's largest and longest-running gathering of transplant physicians, surgeons and other health professionals involved in transplantation.
She also presented a paper on Improving the Deceased Donation Transplantation Rate in India. Both these papers showcased the impact of MOHAN Foundation's training programmes, public advocacy and out-of-the-box strategies as well as best practices in capacity building, which were very relevant to the countries in the region. Keen interest was displayed in the Transplant Coordinators' Training Programme with the audience wanting more details about the training, the composition of the participants (social workers/nurses etc.), and the challenges faced by transplant coordinators. Prof. A. Vathsala, President, CAST 2015 complimented MOHAN Foundation on the work that it was doing.
MOHAN Foundation Awarded the prestigious British Medical Journal South Asia Award 2015
MOHAN Foundation has been awarded the prestigious British Medical Journal South Asia Award 2015 famously known as "Oscars of Healthcare/Medicine" under Healthcare Advocacy category for its relentless efforts using every tool, methodology, process and technology to promote organ donation in India and South Asia for the past two decades.
MOHAN Foundation has emerged a WINNER among 900 nominations and 36 finalists with 12 winners in different categories. The award was received by Mrs. Lalitha Raghuram (Country Director, MF) at the awards ceremony organized on October 30, 2015, at The Leela, Mumbai.
We at MOHAN Foundation feel that it is extremely important to share the recognition of the excellent work by MOHAN Foundation team that has set standards of excellence in deceased organ donation in India. We have consistently and professionally delivered the very best for organ donation to the people of India and this award is a testimony to our efforts.
''Beginning of the New Dawn'' - A Two Days Conference Of The National Association Of Transplant Coordinators
The two days conference of the National Association of Transplant Coordinators (NATCO) saw 120 enthusiastic delegates from all corners of India. As this conference was held in conjunction with the Indian Society of Organ Transplantation (ISOT) Conference, the delegates had the rare opportunity of listening to some of the finest speakers from all over the world.
The NATCO conference was formally inaugurated by Dr. Jagdish Prasad, Director General of Health Services, Ministry of Health & Family Welfare, Government of India. He lauded the work done by transplant coordinators, and urged them to continue to do the good work of saving the life of patients that are suffering with end stage organ failure.
Jaipur, Rajasthan continues to make strides
This quarter saw the first liver and heart transplant in Jaipur. This is a significant development in the history of transplantation in Rajasthan, which was so far only performing kidney transplants. MOHAN Foundation began work in Jaipur in partnership with Jaipur Citizen Forum under the MFJCF banner less than 2 years ago, setting up the state's deceased donation program.
http://timesofindia.indiatimes.com/city/jaipur/Raasthans-first-successful-heart-transplant-patient-leaves-for-home/articleshow/48967198.cms
http://www.hindustantimes.com/jaipur/first-cadaver-heart-transplant-performed-at-mg-hospital/story-0xXRaq3IZ5A76VP6WWUP6N.html
From organ commerce hub to organ donation – The Hindu, November 19, 2015
MOHAN Foundation's efforts were recognized by The Hindu, a leading newspaper in our country. It mentioned how MOHAN Foundation played a pivotal role to train large numbers of people as grief counsellors and has evolved a fine data management system for co-ordinating voluminous information on transplants and keeping it secure, but transparent. MOHAN Foundation started in 1997 is now seen as an organisation that is now the go-to unit for clarity on aspects of cadaver donation formed by Dr. Sunil Shroff, a urologist, with like-minded folks.
The role of the grief counsellor, speaking to families of brain dead people urging them to consider organ donation at a time of great trial is crucial. The ultimate act of sacrifice by a family agreeing to donate the organs, remains at the heart of the success of the cadaver transplant programme. If there are no donors, there are no recipients, and there is no programme.
Presently Tamil Nadu, a state in southern India has a well-developed program where registries of recipients are maintained. In the case of a brain death the person who is first in the waitlist is entitled to receive an organ. This avoids all the mal practices around organ donation. The Tamil Nadu programme is more committed, transparent, accountable, and all states would do well to follow this model.
All these efforts have tremendously helped in controlling the organ commerce, especially in southern India.
http://www.thehindu.com/opinion/tamil-nadus-transformation-from-organ-commerce-hub-to-organ-donation/article7878618.ece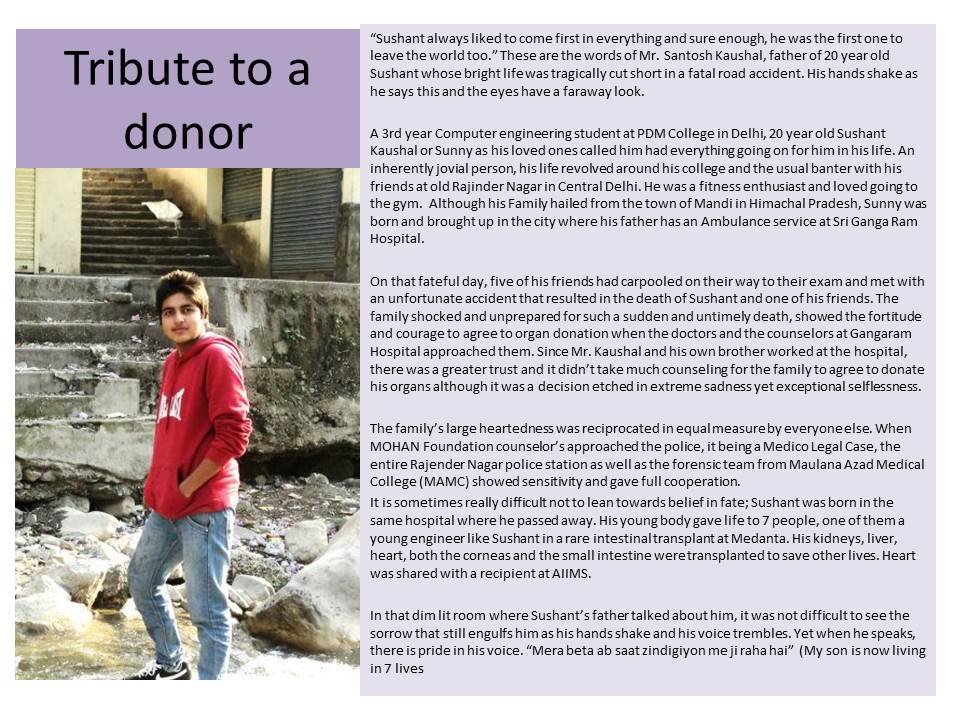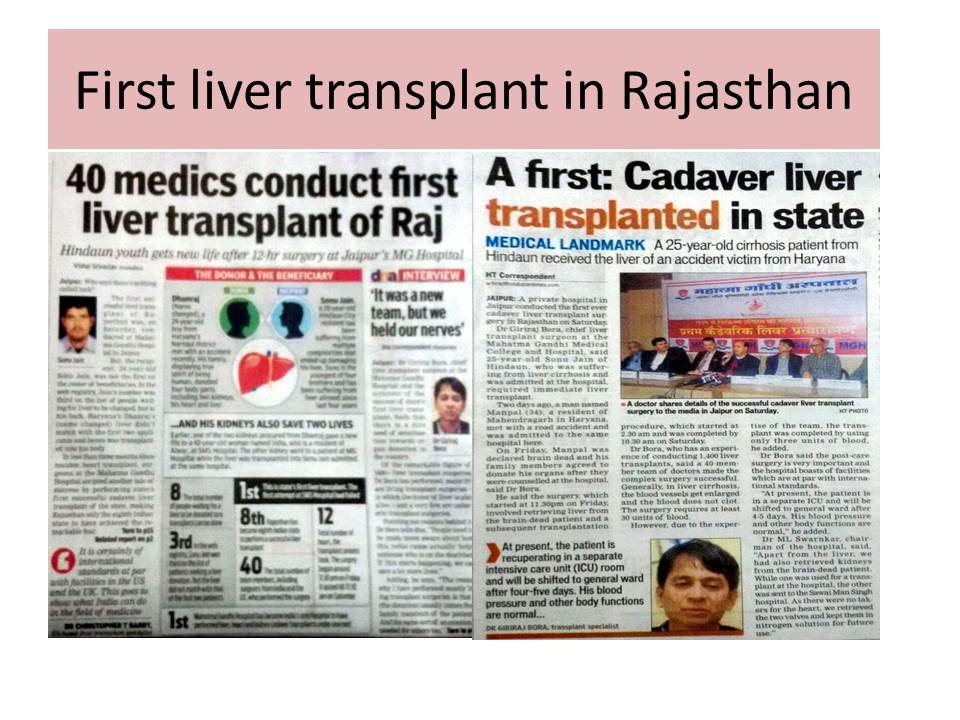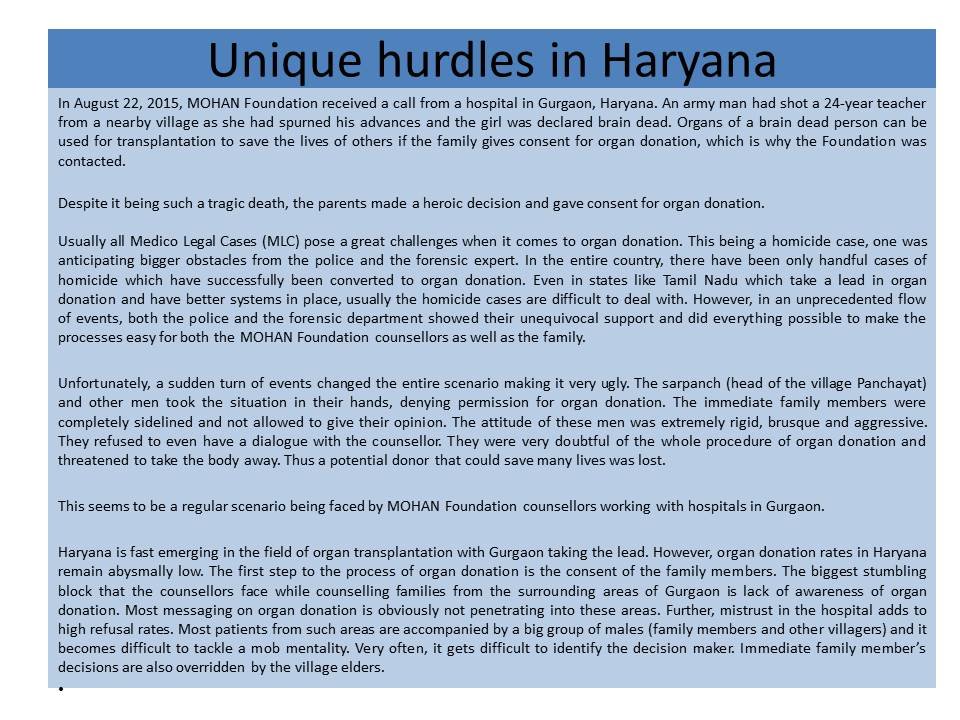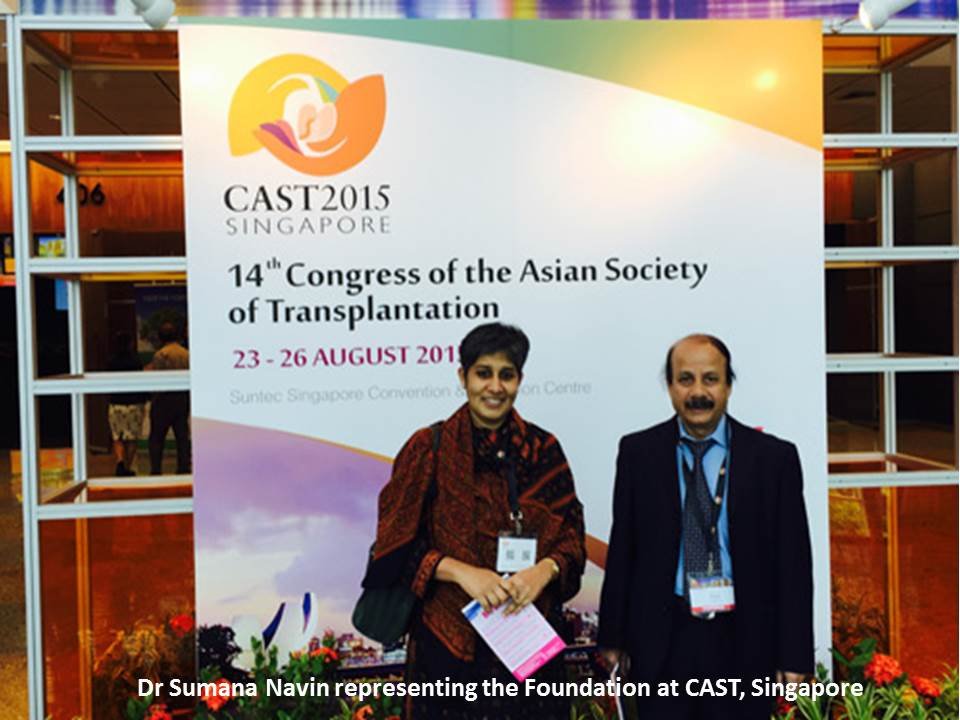 Links: