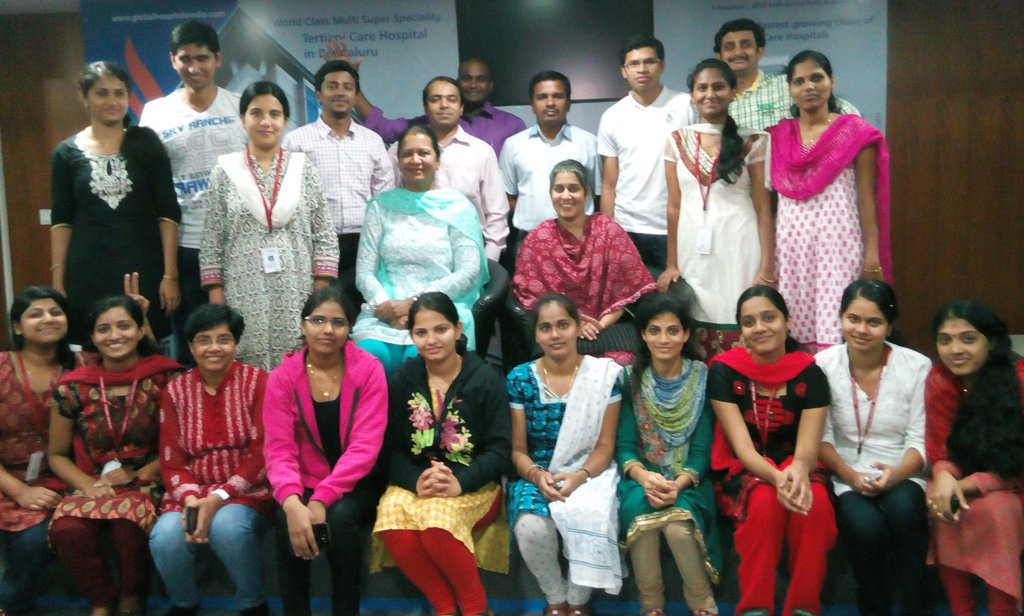 MOHAN Foundation conducted a Transplant Coordinators' training workshop from November 16 - 21, 2014 in Bengaluru, Karnataka. This program which was facilitated by the funds raised through the GlobalGiving project was organized in collaboration with the ZCCK (Zonal Coordination Committee of Karnataka for Transplantation). The foundation is indebted to the spontaneous willingness of the generous supporters who have helped a total of 20 transplant coordinators to be successfully trained through this workshop.
The faculty comprised of a highly enthusiastic team of doctors and transplant coordinators from BGS Global Hospitals-Bengaluru, Victoria Hospital-Bengaluru, MOHAN Foundation, ZCCK, and Nayana Jyothi-Bengaluru. The training consisted of sessions of role plays and lectures meticulously put together by the foundation to help the transplant coordinators play the given role in a hospital setting with the required knowhow.
The participants were a motivated and lively group that did not flinch from asking tough questions to the faculty. One of the participants Ms. Shruthi J., ICU Staff Nurse from Victoria Hospital had a unique way of showing her appreciation for the transplant coordinators from MOHAN Foundation – Mr. K. Prakash and Ms. Akshatha. She had fashioned crowns for them and they were felicitated as 'Angels of Organ Donation' by Dr. Sonal Asthana, Head of the Department, Hepatobiliary Surgery and Multi-organ Transplantation, BGS Global Hospital.
At the valedictory session Dr. N.K. Venkataramana Vice Chairman and Chief Neurosurgeon, BGS Global Hospitals presented certificates to all the participants. He urged them to practice whatever they had learnt in the training programme and make it 'viral'. Mr. Satish Gadennavar, ICU Staff Nurse from Victoria Hospital and Ms. Divya S., Staff Nurse from BGS Global Hospitals shared their feedback.
"We found the course very useful and beneficial. We learnt how to motivate families for organ donation. We will educate the community and make them aware about this concept."
-Mr. SatishGadennavar, ICU Staff Nurse, Victoria Hospital, Bengaluru
The training program was really helpful for me to get complete understanding on Cadaver and Live donor organ transplantation. As i have been working more than three years in corporate hospitals as a transplant coordinator, i have organised more than 70 cadaver organ transplantation and 50 Living Donor Liver Transplantation. The training program from MOHAN Foundation is really helpful for me in the field of organ donation
-Mr. Mukesh, Global Hospitals
"It was a good training programme. We all want to become 'Angels of Organ Donation'."
-Ms. Divya S., Staff Nurse, BGS Global Hospitals, Bengaluru
This Workshop also enabled MOHAN Foundation reach the mark of training 700 transplant coordinators since it started the training program 3 years ago. Each one of these 700 transplant coordinators have been angels for numerous people in need of a life saving organ.
In this regard, Mr. Prakash, a recent trainee, recalls the case of a young engineering diploma holder, Mr R. Loganathan who gave life to 5 patients. When Prakash spoke to the donor's mother she said that he was a kind, humble and helpful person who was loved and cherished by the entire village and even though she was profoundly shocked, she decided to donate her son's organs thereby saving half a dozen lives. Prakash recalls that during the instances in which he approached the family he was surer about dealing with the situation as he had attended the training which had simulated similar conditions.
The training session organized in Bengaluru was the first of many more sessions which will be organized to train a total of 100 transplant coordinators who shall help augment the deceased donation rates in their respective hospitals. The foundation also looks forward to receiving feedback from the supporters with suggestions and ideas to be incorporated in the forthcoming sessions.