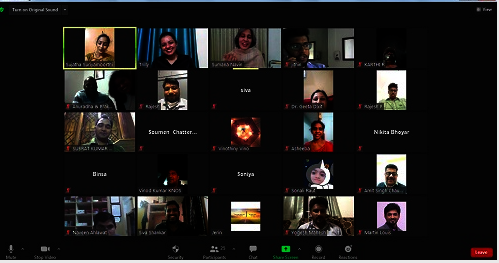 During these COVID times, we are glad to inform you that all our training is continuing through online mode and have been successful.

Thank you for continuously supporting our cause during these difficult times. We are glad to share a few of our milestones with all of you.
1. Post Graduate Diploma in Transplant Coordination and Grief Counselling - 2019-2020 Batch completes the one-year online course
The 2019 - 2020 batch of the 'Post Graduate Diploma in Transplant Coordination and Grief Counselling' successfully completed the one-year online course on 6th December 2020. A total of 58 participants from diverse healthcare professions like physicians, dialysis technicians, nurses, physician assistants, transplant coordinators, clinical psychologists, administrative personnel, social workers, anaesthesia technologists, medical professors and students pursuing post-graduate studies enrolled in the training - 50 from 13 states of India , six from Pakistan, one from Spain and one from Nepal.
As part of the course each participant was given a project (visual abstract /video making/ social media polls). On 6th December 2020 the final examination was conducted online, where a total number of 43 participants appeared for the exam.
2. First One-Month online 'Transplant Coordination Professional Certificate' course successfully conducted
MOHAN Foundation successfully conducted the first one-month online 'Transplant Coordination Professional Certificate' course from 2nd to 29th November 2020 on the MOODLE e-learning platform. A total of 43 participants completed the course. The participants were not only from India, but also Nigeria, Singapore and Malaysia and came from various cadres of healthcare and other professions.
The participants received access to the course material (40 E-modules) that were made available to them under four sections - week 1, week 2, week 3 and week 4 at periodic intervals. Multiple choice questions (MCQs) were created and incorporated at the end of each module to help the participants assess what they had learnt. The participants were given assignments on topics related to creating awareness about organ donation, case studies (ethics of organ donation), and organ donation pathway and were asked to submit them online before the due date.
The weekend webinars were held on the Zoom software platform with lectures from experts.
3. Organ Donation Ambassadors (ODA) Program - A volunteer initiative
MOHAN Foundation has launched a unique program for interested volunteers to become Organ Donation Ambassadors (ODA).The objective is to take volunteers through a customised training module to enable them to become proficient enough to be able to undertake awareness initiatives on organ donation amongst different audiences. From Jan 2021, we have 79 participants enrolled in the program.
4. A New Initiative, Anudaan- Making Transplants Affordable
It gives us great pleasure to announce our endeavour, Anudaan – Making transplants affordable for providing help to the economically poor and needy patients so that they can also have access to life-saving organ donation and transplantation.
Story of a 6 year old
6-year-old baby successfully underwent a liver transplant on 16th January 2021, at Hyderabad, thanks to our initiative, Anudaan - Making Transplants Affordable. We received the support of many individuals and 'Transplants Help the Poor Foundation' and we were able to collectively raise Rs. 8.5 Lakhs. The hospital gave some concession and the transplant was made possible.
Hailing from Sirsapalli village, Huzurabad, Telangana, belongs to a low-income family that could never afford such an expensive transplant, without the support provided by 'Anudaan – Making Transplants Affordable'. While her mother was willing to give a portion of her liver, the family was lacking the financial resources to go ahead.
MOHAN Foundation wishes her a long, healthy and happy life and thanks to all the supporters for their generosity.
MOHAN Foundation is going to continue raising funds for this initiative through various activities in the upcoming months as well, To know more about the cause, https://www.mohanfoundation.org/anudaan.asp