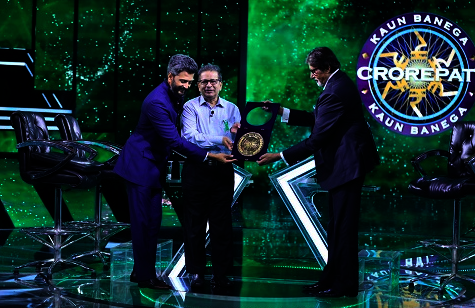 MOHAN Foundation has 3 milestones in the last few months and we are thrilled to share the news with all of you!
1. MOHAN Foundation is delighted and honored that Dr Sunil Shroff, our Founder and Managing Trustee, was one of the next 'Karamveer' on KAUN BANEGA CROREPATI. The show telecasted on 9th October 2020 at 9 PM IST on Sony Entertainment Television (SET).
The Season 12 of KBC has added special 'Karamveer' episodes featuring passionate, committed individuals and organisations that relentlessly work towards making a difference for the betterment of the society.
And Dr Sunil Shroff is a 'Karamveer' in every sense of the word - this special man has dedicated his entire life to augment organ donation in the country. This is indeed a great step forward for the Foundation and organ donation in India.
The episode spoke about his journey and the genesis of MOHAN Foundation that has been working for the cause for the last 24 years.
A huge number of people that watched the program reached out to us on our Toll-Free Organ Donation Helpline, wishing to pledge, knowing more about our work and wanting to support our efforts. There were multiple patient queries as well.
2. On November 07, 2020, MOHAN Foundation partnered with World of Mohd Rafi Foundation for a soulful concert titled 'Dostana Hamara' featuring songs by the legendary singers – Mohd Rafi and Kishore Kumar. The songs were brought to life by the talented singers of Klub Nostalgia live from Veer Savarkar Auditorium, Mumbai and was streamed on Youtube for virtual viewers.
The event was initiated and led by Mr Venkitachalam N R who is known for conducting vintage musical live shows under the banner of Klub Nostalgia since the last 16 years. Klub Nostalgia was launched on December 23, 2004 and till date has dedicated 300 shows for different causes. The concert 'Dostana Hamara' was in aid of organ donation and MOHAN Foundation.
The funds raised through this event will go towards the Foundation's efforts to increase the number of organ donations in the country to save the lives of those awaiting transplants. The concert had 2500+ views.
3. MOHAN Foundation also had an opportunity to host the International Conference of Transplant Coordinators 2020. The program has faculties from different countries who spoke about organ donation. The virtual event happened for two days and had 110 participants. The conference was all about sharing knowledge on organ donation.