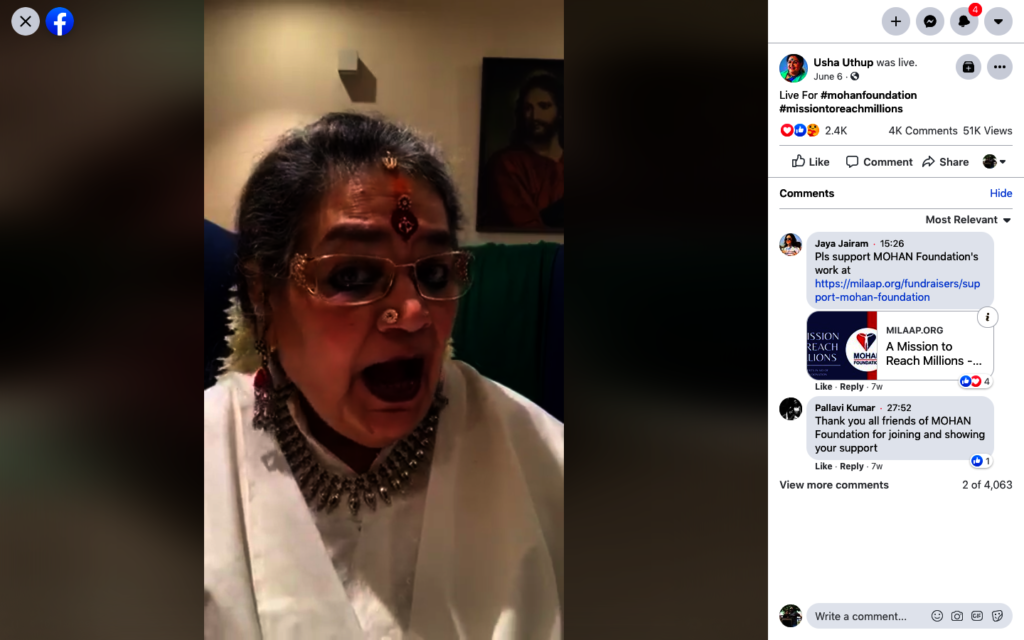 April - July
MOHAN Foundation decided to rise up to challenge of these tough COVID times by launching a new initiative – "A Mission to Reach Millions – Concerts in Aid of Organ Donation"
In the 23 years of our journey, we have sensitised over 25 million Indians with the message of organ donation, and facilitated the retrieval and distribution of over 7,500 organs and tissues. Despite all these efforts, there are several patients that die while on the waiting list, because they couldn't get an organ on time. We need to reach out to millions more.
Hence, "The Mission to reach Millions". As part of this initiative, we have been conducting a series of live online concerts in aid of organ donation with talented singers and musicians are giving their time and talent towards the cause of organ donation.
Our first such effort was a Carnatic music concert titled "Singing for Hope" by S. Aishwarya and S.Soundarya, followed by " Singing for Joy" by the livewire Padma Shri Usha Uthup. We then had the faculty of Shankar Mahadevan Academy lend their melodious voices to the cause. More recently we had Ms.Aishwarya Srinivas performing for another Carnatic Music concert titled " Singing for Positivity"
We have attracted huge numbers of listeners who were sensitized to the cause of organ donation by films played before the concerts and the artists talking about organ donation during the concert asking people to think about the cause, discuss with the family, pledge and make donations to the work of MOHAN Foundation.
Through the concerts, we have been able to reach close to 2 lakh people.
We will continue our have these live concerts to reach our goal of spreading awareness to millions of people about our life saving work. The team has also been conducting awareness sessions through zoom for various groups of people.
If you would like to watch any of our concerts, Please find the links below,
The artist has given us their consent to use their names.
Ms. Aishwarya and Ms. Saundarya : https://youtu.be/x88zKX3623A
Padma Shri Usha Uthup : https://www.facebook.com/singerushauthup/videos/262540431729979
Shankar Madhadevan Academy : https://youtu.be/9Jv_7qXzujs
Ms.Aishwarya Srinivas Concert : https://youtu.be/cVbNi1aSWIM