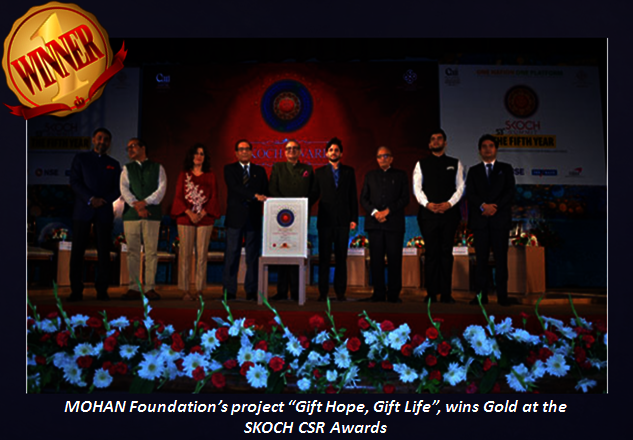 Creative efforts to boost organ donation
Dr K. Jayanth Murali IPS, Director Vigilance and Anti-corruption, Tamil Nadu creates a new India Book of Records
Earlier this year, on July 22 2018, Dr Jayanth took up the monumental feat of running the Dream Runners Half Marathon with a tape duct on his mouth through-out the run to create awareness towards organ donation. With the completion of the half-marathon on above-described terms, he succeeded in creating a new India Book of Records. As a special gesture towards the cause of organ donation, Dr Jayanth dedicated the achieved record to MOHAN Foundation in the presence of Honourable Governor of Tamil Nadu at Raj Bhavan, Chennai.
MOHAN Foundation's project "Gift Hope, Gift Life", wins Gold at the SKOCH CSR Awards
On 19th September 2018, MOHAN Foundation's project 'Gift Hope, Gift Life – Augmenting deceased organ donation program in India', was conferred with the SKOCH CSR GOLD award 2018 (Top Category), at Delhi.
The highlights of the project were the lives that were saved through the Organ Donation Toll-Free Helpline and through the training of transplant coordinators, doctors, nurses and surgeons in hospitals across India.
The 'Life Before Ashes' Campaign wins creative accolades and awards
'What has now become ashes could have been another person's heart or kidney, if only the organs were donated'. A set of human organ installations, in the shape of a heart, kidney, liver and eyes made from a mix of real human ashes and mud from the graves were part of an exhibition by MOHAN Foundation and have been on display at malls and hospitals all across India.
The campaign won the 'Creative Campaign of the Year' award at the Big Bang Awards 2018, while also winning 3 Gold, 3 Silver and 2 Bronze medals in various other categories. At the Abby's 2018, it won 2 Gold medals along with 7 Silvers, in categories including Print, Print Craft, Out of Home, Ambient, PR, Branded Content as well as Integrated. It also won 2 Golds at the Outdoor Advertising Convention Awards 2018.
MOHAN Foundation organizes its First Masterclass in Soft Skills and Communication for Healthcare Professionals
On Saturday, October 27th 2018, MOHAN Foundation organized its first one-day masterclass in Soft Skills and Communication for healthcare professionals, especially in the field of organ donation and transplantation, in Chennai. This masterclass was aimed at improving practical skills such as soft skills and communication, self-expectations, communication guidelines, presentation pointers, body language, team building, conflict resolving, accountability, and stress management.
One Week Transplant Coordinators' Training Programme successfully held in Ahmedabad
Under the aegis of National Organ & Tissue Transplant Organization (NOTTO), Directorate General of Health Services, Ministry of Health and Family Welfare, Government of India and ROTTO-SOTTO Mumbai, MOHAN Foundation conducted a one-week Transplant Coordinators' Training Programme from September 25-29, 2018 at Zydus Hospitals, Ahmedabad. There were 33 participants from Gujarat, Maharashtra, Madhya Pradesh, Karnataka, Kerala, Rajasthan, Assam and Manipur. This was the 56th training programme conducted by MOHAN Foundation and the 22nd in partnership with NOTTO.