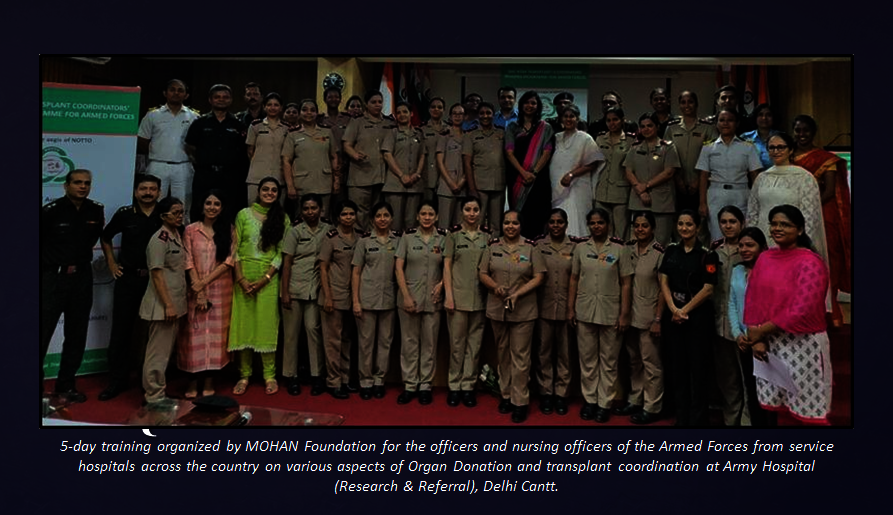 Inclusion of organ donor option in driving license application form welcomed
The Union Ministry of Road Transport in an advisory last month had asked all Regional Transport Offices (RTO) across the country to add a column in the application form for Driving License (DL) so that an applicant could express his willingness to donate organs. MOHAN Foundation Jaipur Citizen Forum (MFJCF) had been pursuing the cause with the Union Transport and Highways Minister, Nitin Gadkari since 2016. In the present times, a pledge to donate organ becomes very significant, as there is less than one organ donor in a million in India and over three million deaths have been recorded since 2005 due to non-availability of organs. This will help in easing the process, create awareness and also encourage people to donate organs.
Training officers & nurses from the Armed Forces
MOHAN Foundation in partnership with AORTA (Army Organ Retrieval & Transplant Authority) under the aegis of NOTTO (National Organ & Tissue Transplant Organization) supported by Office of DGMS (Army) IHQ of MoD (Army) successfully completed the training on Transplant Coordination from August 7-11, 2018. 41 delegates, both service officers and nurses, from 14 different states attended the training.
MOHAN USA and American Society of Transplantation: Pioneering the Cause of Improving Organ Donation Rates among Minorities
MOHAN USA, in association with the American Society of Transplantation (AST), organized a special event on the 2nd of June 2018 at Seattle, Washington. The educational event, titled, 'Strategies to Increase Awareness and Organ Donation Rates Amongst Minorities' coincided with the American Transplant Congress, the largest gathering of over 5,000 transplant professionals from all over the world, being held in the same city.
A lively discussion ensued at the end of the lectures about potential strategies to increase organ donation among minorities, especially South Asians, who have a significant burden of disease, but a low organ donor registration and consent rate. Based on the personal experiences of the experts present at the meeting, it was felt that there is a great need to engage this community in this process and reach out to them at the grass root level to increase their participation in both organ donation and registration.
Dr. K. Jayanth Murali (Indian Police Service), duct taped his mouth while running a marathon to spread awareness about Organ Donation
During the Dream Runners Marathon in Chennai on July 22, 2018, MOHAN Foundation organized an enrollment drive for organ donation. This time as a special gesture towards the cause of organ donation, Dr. K. Jayanth Murali, an IPS officer, in an effort to create awareness on organ donation, attempted to create a new record by running the entire length of half marathon by duct taping his mouth. When the mouth is taped the only option to breathe in, is through the nose and this makes running especially long distances extremely difficult. He covered the distance of 21 km in 2 hours. This special run was announced to the 4000 runners, to get them motivated for the cause.