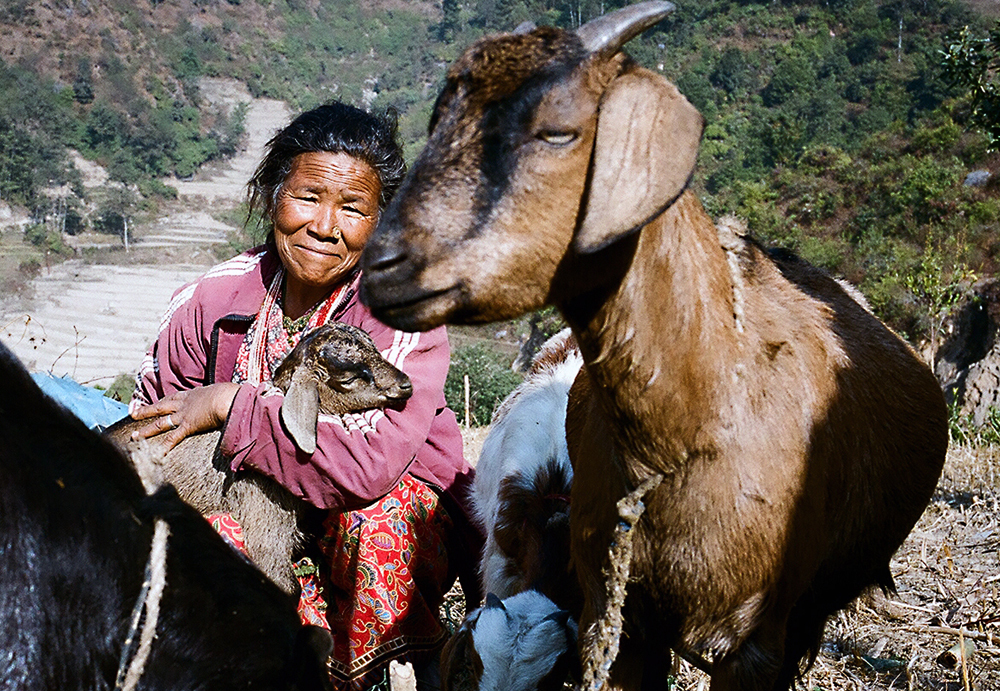 10 years ago, Lal Maya Tamang says, she could not have imagined her life today, as a respected elder stateswoman of a local women's group. From her mud brick patio, she points out the view of her rainbow-colored vegetable plot where she grows leafy greens, squash, oranges, and corn.
And there on the hillside below her one-room thatched-roof cottage, she keeps her 4 goats. The first 2 were purchased with a loan she has repaid.
A group of 19 women, the Kurilo Women's Society, sit on woven mats listening to Lal Maya speak about the importance of savings. Lal Maya proudly hands over her monthly savings to the group's treasurer, her neighbor, who records the amount in a book: 50 Nepalese Rupees, around 75 cents. This is the average amount they save each month.
Lal Maya, 54, lives with her husband and their 9 year-old son in Nuwakot, an hour's drive from Kathmandu. She and her husband moved here 10 years ago. Their job was to build retaining walls.
One day the contractor abandoned them owing them months of back pay. They were stranded. They settled by the side of the road, taking other meagerly paying jobs to survive.
But life for Lal Maya is no longer about mere survival. For the last 3 years, Lal Maya and the 19 women in the Kurilo Women's Society have been providing each other with small loans to invest in income-generating activities.
Standard microfinance institutions usually exclude membership to women over 50, considering them not able-bodied enough. Her son, who was born with severe development delays, is completely dependent on her, as is her husband who was recently blinded by cataracts. Since the loan funds in Lal Maya's group come completely from group members themselves, they set the rules; women like Lal Maya, who are the sole supporters of their families, are welcome to join.
The Kurilo Women's Society also participated in ASHA's sustainable agriculture training that includes free seeds and tree saplings to get members started. Their crop yields have been very good. They eat more nutritious food and sell the excess produce to a group of vendors who travel from Kathmandu. The women have also learned how to naturally preserve their own seeds, saving them costly treks to the city.
This year, the women pooled their money and purchased a plot of land. They requested, and received, a grant from the district council for a crop storage warehouse to facilitate wholesale marketing of their crops.
Lal Maya is longer dependent on an unscrupulous employer. She's engaged in the community. She has an income, better food, and is better equipped to take care of her family. And with each passing month, she becomes an ever-savvier businesswoman. Lal Maya's crops are thriving, and so is she.
Give to support groups like Lal Maya's through March 27, 2009 and your donation will be matched. This year, 2 more groups are set to start their work.