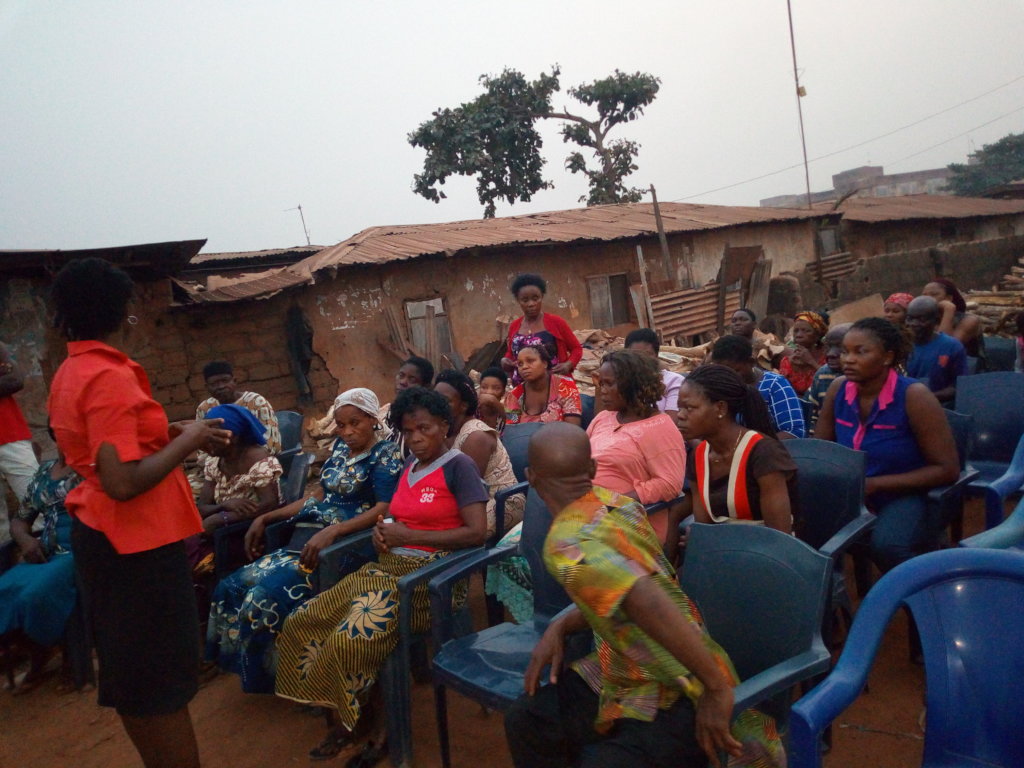 Sensitization and Awareness Outreach on 16t January 2018
The Lift Saxum team met with men and women of Aguowa community, an urban slum in Enugu on January 16, 2018, a date and time chosen by the community after the Christmas festivities.
Lift Saxum Programme Coordinator, Programme Officer and Administration Officer were in attendance. It was important to involve the men including the community leaders so as to get their buy-in and support for the project in the close knit community.
The Programme coordinator sensitized the community on the mission of Lift Saxum which is to train and equip thirty women and girls in their community on tailoring and crocheting, business skills, functional literacy, gender awareness, life skills and civil rights to empower them in order to improve their livelihood and that of their families and the community as a whole.
She explained that the project would be funded with the collaboration of GlobalGiving, Lift Saxum Ltd/Gte and some public spirited benefactors and that the training would be free. She urged the women to seize the opportunity to add value to their lives.
At the end, many women declared their interest while some men indicated interest on behalf of their wives. Their names were written down.
Baseline Data Collection
The baseline data collection was conducted and concluded with interested participants present, on 7th February, 2018.
Commencement of Training
The training proper commences on 13th February 2018. The Programme Officer outlined the code of conduct for the training before distributing writing materials and file jacket to each participant. Participants were also given sewing materials, measuring tape, thread, needles, pins, pieces of cloths each, crochet, etc. The women were quite enthusiastic. They chose to have the training in an old prefabricated structure (located at the centre of the slum) formerly used as a school which was closed down by the State Government for not meeting the requirements for basic education. They had earlier rejected a more conducive venue proposed by Lift Saxum with the reason that they would prefer to be closer to home.
Challenges:
More women are still coming and pleading to participate in the training.
We are $3,035.00 short of project budget of $8,900.00.
Conclusion
The programme is progressing well and the women are also looking forward to the sweeteners we shall introduce shortly on civil rights, life skills, etc.
We wish to seize this opportunity to thank all our sponsors and to assure them that we shall do all in our power to meet the objectives of the project.
Nwanneka Okolo
Executive Director
Lift Saxum Ltd/Gte