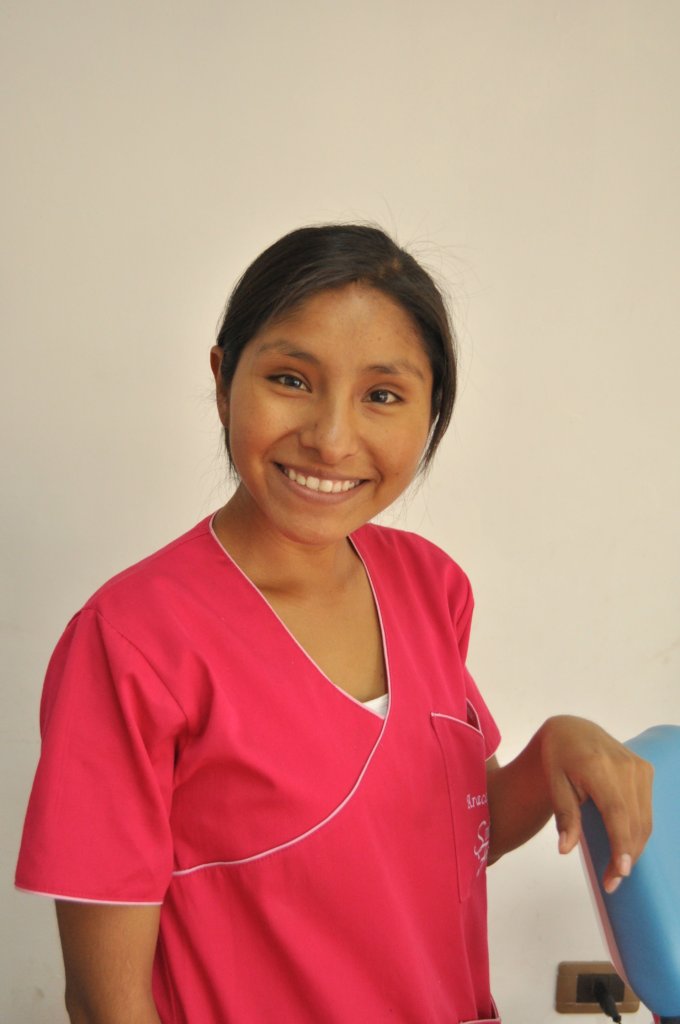 The world loves Aracely, our fiercely independent student. The world can identify with her harsh unforgiving beginnings and can appreciate how Aracely has come back even stronger from each struggle and set-back.
Smiles Forever has been bringing you the story of Aracely, first through two Youthspark mini-projects, and now through her own story of her internship with a clinic serving Bolivian miners families. You from the around the world have responded warmly. Aracely may never set foot outside her country, but ambassadors from the U.S. in the dental care field or researchers have come and met her. Everyone is inspired by how Aracely has listened and learned by example.
Aracely's Story: Aracely spent 10 years of her life being raised in a shelter. Recently, she decided to share a spartan room with another student, instead of taking a free room at the Smiles Forever house. She has been able to escape an abusive boyfriend, but she continues to have struggles with a sister in a neighboring city. Aracely's only sister is trying to pull her away from achieving the dream of an education and career. The sister is pressuring Aracely to abandon the dental hygiene program to come help her with her children and with a difficult pregnancy.

Helping understand the familial and societal dynamics is one of the most challenging aspects of our program. There have been heart-breaking times when we have been powerless to stop students from walking away from all their hard academic work. In those cases, all we can do is leave the door open, awaiting their return. Fortunately, we are making headway with Aracely and offering counseling along with her dental training. In American schools, we would call this building life skills.
Sometime this year we will be able to hand Aracely her diploma, and say, "We love you, and the world does, too, since they have backed your schooling to achieve your dental hygienist certificate."
JOIN 'WE BELIEVE IN GIRLS' BRITISH GLOBALGIVING CAMPAIGN TODAY THROUGH SATURDAY THE 13TH.
DONATE A MINIMUM 8 POUNDS ( $11+) TO TRAIN ARACELY: GIVE DENTAL CARE TO BOLIVIAN MINERS
http://www.globalgiving.co.uk/projects/train-aracely-give-dental-care-to-bolivian-miners/
Each of your gifts is so important in a crowdfunding contest like the one Global Giving UK is hosting. Also our British friends have honored Smiles Forever by selecting us to be featured in an article which will be released Friday. Thank you everyone!