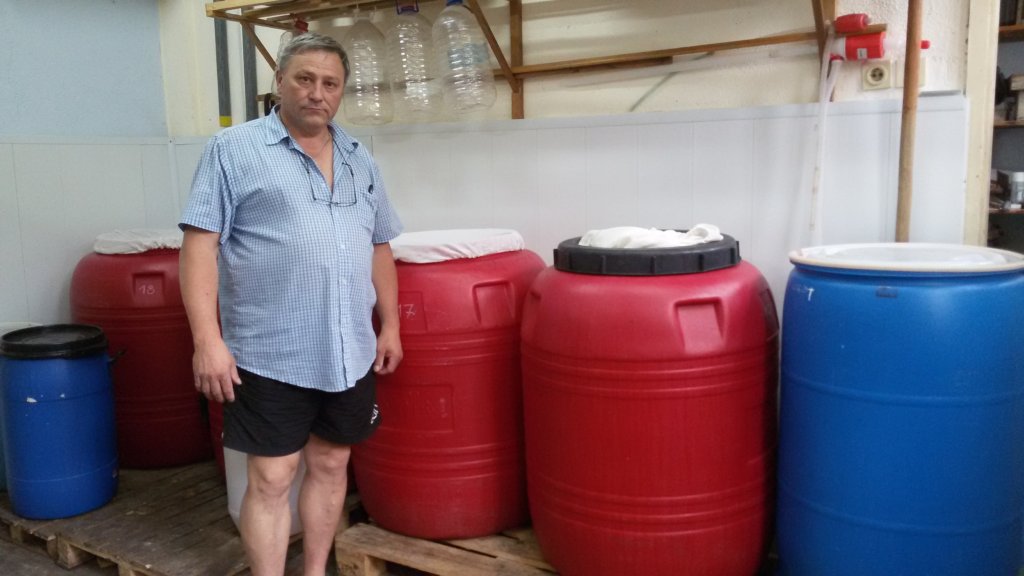 Dear friends and supporters,
During the last several months we have been working with several new Bulgarian entrepreneurs and here we will present one of them.
Nikolay – graduated as an engineer, for several years tried politics, but realized this is not his thing and now out of the blue he decided to start his own business producing natural apple vinegar and dried fruits/vegetables. When he started he had nothing. Literally. He took a credit from a bank (which he will be paying for another 8 years) and rented a wretched building in a remote village. I mean really remote – about 2.5 hours drive one way from our office. Slowly and with a lot of efforts he managed to convert the miserable building into something like a mini factory for drying fruits and vegetables and for fermenting natural apple vinegar. Difficult years, many sacrifices, including his wife leaving him as she did not believe in him, but right now he is selling to some of the larger chain supermarkets (well, not like in the USA, but large for our economy) and his sales are increasing. Throughout the years we have had many business that we have worked with, but first time ever with dried fruits/vegetables and apple vinegar; so we had the opportunity to learn a lot about the benefits of apple vinegar. We were honestly surprised that this is his top selling product, as in Bulgaria every other family makes their own home made apple vinegar and we did not expect that someone will actually buy it from the shops.. But there you go – Nikolay now has orders on the waiting list and he would really do better with a higher capacity fermentation cabin.
So what did we do for Nikolay? As a start – we made it to his mini factory. He said we are the first and ONLY people who have honored him to physically visit him at his factory in the remote village. No other client, vendor, even the bank (which he took money from) has ever visited him! He was so honored and pleased that this immediately quickened respect in him towards us. So thank you so much for the support, as we wouldn't be able to visit him without your financial support (cars still run on fuel here... :))
What else did we do, and still doing for Nikolay? Design consultancy – how to improve the labels of his products. If anybody has a creative idea for apple vinegar bottle labels, please let us know, Nikolay surely needs help; Company image consultancy – since he is planning to export to Greece, Germany, etc. he really needed help to create company presentations and broshures. Again, if you are good in proofreading or designing broshures.. we WILL use you; Pricing consultancy – Nikolay already knew all the details about each of his products, but we asked him which one is his most profitable product (so he can focus on it) and he had trouble telling us right away. So we opened those big Excel spreadsheets together and started calculating. I know how much you love numbers, so I will skip the details. Automation of the process – right now all the work is done manually. Nikolay employs between 5 and 9 local women from the village and pays them a minimum wage. On several occasions, we would sit down and scratch our heads (for a long time) thinking what could be done to automate the process and make it faster. Oh yes, and without large investment. Anybody heard of automatic cherry pit remover? It looks like we will be working closely with Nikolay at least for another few months and I would like to take the opportunity and thank you all for the support as it not only allows me to eat dried fruits and veggies as much as I want, but it greatly encourages Nikolay as he sees our support in practical and emotional way – something not even his wife was able to offer him.
Thank you once again and best regards!