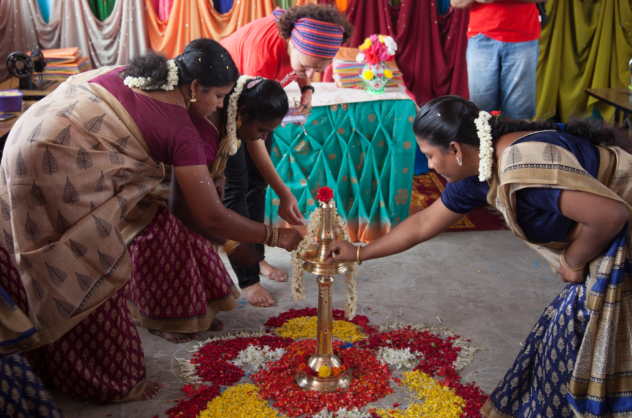 The Threads of Hope project has been seing his first cycle of graduate women in 2016, when our project leader Sara and her group have visited Nagercoil, in southern India. Here, 20 women are following the cutting and sewing class, and 35 women the computer class.
As soon as our correspondents arrived in front of the building wich hosts the classes, they immediately understood that everything was ready for a big festivity! In fact, a big Mandala had been painted all over the entrance stairs! Some of the women following the classes had welocomed them with jasmines to put throught the hair and painted on their faces typical symbols with bright colors and given a rose to each one.
They visited the small spaces in which the computer classes are held, and afterwards, on the second floor, the sewing spaces. The participants had made another wonderful decoration with flower petals on the floor. Here they could see the women at their stations with the 12 sewing machines of the centre; on the walls thei could see all the samples of clothes and purses they had made, and the local sewing teacher Upalt showed them all the notebooks which every women has to fill with the samples drawings beforse she can start working with the materials.
The women have then continued celebrating, bringing sweets, singing and reciting poetry, beforse donating to each member of the group a personal gift. The festivity ended with the signature and the consignation to each participant of their certification of competence.
Now those women can be conscious than, thanks to these competences, they can build a future for them and their children, in a reality which still sees the women as inferior to the man.
They saw that those classes are very appreciated, and hope to extend the spaces and the range of women which can follow the classes!